Demand for cloud computing is booming in Australia, with the global 2014 DatacenterDynamics Industry Census showing that Australian cloud infrastructure has grown 150 percent in the past three years compared to the global average in the same period of 106 percent.
It's not just physical capacity that's expanding; today's cloud marketplace is increasingly crowded – Infiniti Research predicts the ANZ region's cloud computing market will have at a CAGR of over 25 percent until 2018 – with more service providers and products to choose from than ever before.
So how can cloud providers take advantage of the cloud revolution? What does the market want and how do you convince them to take that journey to the cloud with you?
Ensuring IT managers can sleep at night
As reported by Communication Day (Oct 2014), wholesale private cloud provider Cloud Plus declared a maiden profit in FY14 by boosting revenues by a massive 147 percent – despite considerable re-investment in infrastructure and senior staff.
According to CEO Jules Rumsey, there are many good reasons why the firm is now aiming for closer to 200 percent top-line growth in the current fiscal year.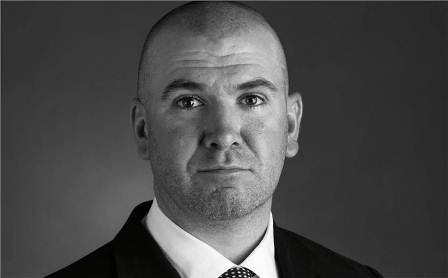 Image above: Cloud Plus CEO Jules Rumsey "Cloud Plus can offer partners and end clients a comprehensive industry-leading solution with guaranteed performance and availability, rock solid security, excellent data protection options and a single point of contact for support," said Mr Rumsey. "This is what IT Managers and CIOs need to ensure they can sleep at night as they transition to a hosted cloud computing model." The design and delivery of comprehensive solutions, including hosted cloud computing and colocation, is no small challenge, particularly with Enterprise and Government clients. It requires extensive knowledge of their current and future IT operations and infrastructure requirements, as well as ongoing evaluation and tuning to deliver the ideal hybrid deployment. Mr Rumsey describes how trust is a central factor in the move to colocated cloud: "Many SMEs, corporations and government businesses making the transition from on-premise hosting within their own facilities to hosted cloud computing have major concerns about performance, availability, security and data loss. Unlike the major public cloud providers Cloud Plus is able to address these concerns head on." "Cloud Plus operates its own national MPLS network (Multi-Protocol Label Switching) coupled with its own Enterprise-Grade Managed Firewall service, hosted solely on VMware and incorporating backup and replication services powered by Veeam. "And with Points of Presence in NEXTDC's Brisbane, Sydney, Melbourne and Perth data centres we are able to provide diversity, backup and disaster recovery options to suit the most demanding clients." Share in your customers' wins
Cloud Plus partner Systima, previously RE:IT Business Solutions, has recently closed a number of wide-reaching opportunities with large, well-known brands and is generally undergoing a period of rapid growth. In a lesson on the importance of customer relations, Systima's Michael Skliros had the good fortune to have an established client in the right place at the right time to help him close an important deal. A leading nationwide produce wholesaler recently engaged Systima to deliver a fault-tolerant private network solution, centrally hosted managed firewall, production hosting, backup, disaster recovery services and a hosted Mitel PBX platform, to support a period of significant expansion. While Michael was meeting with prospectivel client George Sykiotis from MAdE Establishment (George Calombaris is co-director) in one of their venues, in walks the wholsaler's CEO, who as it turns out went to Melbourne University with George Sykiotis, who had no idea the wholesaler were a Systima client. All it took was some positive comments from the wholesaler's CEO to close-out any remaining concerns George had about engaging with Systima – the ultimate in word-of-mouth advertising. Strategic choice of colo partner
By assisting organisations on a journey to a more efficient, manageable IT environment under a single service umbrella, NEXTDC's next-generation Data-Centre-as-a-Service (DCaaS) plays a pivotal role to play in helping our partners like Cloud Plus realise the true value of their IT investment. Mr Rumsey continues, "NEXTDC has facilitated our rapid growth by providing Cloud Plus with world-class facilities in which to host its network, security and hosting infrastructure in the major capital cities around Australia." "Having a local Point of Presence in these cities is strategically important to Cloud Plus, as is the fact that all of the NEXTDC facilities are built to consistent and exacting standards with centralised control and support via ONEDC® and their multiple Service Management Centres." In addition, as a NEXTDC Premier Partner wrapping up colocation as part of their cloud solutions, Cloud Plus receives a high level of sales, technical and marketing support and input from NEXTDC's expert staff, and the ability to leverage NEXTDC's high-profile brand and promote their business within our dynamic Cloud Centre community comprised of the country's leading carriers and services providers. "As part of the partner ecosystem Cloud Plus has also benefitted from quite a number of sales leads from NEXTDC," said Mr Rumsey, "and has achieved a high conversion rate with these, engaging Cloud Plus partners that are well suited to the end-client requirements in each case." Channelling shared business
Mr Rumsey describes Cloud Plus as 100 percent channel-focused. "Our partners can engage with the confidence of knowing that Cloud Plus is fully committed to their success and that we won't compete directly in their client accounts or try to steal their clients from them." "Cloud Plus has been systematically recruiting, training and enabling partners that are able to effectively market and sell Cloud Plus services in concert with their own offerings. Sales activity and conversion rates with existing partners have been increasing and the number of partners has been doubling year on year." The fact that this strategy is widely endorsed and adopted by NEXTDC explains some of the synergies between the two companies, as NEXTDC is helping address the rapid growth of cloud by partnering with best-of-breed providers like Cloud Plus, allowing Australian customers to realise the full value of hybrid cloud and a far more seamless transition.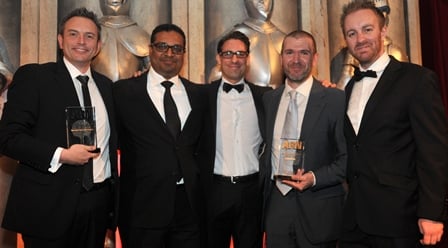 Image above: Second from Right, Jules Rumsey at the 2014 ARN ICT Industry Awards accepting Cloud Plus' Distributor of the Year award. Cloud Plus was Highly Commended in the Homegrown Innovators Service Provider of the Year category, which was won by NEXTDC . NEXTDC General Manager of Channels Steve Martin comments, "Part of our partner ethos is that our partners' success is our success, so it's great to see how our two companies have grown together by providing highly specialised and complimentary services at the market's leading edge. We both understand the need for strong investment in infrastructure and adapting to needs of our customers and partners." "Cloud Plus represents the kind of businesses we are passionate about supporting – we share the same commitment to enabling a cloud-first culture and the dedication to staying at the top of our respective industries."