A safety culture creates better business outcomes
Safety isn't a word, it's something we do every day
Safety First
NEXTDC consider workplace health and safety (WHS) and incident prevention to be of utmost importance and vital to the ultimate success of our organisation. We are committed to providing and maintaining a safe and healthy working environment for all workers, customers and visitors.
People come first. Having achieved ISO 45001 (Health and Safety) certification, our safety performance is documented and audited. Our culture – supported by our corporate values – embraces the concept that safety is everyone's responsibility:
We empower everyone to act in a safe manner and to be an active advocate for the safety of others.
Our "Straight Talk, "Pursuit of Excellence and "Bright Ideas" corporate values support the urgency we place on comprehensive WHS management and innovation across our business.
We actively seek out global best practices in safety all across our business, through proactive engagement with team members, customers, industry forums, WHS peak bodies and industry-leading principal and specialist contractors.
Our approach to effective safety management
Safety is the first priority at NEXTDC offices, data centres and project sites. We have a safety management system that has been tailor made for NEXTDC's business and the unique hazards and processes associated with building and operating industry-leading data centre facilities.
We undertake a number of activities across our Operational and Development portfolios to ensure that effective safety performance is achieved at all levels of our organisation: from conception and design, through building, to operation and consideration of end-of-life management.
To administer and continuously improve our safety standing, NEXTDC have a dedicated in-house WHS team who oversee both Operational and Development activities. The WHS team works closely with other NEXTDC staff, customers, suppliers and contractors to ensure we are providing the safest work environment we can on a daily basis.
NEXTDC's approach to safety
Operational safety programs and undertakings
ISO45001 (WHS) certification

for all NEXTDC operational facilities.
National Operational Excellence (NOE) audit program

implemented by internal operational specialists and the WHS team to ensure compliance with all relevant legislation and ISO standards.
NEXTDC operates a nationwide WHS Committee

, with participation from elected Health and Safety Representatives from each site, and across the entire workforce.
NEXTDC collaborates with key suppliers, vendors and contractors

on a quarterly basis to review safety and business performance metrics. Lessons learned from these sessions are shared with (and sought from) the NEXTDC supply chain where applicable and are considered within future building design lifecycles.
Quarterly engagement programs

with key national suppliers and vendors to review their safety performance across NEXTDC sites and their broader operations. Managed scrupulously to ensure we are only partnering with industry leaders that are as committed to safety excellence as we are.
A relentless commitment to the continuous improvement

model through regular review of incidents and hazards, and the sharing of learning across our team members, suppliers, vendors and construction partners.
Annual hazard hunt program

that encourages, incentivises and supports all staff, no matter their role or location, to report any safety hazards they can identify for investigation by the safety team.
Construction safety programs and undertakings
Rigorous selection and engagement criteria

for Principal Contractors during the tender phase enables NEXTDC to partner with construction contractors who are as committed to improving industry safety standards as we are.
Adoption of a mandatory 5-Point-PPE standard

that applies to all NEXTDC construction sites to prevent the most common injuries from taking place.
Implementation of strict performance KPIs

which are measured and tracked continuously to identify any safety trends occurring at a site level.
Regular engagement with both executives and subject matter experts

at a site level to apply the right level of leadership and resources as required to ensure effective high-risk hazard management, and overall safety performance.
We engage independent third-party expert auditors

to attend sites regularly, to provide best practice recommendations to ensure the site is as safe as possible.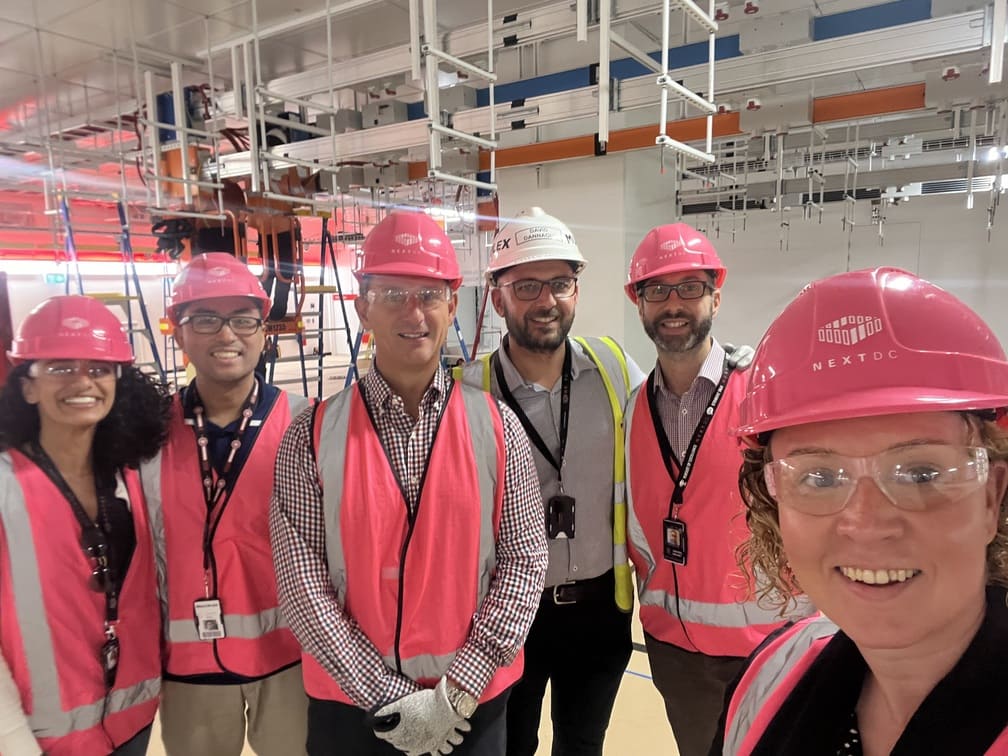 Targeting Zero Injuries
Effective safety performance is a continual improvement process, but Zero injuries is NEXTDC's aspirational goal. We track and monitor more than simple incident tallies or Total Recordable Injury Rates, with a number of lag and leading indicators reported on across our business to assist in our push for innovation and continuous improvement.

The day-to-day management of the operational and development programs is coordinated and implemented by our internal WHS team; working closely with our department heads and construction partners to extract the best performance from our collective teams.

The health and safety of our people, customers, partners and suppliers is something we will not compromise. We're committed to ensuring our facilities and construction sites are as safe as possible.