Experience next level productivity and workspaces with NEXTDC
data centre Amenities
We know that a successful day starts with a comfortable and productive workspace. That's why we've designed our data centers to cater to the needs of our customers, beyond just providing a space to store machines. Our facilities are thoughtfully equipped with amenities that enhance your workday, ensuring you have everything you need to be at your best.
From the moment you walk through our doors, you'll experience the next level of productivity with access to tech lounges with kitchens, showers and lockers, complimentary Wi-Fi, and private offices. Collaborate with colleagues or host business meetings in one of our well-equipped conference rooms. And with ample storage spaces, you can rest assured that your equipment is secure and easily accessible.
NEXTDC's data center amenities are designed to help you feel comfortable, relaxed, and ready to tackle any task. Experience the difference today and take your productivity to the next level.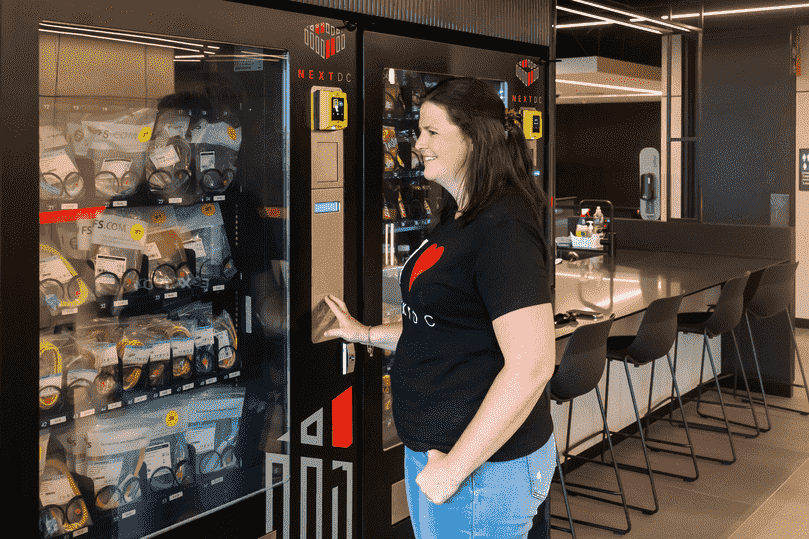 Experience comfort & productivity with NEXTDC's unmatched data centre amenities
Attractive dedicated entrances
Our data
centers
boast attractive dedicated entrances, providing a warm welcome to
your
customers
and guests
. With 24/7/365 dedicated staff onsite, we ensure that your every need is met and your experience
at our data centres
is a pleasant one.
Customer breakout areas
Take a break from work and relax in our customer breakout areas. With shared common area conference rooms,
work stations
, couches, kitchens, coffee and vending machines, massage chairs, stocked fridges and TVs available 24x7x365, you'll have everything you need to recharge and unwind. Our restrooms are equipped with showers,
lockers
and
bike racks.
Events
Our data centres are large enough to host your major events. We can assist in arranging
events, such as VIP days. (Includes any food orders, room requests, and security access support needed for the event.)
Multiple bookable conference & meeting spaces
Whether you need a private room for a meeting or a shared conference room, we've got you covered. Our data
centers
offer multiple bookable
state of the art
conference
rooms
and meeting spaces, making it easy for you to host your next business function.
Customisable office space
Need a private office space for rent? Or a shared office space in our tech lounges? We have both options available. Our data
centers
offer private office spaces for monthly rent, as well as
use of our shared bookable meeting rooms
in the tech lounges.
Free on-site parking
Our data
centers
provide private on-site parking to our tenants, and service providers even in downtown metros. With easy access to your workspace, you'll never have to worry about finding a parking spot again.
Electric car refilling stations
Some of our sites have free onsite electric car refilling stations
Undercover loading dock
Loading deliveries has never been easier with our undercover loading docks equipped with hydraulic lifts.
Staging areas
Our staging areas are available for use up to 72 hours, featuring active power outlets and can be used for unpacking and testing hardware/equipment.
WIFI
Stay connected with free, secure Wi-Fi available in all our data
centers
.
Spare parts & secure storage
NEXTDC provides a secure location for storing technology equipment for use within the data
center
. Our crash cart and configuration and cable planning services, including inventory documentation, will ensure that your spare parts are always within reach.
Provider neutral support of external service
We support all external service providers as we are provider neutral, making it easy for you to work with the service provider of your choice.
Cloud nodes on-site
Our data
centers
have cloud nodes on-site, providing easy access to cloud services and improving your overall cloud computing experience.
Crash carts
We offer crash carts which are rolling set of trays or drawers making it easy and more functional when servicing your equipment.
Smart hands services
With our dedicated support team and experienced engineers, we offer smart hands services to complement your colocation needs. From receiving and installing equipment to monitoring, diagnostics, troubleshooting, and repairs, we're here to ensure that your experience at NEXTDC is a seamless one.
Australia's only network of facilities certified by the Uptime Institute for both Tier IV and Operational

Sustainability