By Marcelo Goncalves
Traditionally, Australian health insurance providers thrived within largely-state-based regions where they often dominated based on intimate local connection to community, employers and health services.
Today's digital economy pitches curve balls to all organisations as they double down on innovation, accelerating growth, keeping up with evolving customer behaviours and embracing new technologies. Arguably, no industry has faced this tsunami of change more than the financial services and insurance (FSI) sector.
Competition is fierce, regulatory compliance is exhaustive and risk is ever apparent. It's an industry evolving rapidly as organisations double-down on investments to sustain growth in a data- and cloud-driven future. The end goal is achieving more efficient, interconnected and measurable processes that deliver improved performance, productivity, and customer experience.
A healthy road map
One of NEXTDC's long-standing FSI customers is a national health insurance provider transforming its business to create a more agile and flexible technology platform focused on facilitating innovation and growth.
According to this organisation's Infrastructure Manager; "change represents the industry's greatest opportunities and its most immediate threat".

An office relocation was the catalyst for this health insurer to reconsider their data centre requirements. "Data has worked its way to the centre of everything, so we needed to beef up disaster recovery planning and accelerate cloud migration to better manage risk and compliance at the same time as unlocking full value from legacy technology".

"We know that legacy is going to be part of the picture going forward but we established that would hold a static footprint. We could see our future infrastructure requirements would be dominated by colocated and interconnected physical and virtual machines."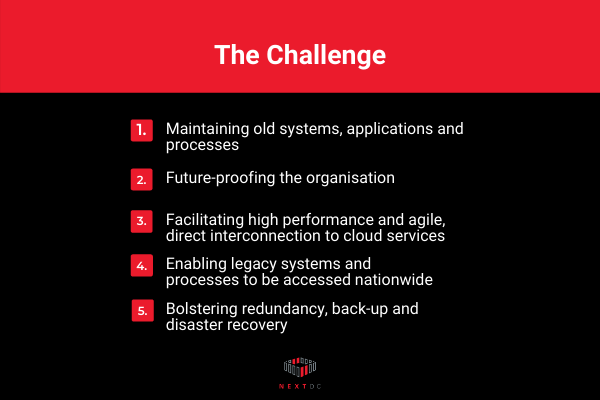 Partnering for success
With the help of their strategic partner, our customer replicated their entire physical environment inside NEXTDC's facilities including mainframes and servers. This process identified multiple opportunities to better integrate legacy systems with virtual platforms supporting intuitive development environments as well as analysis and preservation of surging data volumes.
This generated immediate uplift in the following areas: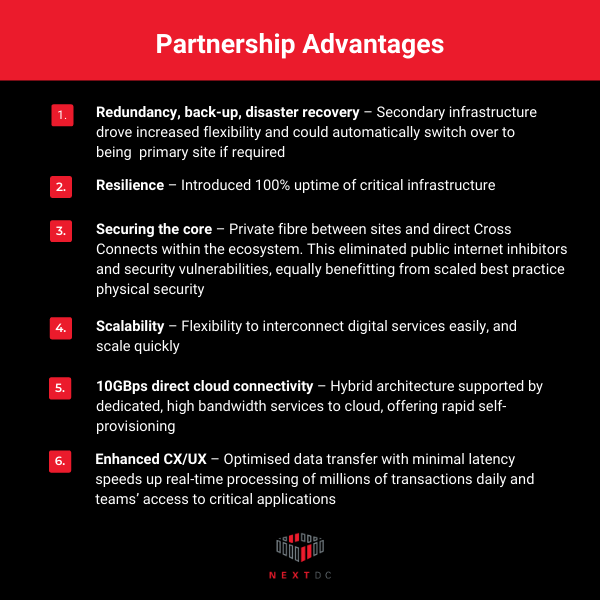 Armed and ready for a digital future
Having completed the first stages of its digital transformation, our customer's infrastructure manager said, "Our focus is now moving as much as we can into the cloud, including our whole financials platform and CRM application. This will give us the flexibility to grow and pivot quickly where required with new, agile capability to innovate and scale services safely."
"Transitioning significant tech investments from Capex to a more predictable and manageable Opex model was a major motivation for moving more workloads to the cloud and it brought the added benefit of ensuring our technology is constantly up to date."
Staying focused on innovation
An enhanced focus on innovation – as opposed to wrestling daily with legacy hardware firefights – has also already paid dividends. Capital previously earmarked for infrastructure has been diverted to R&D.

Ready for anything
For FSI organisations, the key to relevance in a changing world is innovation and agility. It's about adding value and depth to existing competencies and established processes not replacing them with entirely new business models. It's about the new "and" the old, not one "or" the other.
The important issues revolve around scale, time-to-market, risk management and regulatory compliance. In a traditional, on-prem, business it's not just cost that's a major concern. Traditionally, broadening your scope of business, or increasing capabilities would require going out to tender, getting it procured, shipped, provisioned, tested and released.

Our partnership advantage:
Accelerated innovation cycle – Removing large components of capital cost and manpower required to manage critical infrastructure on-premises, enabling the customer to redirect finite resources to R&D innovations that deliver flexibility, agility and enhanced CX/UX.

Performance optimisation – Connectivity costs are dramatically reduced. Centralised services that can be easily provisioned and scaled as required allows them to quickly shift increasingly large payloads of data across the hybridised environment.

Reduced latency – Proximity between physical and virtual environments as well as NEXTDC's digital services ecosystem creates outstanding customer and user experiences.

Risk management and compliance – Reliable and trusted assurance of fully redundant interconnected architecture, back-up and disaster recovery planning while also demonstrating consistent compliance in alignment with internal and regulatory obligations.
Reach out if we can help you reduce technology risk, advance Hybrid IT strategy and get back to focusing on your innovation and growth agendas.