By George Dionisopoulos - Head of Security & Customer Service
As data volumes continue to grow, and the value of data and company information rises exponentially – security is more important than ever.
The cost of breaches at the reputational, competition and regulatory compliance level can be catastrophic for business, making security a key consideration for every business and that includes their digital transformation strategy. Security is not a technology problem, it's a business problem.
Building and operating a security practise to the highest global standards isn't a luxury afforded to most organisations whose core business isn't security. Additionally, when it comes to how and where they invest their capital to grow their business, it simply doesn't make sense to pour money into something that isn't core to their business. This is one advantage where an outsourced data centre model lends itself to the ongoing success of our customers' business.
When customers make the decision to colocate their critical IT systems at a NEXTDC data centre, they immediately tap into, and take full advantage of the elite security operations running throughout every facility, 24/7.
Every IT strategy is only as good as the infrastructure it's surrounded and secured by. If your mission critical infrastructure is left vulnerable because of its physical surroundings, the integrity of your business is on the line. When building a comprehensive security strategy, it requires thorough planning from the inside out.
We invest heavily into our security posture with multiples of multi-layered systems and protocols in place to ensure our customers critical IT infrastructure is always protected. Just as our data centres are built to support the needs of our customers' business, our security protocols follow suit.
Security impacts our customers own business and underpins how they enhance their own operations. As such, security plays an integral role in the products we build and in turn, offer to our customers, forming part of the end to end customer experience that we pride ourselves on. As the leader in the Australian data centre services market, security is always high priority.
Front of house secure access
Data centre security has evolved exponentially over time, from a physical form into a complex, multi-layered, virtual-based model designed to push the boundaries and deliver an unprecedented level of protection for our customers' critical infrastructure.
We design, deploy and manage rigorous security protocols for our world-class facilities, with a keen focus on innovation – with the planning and tactical methodology behind it.
There is never a simple answer the question 'what makes a data centre secure?', but there are many aspects to be considered when designing, building and implementing a security model that will protect customers, irrespective of the circumstances.
NEXTDC adopts a federated security model across our national footprint, designed and built to the country's highest physical protection standards. But what does that really mean for customers?
Your critical infrastructure is always protected at the highest of security standards
Safety is paramount! NEXTDC offers a safe environment for our customers, as well as their critical infrastructure, personal safety and security is high priority
Our security environment is maintained at optimal levels 24x7
You rest easy that there will be no unauthorised access to our data centres, or your critical infrastructure.
Biometric fingerprint access
Every NEXTDC facility is stringently secured with a multi-layered, two-factor authentication access system with individual verification using combined biometric fingerprint technology and ID access cards (IDACs). The building entry and secure areas are under constant security camera surveillance and can only be accessed via biometric fingerprint readers and swipe card authentication.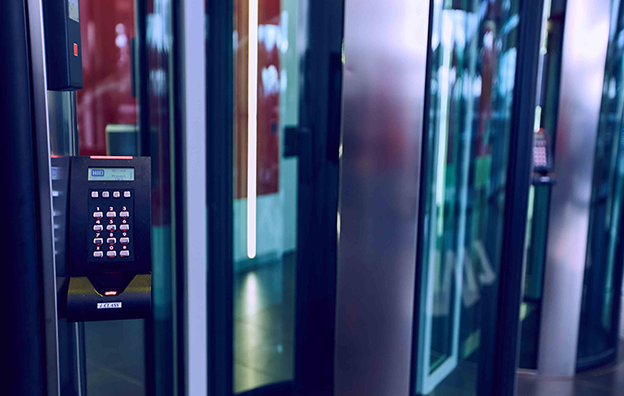 Each time the IDAC is swiped at a secure point, including the Gunnebo's, the time and date are recorded in our security system so there is a full audit trail of all access. Our CCTV cameras also record every entrance, exit, doorway and aisle in synchronisation with IDAC use instances. Every touch point from when you pull up to the data centre's car park, until you exit the carpark is recorded on camera, and can be forensically matched to IDACs. This means any incident you have can be intelligently traced back efficiently and easily.
There's no way that identification for access can be cloned or duplicated. Biometric technology makes it impossible to "recreate" a physical fingerprint – instilling confidence in our customers that their most important infrastructure is protected.
Ballistic rated security
Our front of house and Security office environments are ballistically rated. Our Gunnebo portals play an integral role in our security strategy, enabling us to monitor access in and throughout our data centres. The Gunnebo's are equipped with an anti-tailgating system, offering high security control, coupled with a two-factor access control check, providing high protection, the Gunnebo's remove any risk of an unauthorised person trying to enter the facility at the same time behind you and offer protection in case of a malicious active shooter attack. By utilising several applications within our security architecture models, we have been able to further add to the level of deterrence we manage.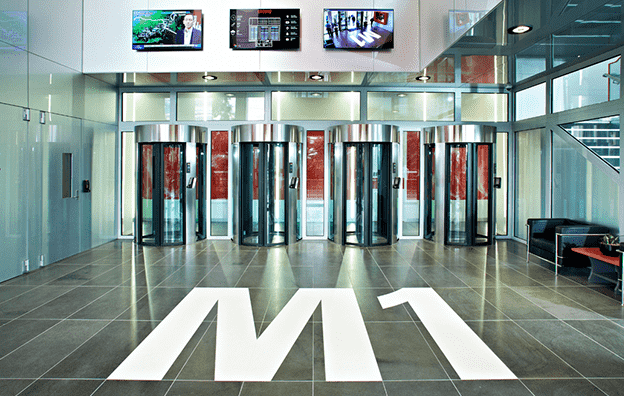 Elite security operations
Each data centre is monitored by more than 200 internal and external security-cameras and is manned every hour of every day by our inhouse elite Security operations team. We won't compromise on the things that matter most, therefore every person you see onsite at a NEXTDC data centre is a trusted staff member employed by NEXTDC. Every employee is put through a rigorous security screening and training process, giving our customers additional peace of mind.
Digital access management
Our customer management portal, ONEDC® enables customers to tailor access for their authorised personnel including nominated contractors, IT service providers and technicians. It also provides full visibility to audit logs containing dates, times and the names of all people accessing your racks. This means at any time of the day you can authorise access into the data centre and see who has accessed your rack as well as how long they spent doing so. ONEDC also allows you to manage and monitor your infrastructure's performance in real-time from many browser.
Risk and compliance management
Reporting on our multi-layer security strategy's effectiveness and continuously auditing and refining it cannot be discounted. It's imperative for NEXTDC that we report and pass our internal audits 100% of the time, and we work closely with our customers and partners who require the same level of detail for them to demonstrate the physical security of their critical infrastructure.
Every year we actively work with our Enterprise and Government customers to carry out over 50 security audits annually, to clearly demonstrate compliance in line with their stringent security criteria which is required to be fulfilled for them to comply with their regulatory and governance requirements.
Our data centres are operated and certified to ISO27001, with all new generation data centres designed and built to relevant Physical Security Zones in accordance with the Protective Security Policy Framework to ensure customers can meet relevant Government Security requirements. Further to this our earlier generation data centres have been upgraded and now operate to meet relevant Physical Security Zones required by existing customers, reflecting further on NEXTDC's capability to meet your unique security requirements.
Our brand promise to "power, secure and connect" our customers' critical infrastructure 100% of the time, is a good indication of the importance we place on our security posture. We pay just as much attention to the needs of our customers to protect their most valuable resource, as we do to the critical infrastructure that we build to support their data centre space.
We continue to focus on building and operating a premium data centre footprint that is built to meet the highest level of security standards in the country. Maintaining our position as the leading data centre provider, with a footprint comprising cutting edge technology and innovations that will secure our customers most critical operations, is a commitment we are privileged to stand behind.
If you would like to understand how NEXTDC can support your critical IT operations, and ensure your digital infrastructure is continuously and comprehensively protected, reach out and speak with a specialist.