It was a proud moment for me personally when we recently announced our B2 Brisbane data centre had become the first in the Southern Hemisphere to achieve Tier IV Gold certification for Operational Sustainability.
I couldn't believe our luck last night when I heard we had taken home top operations honours, taking home the 2018 Operations Team of the Year award. The DCD Awards are one of the toughest and most lucrative awards to win globally, I felt honoured being named a finalist alongside some of the fiercest competition globally, so imaging my elation when the text came through 'WE WON'. Awards of this calibre don't come around every day, it really emphasises the hard work and devotion our Facility Management team put in every day to ensure our data centres are the best in the world. It's a privilege that my team are recognised for our phenomenal acheivements in operational excellence on the global stage.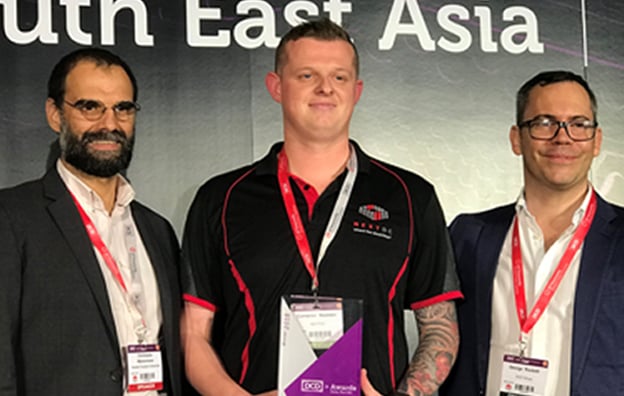 NEXTDC Data Centre Building Services Specialist Cameron Madden accepts the award on behalf of NEXTDC
From the start, NEXTDC set out on a bold mission. To design and deliver the most reliable, most energy efficient and most innovative industry leading colocation data centres in the the world. We did that, and furthermore moved on to ensuring that we invested into the human factors involved in running a data centre to meet fault tolerant standards and almost eliminate human error.
For the past 18 months, We have invested heavily in a rigorous national program to streamline our data centre operations through improved processes and systems. These included a massive list of initiatives, including Tier III and Tier IV Gold Certification from Uptime Institute (UTI) for Operational Sustainability, an internal data centre training program, a comprehensive partner training program, maitenance and analysis program, expanded initiatives for change/incident management, base-lining facility setpoints, ISO 14001 environmental compliance, maintenance agreements and industry standardisation.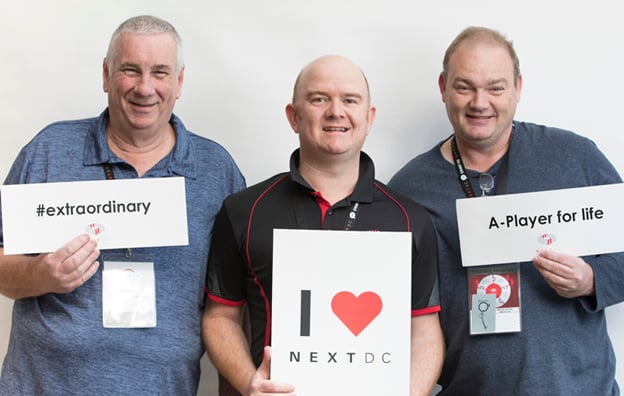 L-R NEXTDC employees Alan Colley, Brett Ridley and Andrew Butler
What NEXTDC have been able to demonstrate to the wider market is a world's best practice model, not only to our customers and peers, but with our maintenance contractors in a partnership-relationship that joins and support the industry in this UTI methodology based on operational sustainability.
Every one of us at NEXTDC are driven to stand as leaders and stay ahead of the game, introducing ideas and challenging the norm. It's in our DNA to succeed and lead. Achieving Tier III and Tier IV Gold for Operational Sustainability was a huge acheivement, but we weren't going to stop there. With our next generation of Tier IV facilities well under way our business continues to break new ground in areas others have feared to go.
Congratulations to the entire team for a world-class result!