New research shows that hybrid cloud is reaching tipping point for adoption within three years, when companies predict that more than half of their applications and services will be deployed on hybrid cloud.
The world-wide study by Avanade, a global business technology solutions, cloud and managed services provider, Hybrid Cloud – From Hype to Reality, gained insights from 1,000 global C-level executives, business unit leaders and IT decision-makers in 21 countries.
Mick Slattery, Avanade President for Hybrid Cloud, said: "Budgets and control may be shifting away from IT, but hybrid cloud solutions represent an opportunity for IT to align itself with C-suite priorities, delivering strategic value to the business in a secure and properly governed manner."
Key findings
Avanade's study shows that companies around the world are:
expecting hybrid cloud solutions to give them an edge over competitors in the field;
investing in hybrid cloud solutions at a faster rate than private or public cloud, with 69 percent of companies agreeing that implementing a hybrid cloud strategy will be one of their biggest areas of focus in 2015;
agreeing that hybrid cloud will enable their organisations to focus on issues which are core to the growth of the business (74 percent);
optimistic about the promise of hybrid cloud and its ability to differentiate them from the competition; and
willing to downsize all their data centres tomorrow in favour of public or hybrid cloud-based solutions if this were possible (65 percent).
What are the most misunderstood facts about hybrid cloud?
65 percent didn't know that hybrid cloud provides the ability to burst (scale up and down) as needed.

61 percent didn't know that hybrid cloud can include multiple public clouds, enabling the placement of workloads on the lowest-priced cloud solution.

54 percent didn't know that hybrid cloud includes distinct public and private clouds.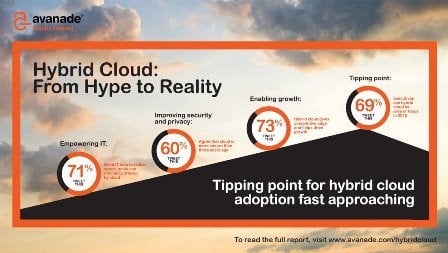 Image above: View this concise infographic from Avenade showing the four factors pushing hybrid cloud adoption to a tipping point. The new IT paradigm
A hybrid cloud approach has today become the standard embraced by most organisations as it provides them with an optimum combination of flexibility, scalability and security. The crucial importance of data to all organisations means data centres are now at the core of the IT world. The internet, private networks and the cloud use them for storage and connectivity, and businesses increasingly rely on cloud computing, hosted in any number of data centre locations, for their day-to-day operations. This is why large scale, highly connected colocation data centres are under increasing pressure to keep up with market demands. Their pivotal role in an organisation's profitability and competitive success means that data centres and their business ecosystems are expected to enable greater innovation and business transformation than ever before. Those facing these challenges need to develop ways to improve application and workload management by combining internal, cloud and colocation services into a unified whole, thusforming the new IT paradigm of the colo-enabled cloud. CenturyLink's 2014 Global IT Trends report, which surveyed 550 IT leaders, estimates that:
within one year, in-house private clouds would become the most popular IT infrastructure model;
in two years, colocated services are predicted to be preferred; and
in five years outsourced cloud will become the leading IT strategy – when companies will also have outsourced approximately 70 percent of their infrastructure.
That's the global outlook, but domestically there could be a more rapid impact because Australia is leading the world in colocation and cloud growth:
DatacenterDynamics 2014 Global Datacentre Census: cloud infrastructure in Australia grew 150 percent in the past three years compared to 106 percent globally.
TeleGeography's Colocation Database: Melbourne and Sydney are leading the world in colocation capacity growth with a CAGR of 30 percent over the past four years.
To read more on the new paradigm of the colo-enabled cloud, download our thought-provoking whitepaper. Have you started your journey to the cloud? Take a guided tour of one our world-class data centres and experience the home of the hybrid cloud for yourself.