By Ellie Whitton, NEXTDC's People and Culture Advisor
NEXTDC is an innovative Australian owned and run company that has grown at an impressive rate since we opened our first data centre in 2011. We have grown up a lot since the humble beginnings of our very first data centre in Brisbane, to where we are today – a proud multi-national with eight operational data centres across each major Australian capital city and three more in the works.
As we approach our ninth year in business, our team have achieved some incredible accomplishments in a very short space of time. These include countless award recognitions, building an ecosystem of >750 partners and many leading Australian and International organisations and being the first data centre provider in Australia to achieve Uptime Tier IV certifications for design, construction and Gold certification for Operational Sustainability.
Passion runs deep at NEXTDC. We not only believe in our people, but in our community and those around us. A big part of our company culture is our firm belief that companies can do more than just make money, they can give back to their communities and use their success to improve society. Given how strongly our people feel about this, we set out on a mission to create a Corporate Social Responsibility program that would be meaningful to our staff, customers, shareholders but most importantly, meaningful to our community. After months of research, hard work and a journey of personal exploration, we proudly launched our 'Live to Give' program at our annual staff conference in July.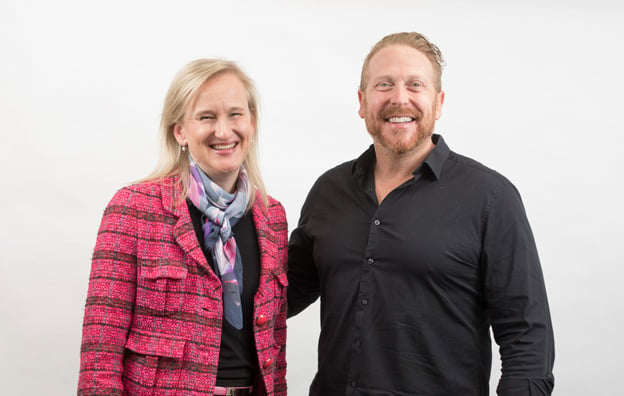 The Smith Family's Head of Strategy, Judy Barraclough and NEXTDC CEO, Craig Scroggie
The Live to Give program aims to embed the concept of giving back into our DNA, and empower our people with a sense of pride by realising that together we can and will make a difference in the communities in which we live and work. We were driven by our obsession in wanting to make an impact and show our people and the community that we were serious about giving back.
Live to Give is made up of two key pillars - the first was our partnership with the Pledge 1% global movement, which empowers every member of our team to spend 1% of their time giving back to their community or charity of choice.
The second pillar is made up of four corporate partnerships and charities. Our major corporate partnership is with The Smith Family because of the inspiring work they do to help break the cycle of disadvantage amongst children in Australia. Through this partnership, we donated $50,000 to sponsor The Smith Family's Learning for Life scholarship program, which provides early intervention and balanced, long-term support to over 38,000 students across Australia.
In addition to our corporate sponsorship with The Smith Family, we created a workplace giving program based on the charities and social causes that resonated the most with our people, enabling our staff to set up recurring workplace giving donations to three corporate charities, Cancer Council Australia, beyondblue and UN Women.
Launching Live to Give and experiencing first-hand the kindness and generosity of our people, as they set up their workplace giving arrangements and researched ways to spend their volunteer days, was one of my most memorable moments at NEXTDC. But the kindness didn't end there. With Live to Give continuing to gather momentum over July, the team knew we wanted to do more. In August, we started looking for more ways in which to support our key charity partner, The Smith Family, when we stumbled across the 2018 Around the Bay event.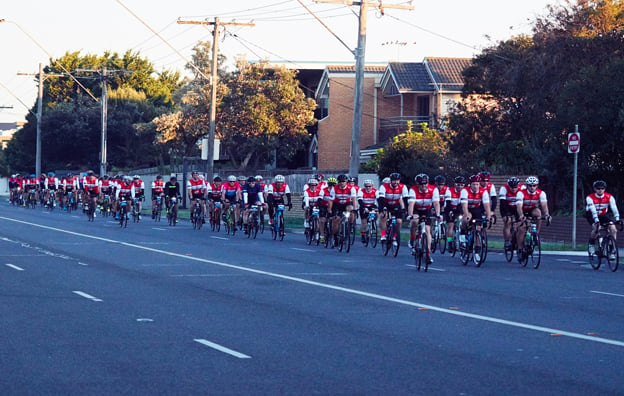 With many avid cyclists among our ranks, we jumped in and threw our full support behind the event. Setting ourselves a fundraising goal of $100,000, we called on our strategic partners and suppliers to join forces with us and ride for children in need. Within a week our outreach had turned into the largest corporate event NEXTDC had ever embarked on; in just seven days we secured 16 partners to join our fundraising efforts and together we began the epic journey of building a team of over 70 riders from all over the country.
On a dark October morning in Melbourne, our 70+ riders woke at an unspeakable hour, squeezed into unforgiving lycra and pedalled up brutal hills to ride a total of 230kms on conquest to raise as much as we could for those who needed it most. We are so incredibly proud to have been a part of this experience.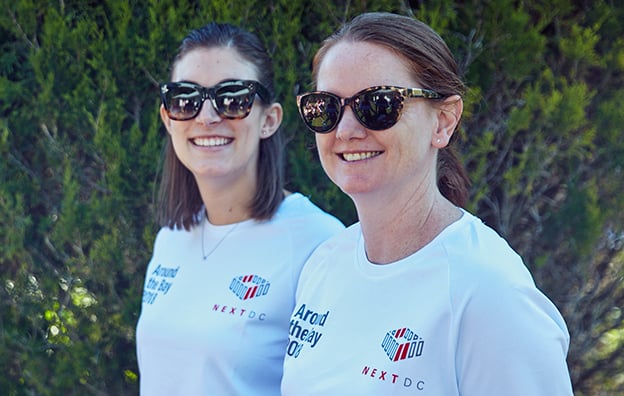 NEXTDC's People and Culture Advisor, Ellie Whitton with NEXTDC's Head of Organisational Development, Marnie Vale
The partnerships we called on for support didn't bat an eyelid, and together we smashed through our goal and raised an incredible $115,000 for The Smith Family. We couldn't have done it without the hard work, tireless hours of training and gruelling efforts of our people, partners and suppliers who pedalled hard to make this happen.
We are so pleased we can share this experience and proud of our achievements in working hard for what we truly believe in. Watch the highlight reel of our "Around the Bay" ride - https://bit.ly/2QkmMlc