By Sean Rinas, Head of Network Operations
One of the things I love about my job is being able to collaborate with my team and our customers to find new and exciting ways to cross the connectivity chasm and help overcome the challenges in what is now largely a cloud-first world.
Interconnectivity – the new cloud battleground
The interconnectivity opportunities our data centres expose is frankly one of the most critical enablers for our customers to thrive in today's digital landscape. Getting connectivity right is a constantly evolving battle against continually changing enemies; but equally something that needs to be done right because when it comes to cloud and your interconnection strategy you either win or you die from it. It's like the great pursuit of an "Iron Throne" and the victors get to rule the "Seven Kingdoms" of digital utopia.
In the light of all the challenges faced by embracing rapidly evolving IT architectures and unpredictable customer behaviours, optimising digital transformation starts with building trusted and reliable IT environments.
Trusted brands, trusted platforms, and trusted networks. Reputation is everything. To create the opportunity to expend maximum effort on what is most important – innovation, achieving growth, and meeting defined organisational objectives – you need trusted partners that help reduce the risks of downtime, unreliable or inconsistent connectivity, and unauthorised breaches.
Configuring network architectures is guided by delivering flexible, scalable, high performance connectivity that integrates all the people, locations, clouds, data pools and applications critical to organisational success. In practice, it is somewhat like having a huge bucket of Lego pieces. The possible outcomes are only limited by imagination and a vision of what you want to achieve.
Being embedded in the ecosystem of clouds, carriers and IT services providers that drive business is an increasingly valuable strategy. It drastically improves the ability to optimise connectivity and collaboration. What's most important when it comes to our customers achieving their desired outcomes, is choice, and having all the power to execute quickly once decisions have been made.
With most organisations today adopting Multi-Cloud strategies, one of the interesting trends I am seeing more frequently is direct cloud-to-cloud interconnectivity.
A trusted network environment
We understand that no two environments are the same. Our customers know the outcomes they need to achieve. Our role is to ensure we are continuing to evolve our business to support those needs, whatever they may be.
We respect that not every environment is best suited to colocation. And for infrastructure that can be transitioned into a more resilient, secure, and connected environment, it isn't always practically achievable in the short term.
But that doesn't change the need to eliminate connectivity performance speed humps and reduce the cost burdens of sprawling network architectures. Where access to a variety of public cloud availability zones – and connectivity between them – is sought, it's imperative to embrace the shortest, fastest, most secure and cost-effective routes between Point A and Point B.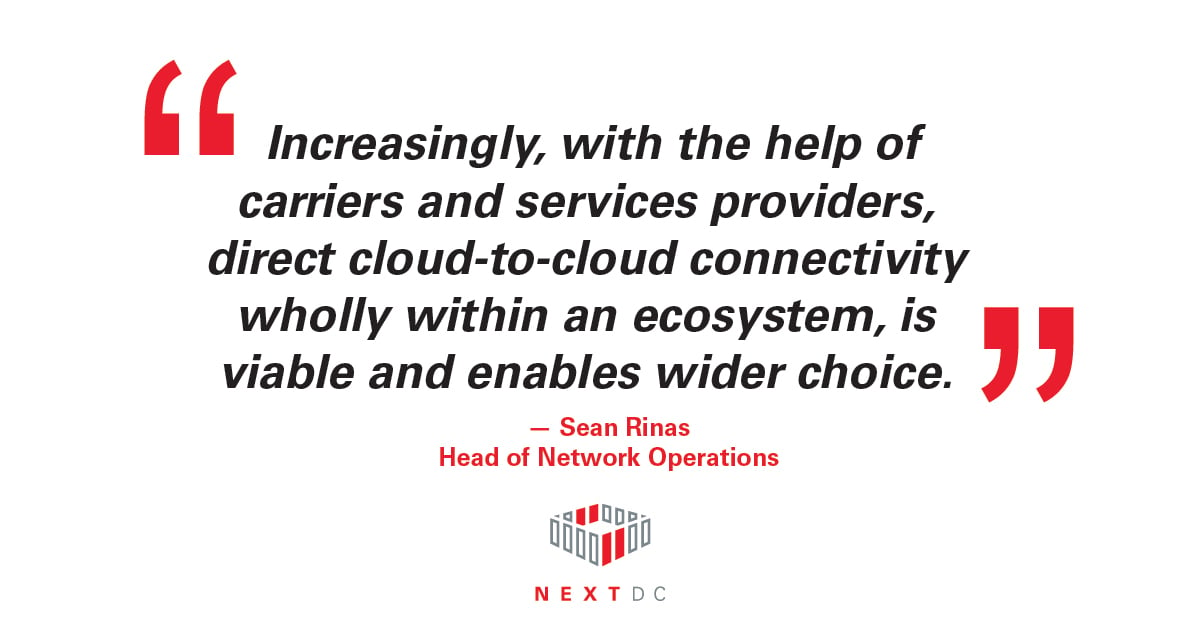 Cloud-to-cloud in action
One of our large financial services customers manages a digital workplace platform for thousands of staff, delivered as-a-Service from a hosted public cloud platform (Cloud A) in our ecosystem. This customer generates enormous volumes of confidential data and IP that requires a secure storage and archive framework governed under strict regulatory compliance obligations. The solution they have built to archive this mission critical data resides in another public cloud (Cloud B), located in another NEXTDC facility.
The customer manages their own Enterprise data centre; however, they still need to periodically migrate their large volumes of data in Cloud A, to Cloud B. Using trusted, flexible short-term virtual connections for these types of data migrations, as opposed to dedicated services, is more efficient and cost effective. To move these enormous volumes of data around, as and when they need, they utilise our AXON interconnection platform.
AXON is delivered aaS, so the customer isn't bound by fixed contracts, they simply lift and shift the data in adherence to their compliance obligations (at the speed they require), without any of the financial or commercial overheads.
This is just one example of efficiency and cost reductions that organisations need to keep advancing their digital transformation agendas. Interconnection strategies like AXON are helping to deliver that level of flexibility and agility that organisations need to succeed today.
Extracting full value out of Multi-Cloud
Another great example of organisations using interconnectivity to advance their transformation agenda is Chemist Warehouse. Chemist Warehouse have grown exponentially over the last couple of years, becoming a retail powerhouse. But their success didn't happen overnight. They understood early on the important role their digital infrastructure played in their ability to drive and sustain growth, more specifically, their Multi-Cloud strategy.
Cloud has played a critical role as they continue to transform their business. Ensuring they achieve their best-fit objectives relies on their interconnection strategy. There are instances where they need to shift whole applications (and the accompanying data reserves) from one public cloud platform to another based on newly identified best-fit analysis.
Given the broad reach AXON facilitates, what could be a mammoth task, is achieved with ease. Virtual connections are provisioned in minutes and data transfer starts instantaneously. Once the migration concludes, the virtual connection is shut down.
Then there is our good friends at Data Processors, a data-centric research and technology services company that sources, models and analyses over eight terabytes of data every month. With network resilience, performance and security being paramount to its data-centric requirements, they are often using AXON to ensure their network routes are 100% private, fully redundant and capable of transporting enormous payloads.
As I mentioned, no two environments or use cases are the same. In today's digital world, organisations are increasingly looking for solutions that are flexible by nature, and geared to meet their cost, productivity, and performance needs. By optimising the interconnection strategy, it helps shift the delivery of I.T services from capex to opex and eradicates the need for long term commitments so businesses maintain a competitive, yet agile foothold.
Achieving this level of agility and progressing your position in the game of cloud doesn't come by doing this alone. That's the role NEXTDC plays for your business; helping you advance your stake in the game and achieve what's most important.
If we can help you optimise an interconnectivity strategy that will help you advance your competitive position in your battle in the cloud games, reach out to our team. We'd love to help.