By Claire Sangster, State Manager, Western Australia 
In the digital era, no business can afford to be offline. Not for a second. Not for any of the systems, applications and services that are critical to the functionality of people and processes at the core of the organisation.
Every modern-day business relies on digital infrastructure intrinsically for everything from sales, marketing and communications and procurement to payroll, production, compliance, security, and the list goes on.
You are a digital business
Digital business today is global, and accessible 24/7. This amplifies the need to be always on, rigorously secured and interconnected to all the people, partners and systems that play an equally important role in your success.
If you're building a dynamic, customer focussed business, then technology is the key ingredient that drives the cost savings, productivity, customer experience and innovation that enables competitive advantage, and a rock-solid value proposition.
Down time is the 'dirty word' of the digital age. The consequences to your reputation are real, and the impact on bottom-line revenues can be dire.
When systems go down, or even just underperform, it's an unwarranted distraction. Your productivity grinds to a halt, revenues dip, costs mount up, your resources are placed under immense strain, and your customers are inconvenienced. This is exactly why it's so important to accelerate your digital transformation strategically to enable the resilience, flexibility and agility needed to control what's within your power, and to be prepared to deal with the unexpected.
New reality, new urgency
In 2020, a global health crisis has advanced the digital transformation agendas of most businesses by as much as three years according to analysts. There is a tsunami of innovation happening right now, heightening the need for business owners to focus on their own digital acceleration plans.
For many, now is the time to start disrupting or face the risks of being disrupted by competitors.
At the heart of digital transformation is resilient infrastructure. If you run an always on business, nothing less than 100% uptime for your power, security and connectivity should be acceptable; but this requires levels of skill, process, and solutions that most organisations can't achieve on their own. They therefore look to specialist partners like NEXTDC to help them address these issues at scale.
When you trust the operational function of this critical infrastructure to a partner like NEXTDC, you should be demanding 100% uptime and you should seek verification that confirms what they tell you is true. Afterall, the long-term continuity of your business depends upon it.
Are the facilities designed, built, and operated to the highest standards? What independent certification do they have that verifies they are aligned with global best practice? How often are the plant, processes and people audited for operational excellence? If managing risk is a priority, these are all important questions to ask.
Apples ain't oranges
When comparing suppliers of data centre services, it's paramount you're comparing apples with apples. Every data centre is different, and so is the quality of services and assurances they can genuinely offer.
In the data centre world, the established global standard for rating the quality of facility design, construction and operations is the "Tier" system developed by the Uptime Institute (UI). This gruelling third-party assessment, certification and continual audit framework has been the industry go-to for over 25 years, and for good reason. It rates buildings on a scale of Tier I to Tier IV (not to be confused with Tier 2 to Tier 4) with the latter (UI Tier IV) being the highest possible independent certification available in the world today for data centres.
Tier IV certified premium-grade data centres are a level of quality that only NEXTDC offers in Australia. The level of technical excellence needed to achieve the pinnacle of Tier ratings means this level of certification is infrequently found right across the world.
Quality infrastructure drives quality outcomes
Our newly opened P2 Perth data centre is more than just a Perth landmark, it's the first local facility to be certified by UI as Tier IV compliant.
What Tier IV status means to your business is that every critical function of the critical infrastructure supporting your business is completely fault tolerant. Not only are systems such as cooling, power supply, back-up power supply, flood and fire protection, security and connectivity fully replicated for redundancy, but each of those separate systems are completely isolated from each other. No failure or unexpected incident of any kind in the primary systems can have any physical impact on the secondary.
Ensuring our customers are always online requires the use of the world's leading technology and infrastructure for all of the critical components that make up our data centres. For example, all 40 emergency power generators safeguarding our facilities across the country (including P2) are custom manufactured by Rolls Royce's MTU, a company widely regarded globally for the premium quality and reliability of their products.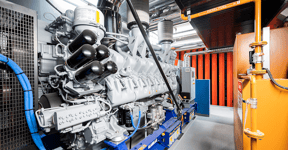 Emergency power generators safeguarding P2 are custom manufactured by Rolls Royce's MTU, a company widely regarded globally for the premium quality and reliability of their products.
Our business was built to provide the best quality in the market, and we have delivered our customers a 100% uptime guarantee from day one. But our Tier IV certification provides another layer of assurance that we stand behind our beliefs and we have 100% faith in the superior quality of our infrastructure. The much-needed assurance for businesses operating in an always on world.
Options are essential for informed decision making, but not all data centres are created equal. So, the question has to be asked, where are you going to entrust the IT infrastructure that enables the growth of your organisation? Do you want your surging volumes of data to be transported by a Rolls Royce or a Trabant? Do you want your critical infrastructure managed by an unqualified mechanic, or a Formula 1 race team?
If you haven't experienced the quality and capability of a Tier IV data centre. Book a tour, we would love to show you around.