This week NEXTDC attended the 2014 Telstra Vantage event, held on the 23rd and 24th of September at the Melbourne Convention and Exhibition Centre. Vantage was unlike what we have seen from Telstra in the past, with two action-packed days of industry networking, collaboration and business brainstorming.
As well as around 1000 registered guests, there were about 500 of Telstra's team members in attendance along with some of the world's biggest names in ICT such as Cisco, VCE, VMware, EMC, Accenture, Apple and many more.
Vantage was closed to the public, an invite-only event tackling the modern day's biggest IT topics such as digital, mobility and the one closest to our heart – the cloud.
The buzz around the exhibitors' village was all about Telstra's Vblock private cloud offering that leverages a combination of best-of-breed infrastructure and services from Telstra, VCE, Cisco and NEXTDC. Delegates were invited to come along on an 'Intercloud Journey' where they were walked through how these high-profile organisations are collaborating to deliver their customers a seamless journey to the cloud.
This innovative hybrid cloud offering is on top of most CXOs' agendas and sees the world's best technology teamed with the highest-quality infrastructure available. The ground-breaking Vblock solution is geared to meet Australian businesses' growing cloud and colocation requirements to improve business efficiencies and reduce overheads.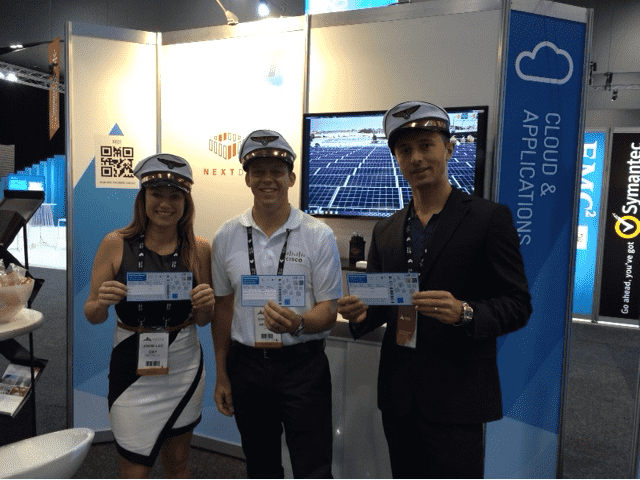 Image above: Please take your seat on the Intercloud Journey! Flight Captains from NEXTDC, VCE, Cisco and Telstra handed out special boarding passes for attendees to collect stamps from all four stands and go into a draw to win $1000 worth of travel vouchers.