'Excellence' is a word bandied around freely in the modern world; not always appropriately. For organisations trying to advance their digital transformation strategy, it's a moving target of achieving resilience, risk mitigation, consistently high performance, and the flexibility to facilitate decisive change.
When it comes to faultlessly serving your customers, nothing short of 100% service availability, safety and sustainability as well as impenetrable security and outstanding customer service should be accepted. Risk mitigation is a huge challenge and compliance failure in any of the above can hugely impact the broader business strategy.
Excellence by design
These outcomes don't materialise out of thin air. There are always people, processes, and technologies at the heart of service delivery excellence. When you don't have the resources to develop and deploy them as required or you need your entire supply chain to share your commitment to excellence, that's where strategic partnering provides a giant leap towards the end game.
The exponential growth in demand for premium data centre services that address their resilience, security, risk, and compliance imperatives warrant the pursuit of excellence of a different kind.
Many of our customers need to ensure all their suppliers comply with a range of standards critical to managing risks in their own operations. The result, a new program of compliance management that serves to further solidify disparate compliance requirements and risk management strategies for enterprise organisations and government agencies.
Fundamentally, the landscape has changed and will continue to do so, as digital transformation, and cloud migration strategies accelerate. As this digital transformation matures, risk management, governance and compliance also continue to exacerbate already stretched resourcing challenges.
Servicing diverse requirements
To support our customers' diverse requirements and individual policies around how they manage risk, compliance, and governance, it's imperative we personalise our definitions of service delivery excellence to cover this disparity in expectations. Our operational cadence and accountability to our customers therefore extends beyond just colocation excellence and compliance with established best practice frameworks and international standards around resilience and physical security.
Our motivation to customise the way we support our customers' own individual architecture and operational policies is the pivotal cornerstone for creating a compliance management program that delivers a 2nd line of defence our customers are telling us they need.
For example, our public cloud providers each have their own compliance and risk management requirements with a strong emphasis on resilience, security, and safety. They also seek environmental sustainability and quality assurance right across their supply chains but to differing degrees.
Our customers – and our customers' customers – in the financial services industry vertical, place an extremely high emphasis on securing the integrity of transactional compliance (PCI DSS) and verifying the trustworthiness of systems and services being provided (SOC 2). While we don't have access to their data under management, the physical security standards applying to protecting transactions is critical to compliance.
In the past, if they wanted to take advantage of connectivity, cloud, and security benefits inherent in colocation data centre services, they would have to themselves audit our physical security to ensure it met SOC2 and PCI DSS stipulations. NEXTDC now do that for them as part of our ongoing, unified program of compliance.
Managing best practice disciplines
NEXTDC's Operational Excellence (NOE) framework is a defined program that manages best practice disciplines and international standards we apply to creating customer surety around how they manage their critical I.T investments.
The ultimate goal of the NOE is to ensure we are operating to our own uncompromising standards and guidelines to reduce customer risk. By setting our own benchmarks for operational excellence, we are harsher on ourselves then any customer or certification body could be. NOE ensures our customers receive a consistently superior quality of service wherever they have Points of Presence.
Under the program, resilience, security, safety, sustainability, and customer experience expectations will be met to defined quality standards with repeatable processes that remove the burden of cumbersome and manual audit and management from their infrastructure management needs.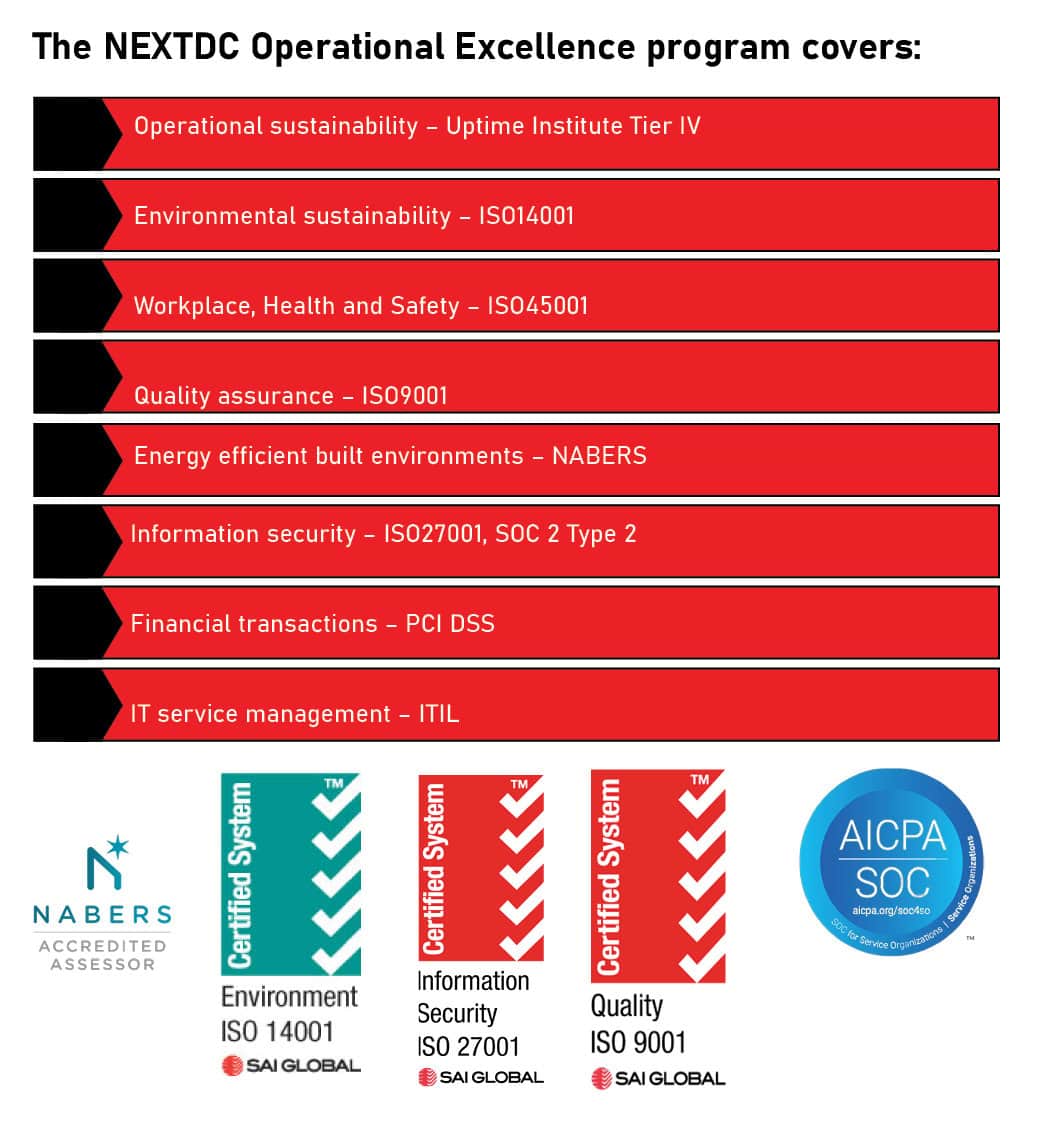 It is important to deliver our services in adherence to the standards and frameworks important to them. Independently verifying that our facilities are accountable to these standards means they themselves don't have to ensure we comply. It is all part of providing a frictionless and risk-free customer experience, saving customers time and money.
Supporting key priorities such as data security, infrastructure resilience at the same time as cost effectively driving an IT strategy that aligns with business priorities is a challenge, and compliance is a minefield.
As digitisation matures, observance of the plethora of regulations, best practice frameworks and standards essential to efficient, reliable operations is no longer plausible without economies of scale. At the same time, the pendulum has shifted, with compliance no longer viewed as a box-ticking exercise but a core risk mitigation strategy.
Partner strategically
One of the keys to accelerating digital transformation is to stay focussed on what you do best, keeping capital for revenue and demand initiatives. Engaging suppliers who excel at doing the rest shifts the needle on cost model for funding innovation and growth. The key, however, is making the right decision around partnering, ensuring the independent verification of service quality.
That's where compliance delivered by partners becomes important. It's critical to attain the level of excellence your customers expect in all areas of engagement but difficult to find the expertise, capital and effort required for the audit process. Achieving compliance with acknowledged world's best practices is more than just a value-add, it is an opportunity to demonstrate excellence to their customers without having to go through the complexities of complying themselves.
Being efficient in the way compliance is maintained is one of the great challenges for any organisation looking to maintain growth and, increasingly, there is demonstrable value derived from partnering to get there faster.
Our customers are empowered to aggregate digital infrastructure compliance challenges into one managed service agreement, giving them full accountability for the things critical to managing their strategic IT assets. NOE provides an overarching framework to ensure our customers' environments are protected by a 2nd line of risk defence.
Reach out if you want to know more about how an uncompromising focus on operational excellence in the data centre is critical to futureproofing your elastic cloud enterprise.