By Sean Rinas, Head of Network Operations
It only took one tiny thermal exhaust port to unravel a Death Star. Let's put aside for the moment that the whole Star Wars franchise is a fictional fantasy saga. For the purpose of this narrative, we can also ignore that this flaw was deliberately designed by an insider to be a point of sabotage.
My point here is that I want to focus on the concept of a single point of failure potentially starting a chain reaction that brings even the most awe-inspiring piece of engineering to a grinding halt.
Engineers of all disciplines are tasked with eliminating any single component where its malfunction would lead to catastrophic consequences. In the parlance of connectivity for digital infrastructure, this principle is just as relevant as it is for any other area of industrial design.
As another example, there was, and still is, in some helicopter designs, a single nut that holds the primary rotor in place. If it fails in flight, the rotor will detach from the fuselage and passengers on the chopper would be in serious trouble.
As a network operations engineer, I sometimes lay awake at night, thinking to myself; "are there any single points of failure on my network? What is my thermal exhaust port? Which component – or components – of my network architecture can be further bolstered to make it even more resilient than it already is?"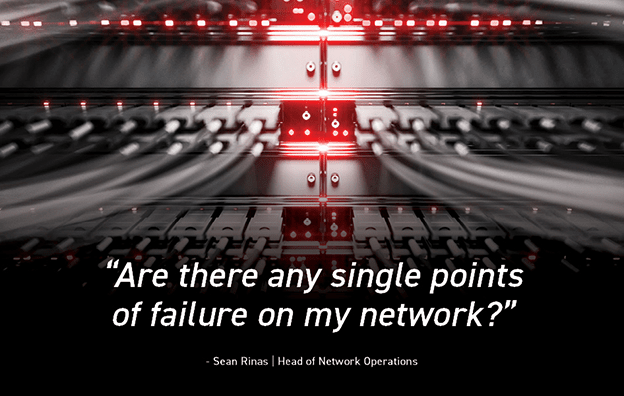 More importantly, as the head of NEXTDC's Network Operations, I fully understand just how critical it is to eliminate any potential single point of failure in the cross-connect, metro, national and international connectivity infrastructure we mange for customers. And we work tirelessly to deliver on our promise of 100% uptime.
Building resilience into the networks our customers depend on is more important than ever. Our connectivity solutions cannot fail, and thanks to the design and operational expertise applied to them, we provide peace-of-mind to our customers that they will not.
Digital transformation is not just a buzzword. It is a reality for every organisation, leveraging information technologies and innovation to change the way they do business and the way they engage with their customers is at the core of today's organisations. They are investing in services, systems and partners that will help them ensure that their critical systems are always online. And flexible, resilient connectivity that is easy to manage and deploy is the glue that holds this whole strategy together.
As a result of their investments in digital transformation, NEXTDC customers are reaping a broad range of benefits from improved efficiency and agility to reduced costs, enhanced customer experiences and being able to leverage new business models that capture new market opportunities. In the poker game of commerce and service delivery, many organisations have gone "all-in".
If the challenge of warding off disruption from new agile, digitally enhanced business models was not enough of an imperative to encourage every organisation to rethink their network architecture, everything changed again in February of this year. A one-in-100-year global health pandemic has organisations grappling with new challenges. This has placed even further onus on the need for 100% availability and reliability of the digital infrastructure that underscores the viability of their business.
Social distancing mandates have led to an increased remote workforce, reduced ability for face-to-face contact with customers, suppliers and collaboration between teams. This put resilient, predictable, flexible, scalable, and agile networks right at the core of business continuity.
With all of this additional emphasis today on infrastructure that is always connected and always on, just like a helicopter in flight, the consequences of network failure can be catastrophic. Imagine if you are a provider of POS transaction services and your network went offline in the Christmas rush. What would that do to your reputation and revenues?
What if you are a resources company managing autonomous vehicles from a remote operation centre and you lost contact with the mine sites where every minute of lost production, equates to millions in lost revenue?
There are numerous famous examples of outages that have had monumental impact on businesses, and they usually occur from incidents that were not even considered to be possible until they occurred.
This is why our national AXON network is such a valuable platform for transforming organisations. A port into AXON from any of our data centres allows you to connect to anywhere else in our footprint and onto global networks.
AXON was built to be Australia's most resilient and diverse data centre and cloud connectivity platform, to directly support our customers digital transformation priorities.
It gives our customers the flexibility and functionality they need to improve network predictability and performance, while directly addressing their redundancy and 100% availability imperatives. When utilising AXON, our customers rest easy that there are always multiple, fully diverse routes making sure that the point-to-point connection continuity they need is always up.
Ultimately, eliminating any potential for service interruption saves our customers time and money in the long run. It ensures they reduce risk to the business; it improves productivity and facilitates more focus on proactive, innovative approaches to business strategy. At the end of the day, it creates headache-free confidence that the network is not going to let the organisation down or compromise the user experience of customers.
At NEXTDC, our network engineers are all charged with going one step beyond understanding "Murphy's Law" which states: "Anything that can go wrong, will go wrong." We take a stance that Murphy was an optimist because our customers rely on us intrinsically to think that way and never let them down.
There has never been a more important time for us all as network managers, operations staff and engineers to blue print our architectures, put the infrastructure under the microscope and eliminate our "Thermal Exhaust Port".
Reach out to NEXTDC, talk to Australia's best digital infrastructure engineers and let us help you develop an architecture that connects you holistically to all the services, platforms and people critical to your business and keeps your network flying 100% of the time.