Well before the first sod was turned at the massive M2 upgrade taking place at present to facilitate new cloud availability zones in Melbourne's north, NEXTDC and principle construction partner, Kapitol Group, were working closely to ensure that their safety cultures were in alignment.
At NEXTDC, safety is our highest priority. In this two-part safety series, we spoke to the lead Project Managers from NEXTDC (Simon Brown) and Kapitol Group (Tim Trimble) to gain a better understanding about how safety has been addressed on-site.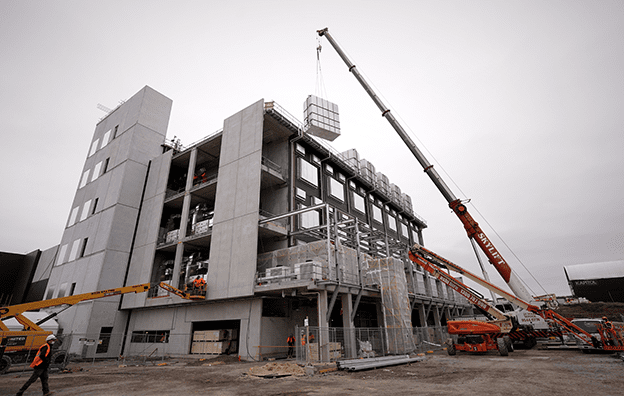 PART 1:
In part one of the discussion, we discuss the importance of aligning cultures, creating and maintaining a safe environment, and the unique nature of works and safety strategy as we triple the size of the M2 data centre.
1. How do two organisations who place high value on safety, make sure their policies and procedures align?
Due diligence and culture forensics
Simon Brown, Project Manager, NEXTDC (SB): It starts with the tender process and early engagement. We work closely with principle contractors from the beginning. We seek evidence of their safety performance over the last five years including safety records from contracts of similar size and scope. It is important to match industry standards to data. We also look at existing policies and procedures to get a feel for culture.
But it is not just their stated "track record" of positive safety result. That can be achieved by under-reporting or selective reporting. There are other identifying factors that point to a positive safety culture. The bottom line is, we don't go past step one unless we are 100% sure their safety posture is aligned to ours.
There is no point discussing dollars, materials, and schedules until we are confident they have a safety culture, processes, procedures and track record that demonstrates proactivity and continual improvement.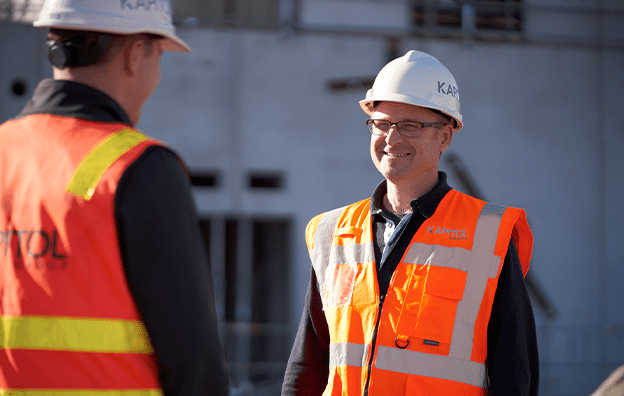 Keeping an open mind, working collaboratively
Tim Trimble, Senior Project Manager, Kapitol Group (TT): Safety is a huge priority in construction, so we have a series of safety policies and procedures already. Ultimately, aligning with NEXTDC comes down to open sharing of knowledge, and learning from each other's past experiences. We know that they have experience in building data centres, and we bring our expertise in large scale, fast-track construction. We come with an open mind on how we can collaborate effectively for the best results on the individual project with the goal of achieving zero incidents on the site.
Every site is different, so a lot of effort goes into early identification of risks, communicating those risks to all parties and putting in place all of the metrics required to ensure we meet objectives and timelines without compromising health and safety of all people on site.
2. From a safety standpoint, what does the collective approach look like to ensure we create a safe environment that is maintained throughout?
Real-time proactive site safety
SB: It's all about ongoing training. We have really ramped up Hazard ID awareness and reinforcement of the importance placed on constant risk vigilance. Construction sites are dynamic, and the risks change every day, with every new stage of the project. It is easy for everyone on site to have tunnel vision and think we have got it all covered which is why we place so much emphasis on daily site walks and using third party safety specialists to continually assess the site.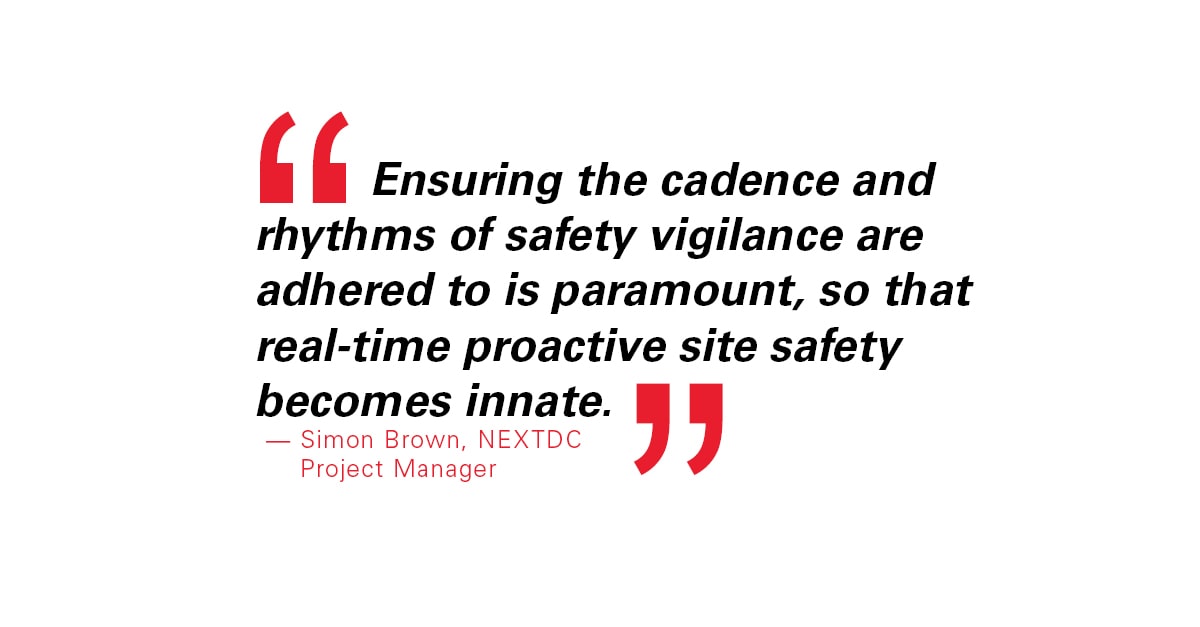 Ensuring the cadence and rhythms of safety vigilance are adhered to is paramount, so that real-time proactive site safety becomes innate. Training, communication and awareness is key to that.
A clean site is a safe site
TT: Best practice site safety starts with good housekeeping – making sure the site is tidy and orderly. When we started working together, we insisted that the site had to always be clean. If you set a high bar on stuff like this, it ensures that people are always vigilant. We maintain zero tolerance around untidiness, and safety breaches are embedded into everything from the outset and people are held to account for that.
There is always a new workshop to be had or new trades on site to be inducted to what is expected of them from a safety point-of-view. We need them to come on the safety journey with us and this constantly creates opportunities to reinforce the basics and identify the new challenges.
3. In the case of the M2 project, were there any different/unique safety challenges that were identified or needed specific consideration?
Juggling simultaneous challenges
SB: Neither organisation had previously worked with the Super-T, prefabricated concrete slabs being used. We were working to really tight timelines and juggling simultaneous challenges in managing a lot of trades in the same area at the same time.
Equally, there was an unusually large number of cranes on site at the same time which in itself is a safety hazard to be managed carefully.
Multiple trades working concurrently
TT: With such big floor plates, we didn't have the luxury of letting one trade go through and complete their tasks; we had to come up with systems that allowed multiple trades to work concurrently under an overlapping programme. Of course, this creates added safety risks that have to be managed.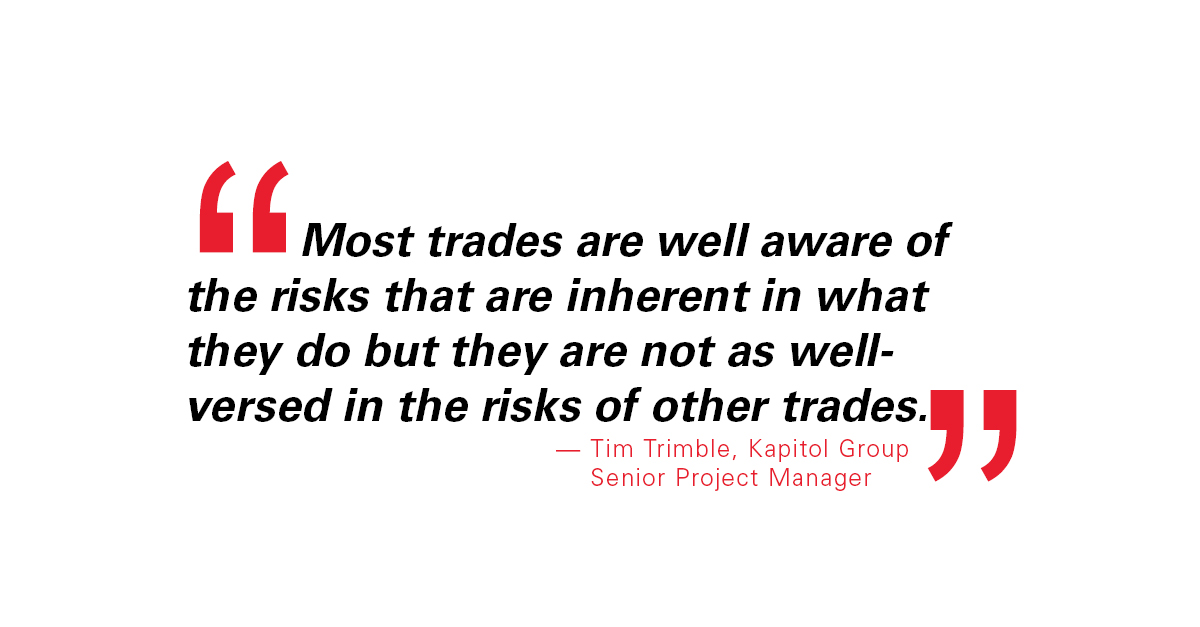 Most trades are well aware of the risks inherent in what they do but they are not as well-versed in the risks of other trades, so when they are working in proximity with one another, additional training, awareness and vigilance is required. We had to sequence the whole floor with a north to south model. Starting at one end and moving through with new trades coming in behind as the previous one progressed.
There has always been a lot of activity happening at the same time with a lot of co-ordination between people and plant going on, so we set up exclusion zones with hard perimeters to restrict access to only those that were meant to be there.
If you would like to understand how NEXTDC can support your critical IT operations and ensure you and your teams' safety is continually top of mind, reach out and speak with a specialist.
Part 2 of this safety discussion discusses the impact a global pandemic had on the project, how that response was taken to another level when Stage 4 restrictions were introduced and what lessons from the COVID-19 experience will endure in safety strategy going forward.