When NEXTDC launched B2, Australia's first Tier IV-certified constructed facility in Brisbane, it was the first of three new second-generation colocation data centres to be built around the country. With each of these facilities relying on specific connectivity requirements to offer customers physical or virtual connections, managing this from the get-go was critical. In particular, the B2 site required direct interconnectivity to B1, to offer seamless connectivity between the two sites.
To better manage this, NEXTDC approached HUBER+SUHNER, a provider of high-performance electrical and optical connectivity solutions for the data centre industry. Working closely with NEXTDC, it implemented a structured cabling solution, allowing the team to streamline cable management for both copper and fibre.
A flexible approach to connectivity
"We were looking for a better way to manage structured cabling and patch cord management," Mathew Watson, Data Centre Operations Specialist at NEXTDC, says. "The key was a high-density fibre-management solution that would allow us to maximise space. Essentially – as many fibres with the smallest footprint possible."
Enter HUBER+SUHNER. In collaboration with NEXTDC, it designed IANOS®, a front-facing solution that offers 2800 fibre connections while addressing the common issues of other high-density solutions. Unlike other fibre panels on the market, the IANOS® chassis has a split design separating the left-hand side of the chassis from the right. This lets users access just half of the connectivity row without disrupting pre-installed business-critical fibres.
"By working collaboratively, we could deliver a truly flexible, high-density and easy to manage solution", Timothy Newton, Sales Manager at HUBER + SUHNER says.
"The implementation process was very smooth. We listened to their requirements, took on board changes that were required and made any modifications to ensure that the partnership was working well for everyone."
NEXTDC also implemented a range of HUBER+SUHNER services for an integrated solution, including Uniboot LC-XD patching, pre-terminated Optipack cables, Kypros copper cables, jacks and patch cords and a High-Density Zone Distribution Panel.
Watson says: "The real benefit for the partnership has been the flexibility. HUBER+SUHNER was very open to modifying the solution to make sure it suited our requirements."
One example of this flexibility was in the implementation of the cabling. While the pre-terminated solution offered cables at 10-metre increments, NEXTDC needed 5-metre increments and wanted to minimise any moving parts.
"We customised the solution – reducing any moving parts, changing to 5-metre increments and lifting the separation between the left and right of the frames, which halved the number of patch cords in the fibre management side of the frame."
A 25-year guarantee
To strengthen the relationship and provide ongoing support, NEXTDC has also received the HUBER+SUHNER Data Centre Certification Training (DCCT) offering, which provides certification for technicians.
"It allows them to fully understand our products and solutions so they can monitor how the structured cabling is installed and then submit test results. We then offer a 25-year warranty on the selected cables," Newton says.
To date, six NEXTDC technicians have been certified across Brisbane and Melbourne. Preferred contractors have also booked courses to achieve the accreditation.
"The 25-year warranty is a huge benefit for us," Watson says. "It allows us greater flexibility and certainty, which also enables us to continue providing the best possible service for our customers."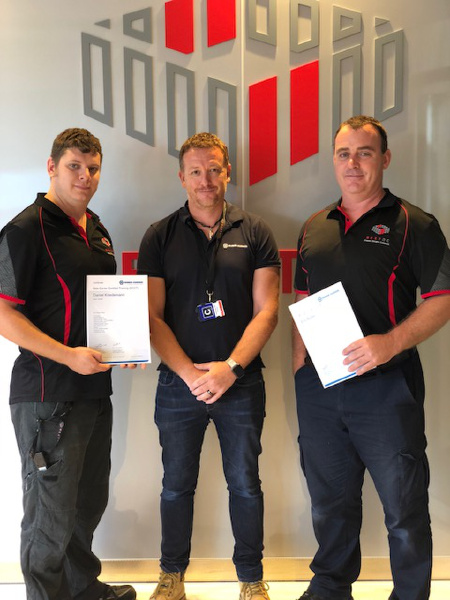 NEXTDC Data Centre Technicians Daniel Kriedemann and Eric Butler upon completing DCCT
An ongoing partnership
Following the roll out of the initial implementation, NEXTDC is looking to the future with HUBER+SUHNER. "It's a progressive solution that is growing with NEXTDC's needs," Newton says. "We're now working on a range of new projects, such as adding a small lever to the patch cords as well as a solution that allows the system doors to be utilised from both the inside and the outside."
Watson says he is looking forward to partnering with the team to extend the solutions across its other data centres. It's also focused on safeguarding the quality of the existing system.
"We're discussing doing an intermittent audit on site to maintain the quality of installation and ensure there are no issues in the future," Newton says. "Ultimately, our solution aims to provide peace of mind."
"NEXTDC has been great to work with. We're really looking forward to continuing the partnership. Every NEXTDC employee has been absolutely fantastic."
Find out more about HUBER+SUHNER here.