By Rebecca Jackson Digital Workplace Coordinator, NEXTDC
Effective collaboration digital workplaces are key to the success of any business, but are of specific importance to support a company during the time of great escalation, which is exactly where NEXTDC's business journey is currently at. During the company's extreme growth, scaling up from a mere start-up business in 2010 and rocketing into a multi-billion dollar company in today's market, significant importance was placed on streamlining operations and ensuring teams operate at peak capacity.
When I first joined NEXTDC, I was given the responsibility for the evolution of NEXTDC's digital workplace assets and to improve systems and processes for our teams. NEXTDC continues to recognise that customer experience and employee experience have close ties and that investing in both is the key to future success. The first step in this investment was to design and build an intranet and digital workplace on Office 365 using SharePoint online, but no successful project only focusses on designing, building and implementing.
One of our core values is working as "one team," which underpins the way that business units operate across the country between the business' seven offices, so building an effective digital workplace was not only key to the success of the company, but supported the values that each employee lives by.
Through feedback from our teams, we knew that understanding the different products in the digital workplace was a key problem to be solved, and a critical factor in the success of our digital workplace. To help our teams navigate the digital workplace, and what tool to use when we defined a framework built around five 'building blocks' which define the ways we work in the digital workplace: Collaboration, Action, Discovery, Working Out Loud, Flexibility The building blocks were then mapped to our company values, use cases and recommended tools.
The framework then provided a structure for a highly-focused change management initiative based around training sessions and self-service resources. This helped drive knowledge of the digital workplace among employees and supported a growth in adoption amongst all teams.
The change management and communications strategy, which connects online learning with a multi-channel communication approach, contained high levels of detail, unique for a small company. The feedback from our teams was also very positive with relatively high levels of attendance for the online training across the entire company. We could eventually look at measures taken before and after the program delivery to demonstrate increases in use and engagement of digital tools as a result of this program.
Matching our long list of industry awards and business accolades, we are now positioned as a global leader for our outstanding contributions towards our intranet and digital workplaces, recognised by the Step Two Intranet and Digital Workplace Awards (IDWA).
I am extremely pleased to share that NEXTDC received a Silver Award in the 'Social, Collaboration and Communication' category of the Awards. Amongst our many digital workplace and employee experience programs, this award focusses on our digital workplace building blocks which the cornerstone of the delivery of our Intranet and Digital Workplace in November 2016.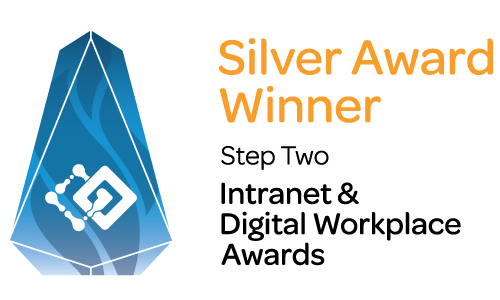 The IDWA has awarded us for our "learning programme to teach digital workplace skills to employees based on a framework of five digital workplace 'building blocks' , with each building block mapped to use cases, tools and company values". Key to receiving an award in the IDWA is being able to demonstrate measurable benefits, some of the key improvements we could measure were:
Ranked #3 digital workplace worldwide, improving on our previous ranking of #260, rated by our team among 300+ organisations (via the Worldwide Intranet Challenge)
80% of those who attended training said it had improved their digital workplace understanding
Speed and ease of access to critical information improved from 54% to 88% in usability testing
Activity in our enterprise social network (Yammer) increased up to 240% year on year
The Intranet and Digital Workplace Awards are a global award, judged by a diverse and independent panel which seeks to recognise outstanding contributions in the fields of digital workplace. NEXTDC is among 17 organisations recognised from across the globe. The judges said about our entry:
For a small organisation it's impressive to see such a comprehensive digital workplace approach - Sam Marshall
They did a really great job with their communication strategy. I like how they are connecting all of their messaging to their corporate shared values - Sue Hanley
I really like NEXTDC's user involvement and digital workplace education program. The digital workplace building blocks are a great methodology and concept - Elena Bogdanova

This shows how to 'find your way' through the possibilities of Office 365 and the digital workplace needs of the business. Very strong thinking and clear models, that stand out from many other approaches to Office 365 - James Robertson
I'd like to thank everyone at NEXTDC who has played a part in building our digital workplace, particularly my colleague Peta Vigor (Technology Project Manager), for all the time, dedication and commitment to successfully deliver our technology projects. I'd also like to congratulate all the other award winners from the IDWA, who shared some amazing examples with leading edge innovations into the digital workplace.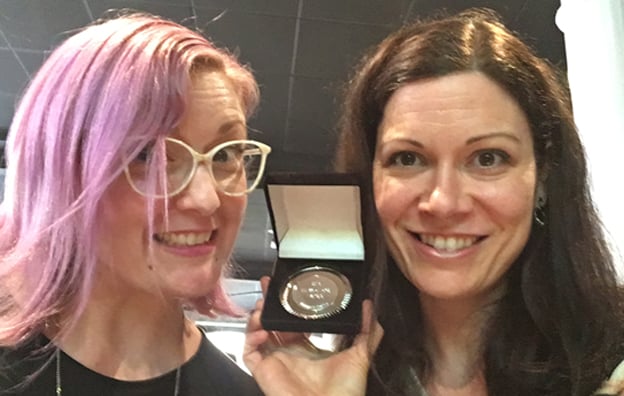 Rebecca Jackson and Peta Vigor
Peta and I received the award on behalf of NEXTDC at an awards ceremony in Sydney where I spoke about our awards submission to the intranet and digital workplace community. My presentation is now available for everyone to learn from – I hope our journey of digital transformation in the workplace inspires some ideas for your own team!