Written by: Scott Puddy, Head of Safety
People first, always
It takes more than just cutting-edge technology to build the infrastructure platform that powers the internet and fuels the growth of the digital economy. It takes a team of committed people with energy and passion to make a business great.
At NEXTDC, our culture embodies a focus on innovation, the pursuit of excellence and creating an outstanding customer experience across every aspect of our business. But there's another element that we never overlook. Safety manifests as an obsession for ensuring that all our people, customers and visitors to our sites are as safe as is humanly possible at all times. Since businesses are built on the foundation of people, it's imperative that every day we are committed to maintaining a 100% focus on keeping those people safe and achieving our goal of zero injuries.
One of the most critical aspects to maintaining a safe environment is reporting potential hazards before they have the chance to become incidents. With safety forming a priority that every one of us hold ourselves responsible for, we're always looking for ways to bring our people into the process to help us continually improve. One of our safety best practises we are most proud of was the introduction of the annual 'NEXTDC Safety Hazard Hunt'. The Christmas and new year period represent a time when many of us enjoy a well-earned break, but ironically, it equally represents a time where incidents increase industry wide. Our annual safety hazard hunt was conceived to coincide with the holiday period and was designed to empower our staff and improve engagement on identifying and reporting potential hazards.
The program is an opportunity for the team to take the time to have a serious look at their work environment through a safety lens, where resolving the issue would present a real improvement in safety across all areas of the business.
And the winner is…
Data centre technician, Louis Serra took out the gold in our inaugural Hazard Hunt. Louis reported a potential issue with the nationally deployed customer 'crash carts'. These carts are a shared resource for all customers who are working in our data halls. They include power and connectivity features that allow our customers to have a mobile, functional working surface that plugs a laptop directly into their systems for the purpose of performing maintenance or testing.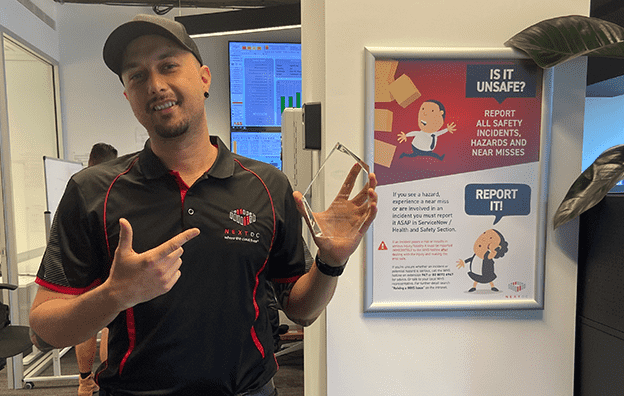 Louis identified that the powder-coating finish on some bolts throughout the cart meant that earthing continuity was not consistent with required electrical standards. Under certain circumstances, this lack of earthing continuity may have left the customer carts holding an electrical charge and presenting a risk to customers and staff who utilise them on a daily basis.
As Louis regularly says - "Safety is no accident". Louis, a licensed electrician, identified this potential safety hazard after noting a charge inconsistency on crash carts in both our B1 and B2 facilities after updating the connector plug type. He then dove deeper into the anomaly to investigate a root cause and find a fix. As a result of this hazard being notified to the WHS team via the Hazard Hunt, a nation-wide review of all crash carts was undertaken by the Facilities team and all assets that shared the problem were taken out of service until the issue was addressed, a process that served to eliminate the possibility of this potential hazard.
This is exactly the sort of proactive approach to safety that the Hazard Hunt is designed to uncover.
We empower safety every day
Our highest priority is the health, happiness and safety of our teams, customers, contractors and suppliers. We nurture a culture of effective health and wellbeing management by placing safety at the forefront of everything we do.
We pride ourselves on promoting a safety-first culture where everyone feels inspired to contribute to a safe environment they can feel proud of and empowered to speak up when they identify anything that could be potentially hazardous. It is a program of continuous improvement applied to our WHS processes and an ongoing communication priority to maintain it as cornerstone of our corporate culture.
If you would like to understand how NEXTDC can support your critical IT operations and ensure you and your teams' safety is continually top of mind, reach out and speak with a specialist.