Written by Claire Sangster - WA State Manager
Preparing for the inevitable post-pandemic recovery is something that every Western Australian business is thinking about, and strategically planning for right now. Step one is embracing the fact that the opportunities of the future will be data driven and reliant on digital infrastructure.
Succeeding in tomorrow's global, digital economy will take more than just continuing down the same well-trodden path.
Digital transformation is accelerating
Recent research by analyst firm, IDC, found that COVID-19 has accelerated digital transformation by as much as five years. That means your competitors are no longer just local or national organisations. Instead they are flexible, agile organisations that could be located anywhere in the world and that have been busy creating competitive differentiation through the effective use of data and technology.
Most commercial entities have made significant progress, but achieving digital readiness is a dynamic transformation. Continuing to evolve your digital strategy in light of ongoing change and challenges is critical to staying ahead of the curve. Value has already been created, but keeping one eye on now and one eye on the future; with a focus on continually improving the way you leverage and manage your technology stack, will be the key enabler in creating competitive advantage.
With the right platforms in your artillery, it acts as the key enabler to bringing the future forward rather than waiting for it to come to you. Now is the time to leverage the time, money and performance gains of your journey to date, so you can focus on the right innovation strategies that will set you up for strong future growth.
The power of a connected ecosystem
Thriving in the digital economy comes down to an organisations ability to leverage interconnected ecosystems and having complete confidence that your corporate and customer data is secure. This new business imperative also means ensuring the critical systems at the core of your business processes will always be available and performing optimally.
We now live in a world that is less certain than it used to be, with increasing threats from climate change, cybercrime and new business models. Digital platforms that give you the flexibility and agility to be prepared for present and future disruption are key to normalising and stabilising business in the 2020s.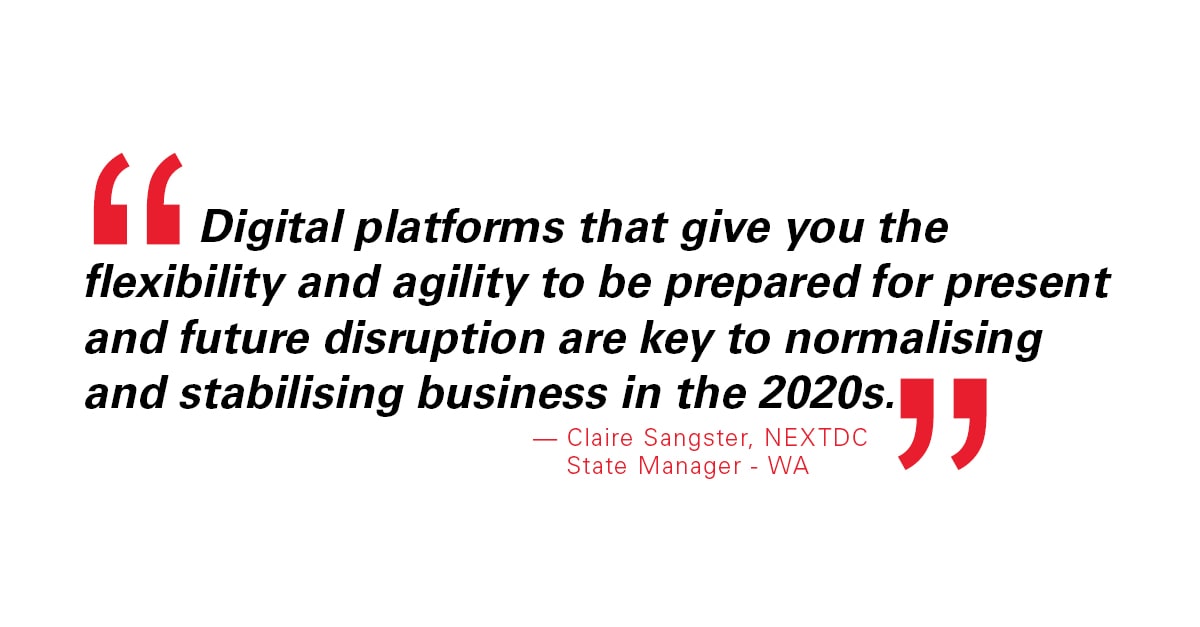 Performance through proximity
Today, there's an increasing customer and user focus on technology performance. Technology is also enabling ongoing changes to the way companies compete, transact and engage. These phenomena compound to form a compelling argument for businesses to locate their physical IT infrastructure, as close as possible to the clouds, networks and ICT services driving innovation, efficiency and growth strategies.
The rapid shift in today's digital business requirements has resulted in a shift in business ecosystems. They've become larger and more complex and represent an essential part of the business that requires strategic thinking around how to directly connect to them and manage them easily. Enabling the kind of flexibility and rapid response required to exist in an increasingly digital world, comes down to organisations embedding themselves into digital ecosystems. NEXTDC's digitally advanced data centres house more than 640 partners including networks, clouds and Australia's major ICT services providers. They facilitate immediate and private interconnections to the critical services within the ecosystem that West Australian businesses depend on.
Digital management costs keep rising
Managing the critical infrastructure that enables you to compete in a data-driven and highly interconnected world is becoming increasingly expensive. COVID-19 has ushered massive change to the mobility of teams, and the way businesses engage with customers, partners, and suppliers. You have to ask yourself; Is there a better way to manage technology than having it shackled to your real estate strategy?
In addition to helping reduce complexities around the challenges of data management, rapid change and global competition, colocation data centres like NEXTDC's are the environments where the clouds, carriers and major IT services that are driving innovation and growth, all live.
Reducing costs through energy efficiency
In any business today, customers want to better understand the environmental sustainability objectives and ethical purchasing processes of their partners and suppliers. This is an area NEXTDC pays close attention; we strongly believe in the advantages that operationally and sustainably superior businesses offer, so we invest heavily in ensuring we deliver the most energy efficient digital infrastructure platform in Australia.
As data volumes continue to grow, so too does the amount of power needed to power your data centres. Similarly, the bigger, faster systems being used generate significant heat, so intelligent design and operational expertise is needed to minimise the power used by the cooling systems that keep the operating environment running optimally.
NEXTDC is committed to driving continuous sustainability improvements for two reasons. Firstly, by making our data centres the most power efficient in Australia we are helping our customers reduce their power bills; a benefit that will continue to have an ongoing bottom-line impact for them as digital transformation accelerates.
Secondly, we take immense pride in leading by example and from the front in the local data centre industry. Our data centres are designed, and purpose built to reduce the impact of growing data volumes on the environment, communities, and the biosphere.
Come and see for yourself
Our new P2 Perth data centre has fast become an iconic building in our city's CBD skyline, but it's more than just an architectural feature that looms large as you approach Perth's CBD from the east on the Graham Farmer Freeway. It's the biggest digital infrastructure boost that Perth has received since P1 opened, and will drive economic growth and investment in the state.
If you're interested to learn more about how this world-class digital infrastructure is the key to accelerating the performance and growth opportunities for your business, our local specialists are ready to show you first-hand. Request a tour today.