By Scott Puddy, Head of Safety
There is an anonymous quote about safety that says: "Safety isn't expensive, it's priceless." You can't put a price on people, which is why we're proud to support Safe Work Australia's (SWA) National Safe Work Month program, reinforcing our commitment to customers that our infrastructure services not only address their risk and compliance challenges but also provide an uncompromised safe workplace for their own teams.
Data centres can be dangerous environments. High voltage power sources, complex industrial-scale plant and equipment and many obstacles, heights, and potential points of failure requires vigilance at every step.
Digital infrastructure is the beating heart of business processes, innovation, and growth; knowing your data centre adheres to the highest safety standards for your people is one less thing our customers need to manage themselves. Equally, it creates significant opportunity to redirect resources to core business objectives such as growth and innovation.
Safety is a journey
This year's Safe Work Month theme is "Think Safe, Work Safe, Be Safe" which aligns perfectly with our uncompromising commitment to the health and wellbeing of our teams, contractors, and customers.
Safety is a never-ending journey that mirrors our endeavours to continually manage, measure and improve every aspect of operations to optimise customer outcomes and apply frictionless excellence.
There are two key themes identified by NEXTDC within the 'Think Safe' parameters of this year's theme
Physical safety – We encourage all team members, customers and suppliers to consider safety as No.1 priority. Keeping critical infrastructure secure and available depends upon many factors including ensuring risks to health and safety are either eliminated or more effectively controlled. At every turn, our customers are reminded that safety is planned and considered for their benefit. Everyone is encouraged to speak up at the first hint of any hazard or potential risk and every newly-identified occurrence is logged and tracked through to satisfactory conclusion.

Psychosocial safety – Building a psychologically safe environment that encourages positive health and well-being, sharing of ideas and crucial conversations about respect and inclusive behaviour are encouraged to take place without fear of backlash.
Let's get physical
Focusing on physical safety first, safety is mandated as the main priority of all works undertaken across NEXTDC. We work with our team, our customers and key contractors to regularly consult and collaborate on safety disciplines – aligning the right teams within our businesses to promote action and encourage creative solutions to issues as they arise and, where appropriate, share the learnings and outcomes across our supply chain to prevent similar injuries in our industry.
Actively engaging with customers around safety expectations and requirements during the sales process helps to magnify our understanding of what is important to them. Listening, learning, and activating identifiable improvements where required helps bolster all the work we undertake to achieve certification to global best practice frameworks and standards. For example: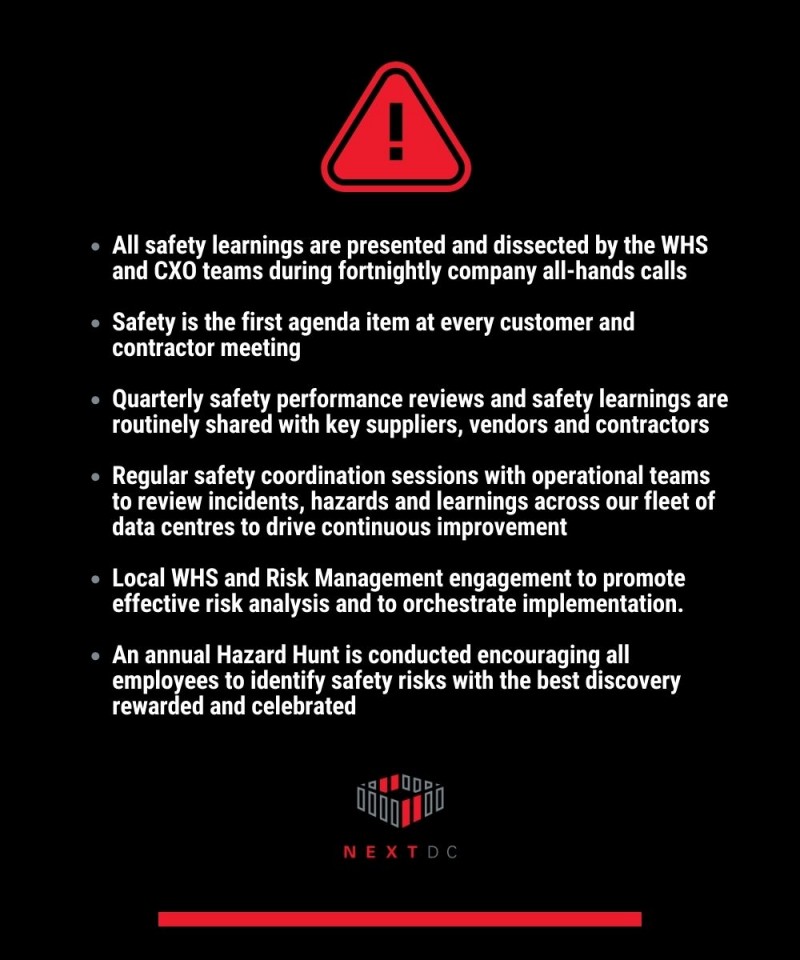 Mental health and safety
Mental health is an escalating challenge during this time of great change. We strongly advocate for the right for everyone to work in a psychosocially safe environment which fosters positive mental health and wellbeing for our teams and visitors.
The latest annual Psychosocial health and safety and bullying in Australian Workplaces report released by Safe Work Australia in 2021 shows that WorkCover claims for workplace injuries relating to mental stress, harassment and/or bullying have risen sharply since 2016. In the last 12 months, we have been sharing knowledge to increase awareness of mental health problems and introduced additional resources to support our team members and site visitors in looking after their wellbeing.
We adopt a number of core strategies that we don't deviate from, to support positive mental health and wellbeing.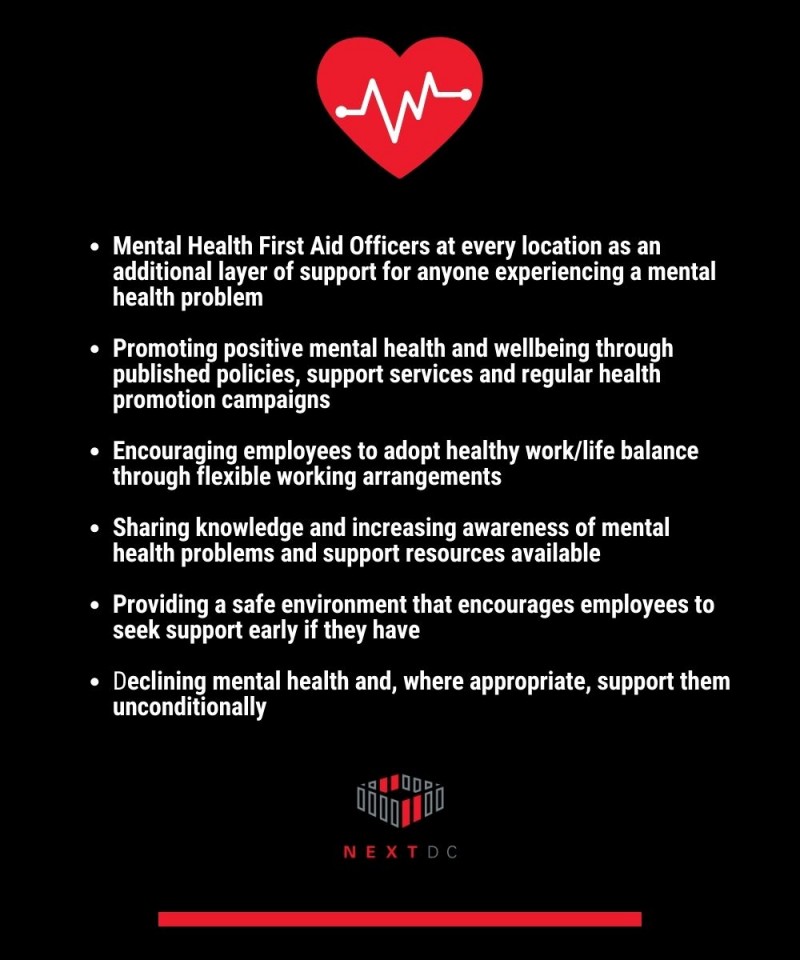 We pride ourselves on providing a physically and mentally safe work environment at NEXTDC for everyone. It's embedded in our company culture and core values that our teams, customers and contractors are supported in an environment that enables them to go home safely to their loved ones every day.
Find out more about how we put safety first at NEXTDC.