How Blue Connections accelerated the delivery of new services, improved resilience and reduced risk
Our partner
During Melbourne-based Blue Connections' 20 years in business, there has been dramatic change in the IT channel and the value it brings to customers and their technology strategies. Today, they continue to provide their customers invaluable support through customised solutions that embrace the flexibility and agility of cloud. This is a direct response to customer demands for the type of resilience, security and connectivity solutions now necessary as volumes of data being collected, stored and analysed grows exponentially.
---
Situation
In times of change, every organisation needs trusted technology partners to help them develop innovative solutions that address the challenges of the present and future and to ensure defined objectives are delivered from investments made. Flexibility, agility and resilience are the key outcomes to innovative technology deployment and business continuity. These are the exact unique value propositions that service providers such as Blue Connections look for from their infrastructure partners.
Every organisation is different
According to Blue Connections' General Manager, Wayne Morris, technology partners have their own set of unique challenges when it comes to not only staying competitive and relevant but maintaining a hefty advantage in the value chain.
"Technology is changing at such a rapid pace. Not only do we have to keep abreast of the latest trends, we have to keep re-inventing ourselves so that we can continue enabling our customers to derive maximum value from their technology investments.
"For our customers today, the value they seek is all about resilience, connectivity to everything from anywhere, data security and leveraging the flexibility of the cloud.
"They are handling substantially more data; they are accessing multiple clouds – both public and private – and their security and availability requirements have become elevated as priorities. We now have to be their strategic partner in working out bespoke solutions to these challenges which are unique to every customer."
Ensuring customer ROI from cloud
Blue Connections introduces value in many ways. They are charged with customising technology so it delivers productivity gains, cost efficiencies and enhanced customer experiences that justify the time, money and effort invested in rolling out cloud solutions. They also have to meet customer requirements for managing risk, compliance and maintaining a competitive edge through innovation in an always changing world.
"This elevates the requirement for data centres that meet the highest standards of design, engineering, and operations. "Our clients should not have to settle for anything less than 100% uptime for their essential power, security and connectivity".
---
Solution
In order for Blue Connections to deliver customers the high-quality services their reputation depends upon, it's essential their infrastructure is supported by a 100% availability guarantee. It's for this reason Blue Connections chose to partner with NEXTDC.
"We used to run our primary 'production' infrastructure in a self-managed, on-premise data centre with intelligent connectivity services integrating customers with the clouds and carrier services they need," Morris continued. "Initially, we had deployed racks in NEXTDC facilities as part of our resilience, back-up and DR strategy for customers, but that all changed when we up sized to new premises."
Shifting from very good to excellent
Blue Connections had established good on-premise connectivity, security and power but when it experienced the scaled investment NEXTDC applies in these critical areas, it became evident they needed to colocate the whole production environment to NEXTDC, and move the DR and backup on premise.
"We already knew NEXTDC well. We had a PoP in M2 where we managed redundancy, backup and DR for a range of customers. From there we had started engineering high performance cloud access for our own business and customers who wanted to access the public platforms.
"We immediately realised that by operating at scale, NEXTDC offered a level of operational excellence, resilience and power efficiency that we could not match."
The experience during the move process – including the flexibility to make connectivity changes on the fly – convinced Blue Connections they were better off reversing the situation and using colocation as the primary site with their own data centre as secondary.
---
Benefits
That decision was validated just months later when a major power outage affected the whole estate where Blue Connections' new head office was located. That would have taken them offline created a huge issue for them and their customers. Instead they didn't miss a beat.
"We have realised the enormous opportunities for our business that are evolving as we build that presence right next door to the NEXTDC ecosystem," Morris said. "All of the public cloud platforms, carrier services and other specialist IT service providers that complement Blue Connections' value propositions are all just a Cross Connect or interconnect away from us. That means that we can now be very agile in bringing on any new service required."
Ticking all the boxes
Another added bonus of operating out of the NEXTDC ecosystem is that it allows them to automatically meet a lot of the core infrastructure requirements when they respond to tenders and RFPs.
"We can guarantee meeting critical compliance stipulations around security, availability and sustainability as well as easily architect solutions that meet redundancy, back-up, DR and SLAs as specified by customers."
Embracing Hybrid and Multi-Cloud
As Blue Connections continues to build new capabilities around Hybrid Cloud and Multi-Cloud, extending its partnership with NEXTDC and taking advantage of its scaled approach to core customer challenges makes more sense.
"Our business model is rooted in intimately understanding our customers' needs and delivering the best solution to meet their requirements," Morris said. "We have a staged environment in NEXTDC and when the value proposition is there, we can quickly leverage that for cloud-based architectures.
"We can literally flick to a hybrid scenario whenever they want with a Cross Connect. NEXTDC gives us the flexibility to take those options when we need to. If the numbers add up, we can take that journey with our customer and being right next door to the clouds means we can add outstanding performance to the security, energy efficiency and ecosystem availability story that is so strong from NEXTDC."
It had to be NEXTDC
When it came to selecting the appropriate colocation partner to manage its expanding engagement of Hybrid and Multi-Cloud solutions architecture, Blue Connections didn't need to look anywhere else.
"We knew the environment because we already have clients in there. Lots of the key partners we engage with – such as Telstra – also have a strong presence there and we know we can easily access all of the global public cloud platforms from within the ecosystem.
"With the help of NEXTDC's national footprint, we can service our customers anywhere in Australia and from within the data centre we can continue to develop skills and expertise that allow us to be flexible to changing market opportunities.
"We are continuing to leverage capabilities into accelerating practices such as flexible SD-WAN network management, Security Incident Event Management and Hybrid/Multi Cloud architecture."
UVPs in alignment
With growing volumes of data and higher density computing becoming the new normal for all organisations, the unique value NEXTDC focuses on closely align with the strategic direction of Blue Connections.
"Our customers need uninterrupted power in efficient data centres to limit their costs of energy and its impact on the environment. Sustainability is now a major factor in tenders we bid for, and so is security.
"The energy efficiency performance of NEXTDC is unrivalled and being able to assure customers that physical and cyber security is managed to the highest global standards is also a compliance component we don't have to prove."
"This is another reason why the connected ecosystems within colocation data centres such as NEXTDC is a good story for the market. We reduce latency and make fast, easy connections with full diversity accommodated for, all within the data centre.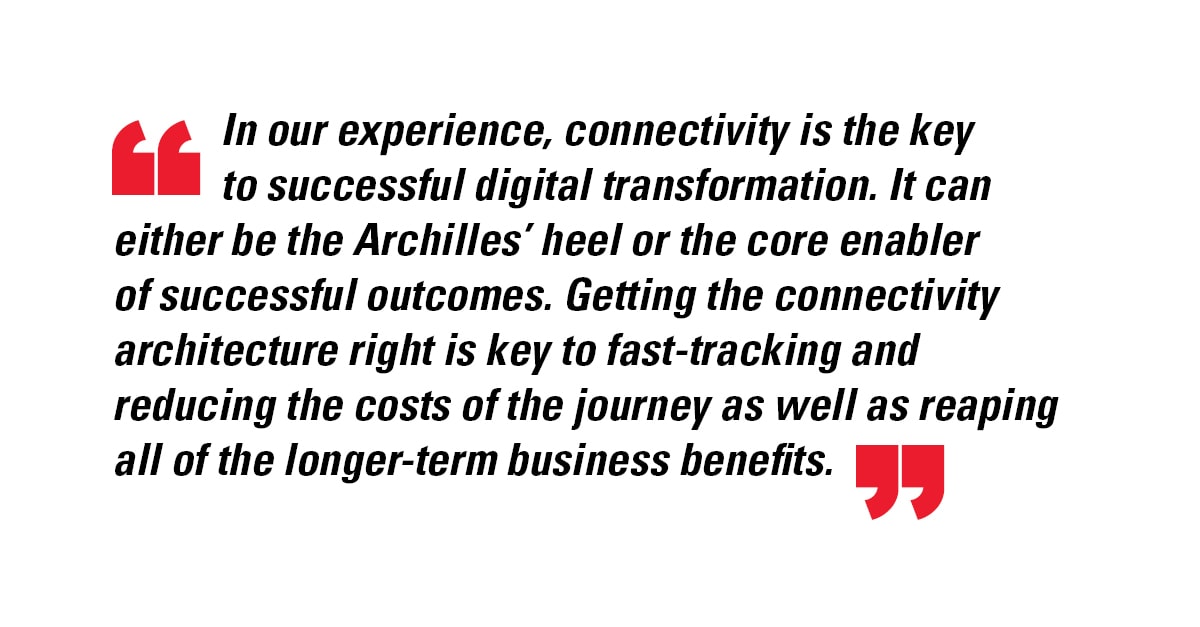 First class technical support
Blue Connections finds the customer experience at NEXTDC is second to none.
"Our customers need a services and solutions provider that is very responsive to their needs and we need technology partners that are very supportive of our endeavours to deliver this value to our customers. In this way, NEXTDC helps us define and deliver opportunities that are inherent in digital transformation."
"It is such a professional organisation with an excellent customer experience across every interaction. The facilities, the people we deal with, the knowledge we can tap into and the tools we can access to engage, provide access to our people and monitor the environment are all first class."
---
Customer Case Study
Learn more about how NEXTDC helped Blue Connections turn a regular story into a success story.