When sustaining growth is the highest business priority, the resilience, flexibility, and agility of your digital infrastructure is crucial to realising expansion objectives
Organisations today need technology platforms that allow them to pivot, move quickly to bolster their position in the face of change, and keep their options open on how to address unforeseen challenges.
That can be directly translated into being "agile, flexible and resilient" – the key calling cards of Hybrid IT architecture that utilises resilient, holistic connectivity and multiple cloud platforms.
Our partnership advantage
Connect and deploy to any cloud platform via AXON
Maximum flexibility and agility into network
Supported legacy migration
---
Supporting growth aspirations
Digital transformation is all about leveraging technology to enable greater value to the business, and its customers. It is about improvement and achieving core business goals. It is about embracing new technologies and using them to enable strategic business imperatives such as reducing costs, improving productivity, growing the business into new markets, and improving customer engagement.
Founded in 2000, Chemist Warehouse (CW) has grown rapidly. The high-profile retail chain now covers over 500 pharmacy outlets, a burgeoning online sales operation and over 16,000 staff. Based in Australia, New Zealand, Ireland and China.
According to Mark Naidoo, Head of IT Architecture, Chemist Warehouse's highest business priority is to continue on its current growth trajectory. This goal is both the cause of its need to digitally transform and, if executed correctly, will also accelerate it.
"We have grown significantly and very quickly," Naidoo said. "What started as a small business 20 years ago has evolved into this powerhouse and under that sustained expansion, there has been the obvious need to re-architect systems, platforms and applications so that technology continues to enable innovation for the scaled-up business.
"Some of our infrastructure is starting to groan under the strain of consistent, exponential growth and ultimately will not be able to support the business effectively as we continue to scale up. So, we are staying ahead of that looming challenge.
"For us to be able to sustain the growth, we needed a new suite of technologies that support our vision to be vendor agnostic, carrier agnostic and cloud agnostic. We don't want to be locked into anything. We always want to have options to assess and deploy solutions and services that best serve individual projects, strategic objectives and priority workloads."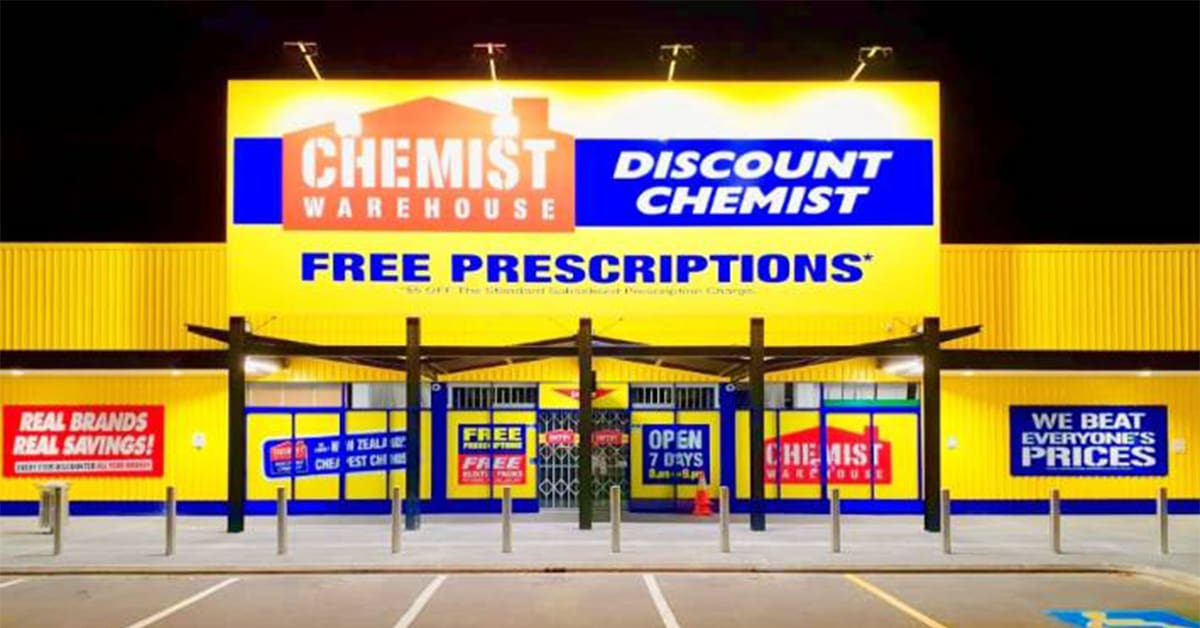 Journey to Multi-Cloud
Ultimately, for Chemist Warehouse, the current transformation strategy is about building a completely new environment that is ready for whatever comes next, and then progressively migrating to it.
Chemist Warehouse plans to utilise cloud-based infrastructure as much as possible. It is in the process of building a new environment at NEXTDC's M2 facility in Melbourne which will eventually replace the on-premises data centre at its Preston head office.
From there it will be right next door to the multiple cloud platforms and availability zones directly accessible onsite, and one step away from other leading public clouds in the NEXTDC national ecosystem, which is accessed via NEXTDC's AXON network. It will deliver the type of high-performance connectivity architecture needed to support Chemist Warehouse's agnostic Multi-Cloud objectives.
"Initially, we want to be running workloads in various clouds on the VMware platform we have built up substantial experience with," Naidoo said. "With infrastructure in NEXTDC's facilities, we can then use the AXON network to connect and deploy to any cloud platform we want.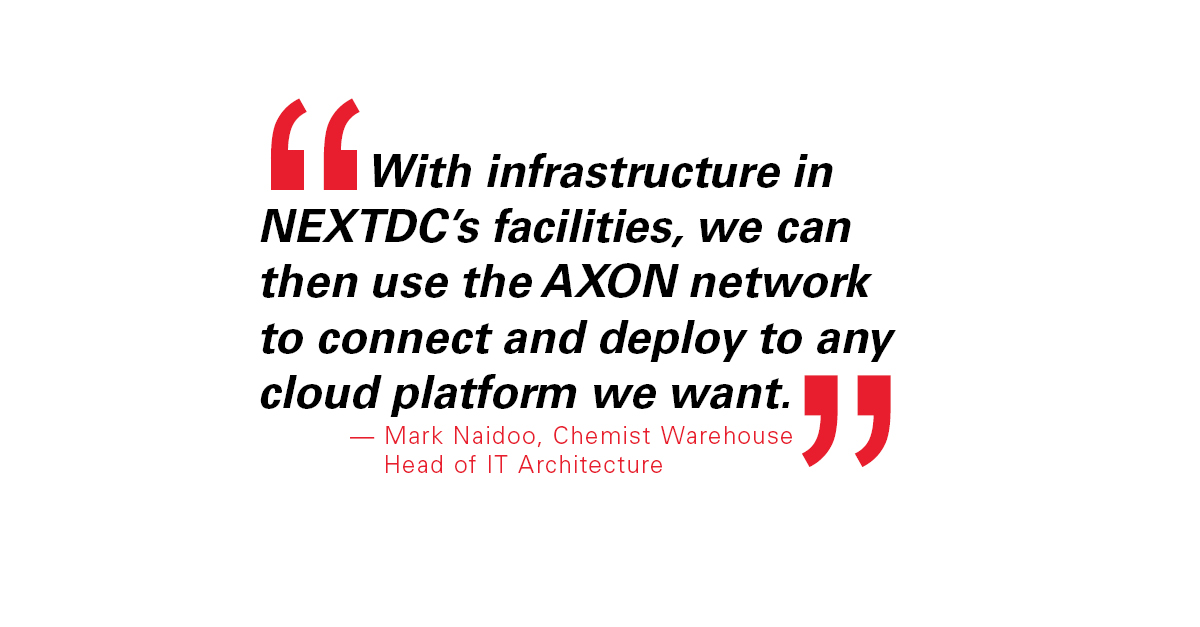 "We are going to start using cloud cost analysis tools to assess whether AWS, Azure, Google Cloud or another platform is the best option for each particular workload and we will be creating the ability to move any workload we want to anywhere it is best suited.
"We intend moving complete platforms from physical to virtual and even from cloud to cloud, based on our cost analysis. Resilient, secure operating environments, high-bandwidth ports onto the AXON platform and direct connections to the clouds are going to be a huge enabler of that type of flexibility.
"We are going to try and be more efficient, save money and get the best possible performance out of each application. Our past experience with AXON means that we know we can execute such moves quickly and easily which will help us achieve these objectives."
---
Sweating down the legacy
Naidoo said that this is the strategy for a lot of the existing platforms that perform a range of critical business functions. However, there are other business systems that date back to the origins of the business and simply have to be replaced at some stage to integrate with the new architecture because, in their current state, they are not compatible with the Multi-Cloud environment being built.
"New platforms in production will be designed for containerisation," Naidoo added. "They too will be shopped around for the most suitable, best performing cloud services and will be built with the flexibility to also be shifted around easily if needed.
"When we do start embracing containers – and the latest version of VMWare we are running does support containers natively – we will be able to burst them or migrate them from physical machines to clouds at the snap of a finger.
"AXON will also be key to supporting this legacy migration as it will allow us to embrace and engage native service platforms from each cloud provider which gives us flexibility to utilise whatever comes next from these cloud platforms. Cloud providers are investing heavily in R&D so we want to be ready to embrace their innovations going forward."
---
Resilience is the key
With Digital transformation initiatives so critical to supporting the business' strategic objectives for growth, NEXTDC's AXON platform is also starting to play a key role in meeting the resilience objectives of Chemist Warehouse.
2020 has been a tumultuous year for all businesses and CW is no exception. In addition to the surge of online sales it received as an essential service during times of stay-at-home and social distancing mandates, it also had to address concerns about keeping over 500 administrative staff connected and productive while working from home.
While Chemist Warehouse's transformation journey was well underway before the pandemic, it had to pivot quickly to service remote workers and ensure that the website could cope with the quantum leap in additional transactional traffic. NEXTDC was able to accommodate Chemist Warehouse's urgent requirements and ensure that no staff or customers were interrupted.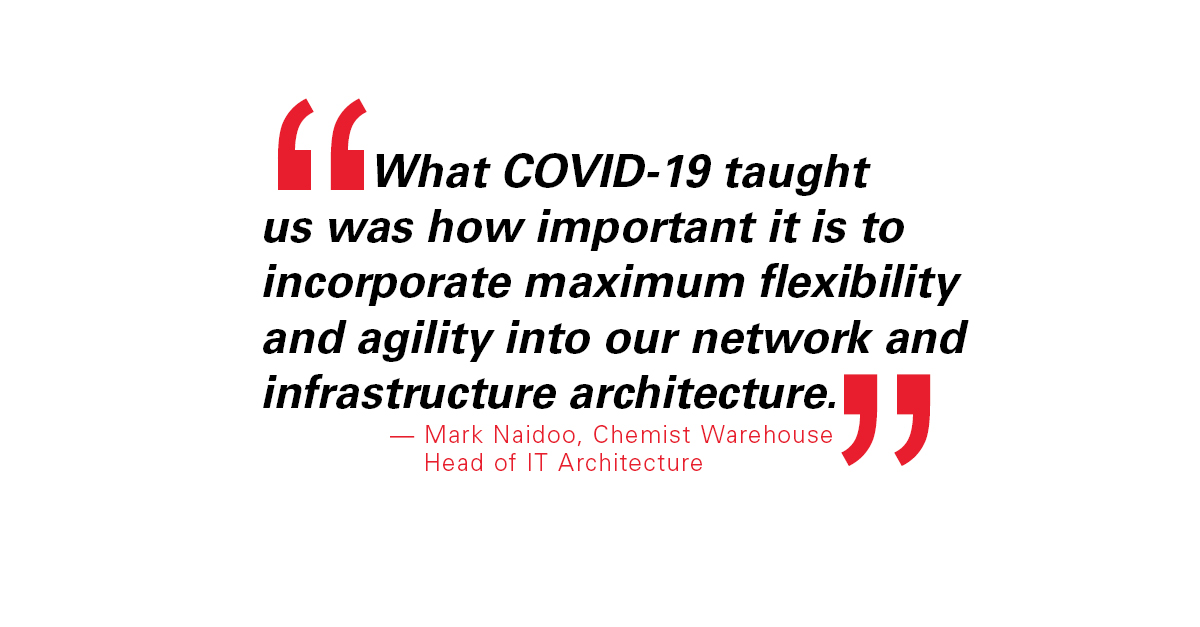 "What COVID-19 taught us was how important it is to incorporate maximum flexibility and agility into our network and infrastructure architecture," Naidoo said. "We had enough capacity to cope with about 250 people working remotely but had to double the amount of bandwidth coming into our two administrative sites where most of the critical business systems were located when COVID landed.
"Our website was experiencing it's highest ever loads after the first lock-down. We did have sufficient bandwidth to cope with that, but we were also closely monitoring the situation to ensure that our full range was available to all customers. It was a concern to us as traffic continued to climb over a short period of time and it forced us to make a few tweaks and changes inside our network in order to be ready to burst capacity into the cloud if necessary.
"We opened up a port from M2 onto the AXON platform and deployed an additional Express Route direct connection to Azure which meant that we could bring on additional virtual machines at the drop of a hat if necessary.
"These were components we were planning to deploy as part of our data centre refresh and the migration from on-premises to colocation in M2 that was underway but COVID definitely accelerated our transformation timelines.
"We were amazed at how quickly NEXTDC was able to facilitate this for us. We were sent a step-by-step process on how to get to Azure using self-service features of the ONEDC portal and it worked like a dream. We had one minor issue and the technical team onsite at M2 sorted that almost instantly.
"The documentation showed an SLA of four days for provisioning this service, but we were directly connected to Azure within 48 hours. We've never experienced agility like that before."
---
Trusting the architecture
Naidoo added that he now has complete confidence in the architecture CW is building to support its growth strategy.
"We now know that when we have to inevitably pivot again and make changes in the future, our platform will support us with a range of options and the ability to make adjustments on the fly," he said. "Through AXON, we have this flexible connectivity to NEXTDC's cloud ecosystem that will allow us to easily bring on new virtual machines quickly when required and move workloads around based on which is best-in-class for the task at hand.
"We can confidently tell the business that we are ready for whatever happens next with business priorities whether that be related to sustained growth or externally influenced business continuity challenges."
---
Customer First
Naidoo has nothing but praise for the attention that NEXTDC pays to delivering outstanding customer experience for his team whenever they have to work in the data centre and/or seek technical support.
"Every interaction we have had with NEXTDC has been great," he said. "The ONEDC platform gives me all the information and capabilities I need to monitor the environment and give secure access to the people I need accessing our physical systems.
"Everything from booking car parks and authorising people for access to monitoring internal conditions in the DC and keeping an eye on power usage is right there for me to check anytime I need to.
"It's a very powerful tool that puts all of the functionality and data I need into a single pane of glass. In the past I have experienced other data centres where you need to provide 24-hour notice before accessing your racks and you need to go through paper-based systems to get Cross Connects done.
"NEXTDC has taken this efficiency to another level. Then you add customer convenience like the break-out rooms, staging rooms, vending machines and even the massage chairs and always having technical support on hand at any time, I wouldn't want to work with any other data centre provider.
That can be directly translated into being "agile, flexible and resilient" – the key calling cards of Hybrid IT architecture that utilises resilient, holistic connectivity and multiple cloud platforms.
confidently tell the business that we are ready for whatever happens next with business priorities whether that be related to sustained growth or externally influenced business continuity challenges."
---
Custome Case Study
Learn more about how NEXTDC helped Chemist Warehouse turn a regular story into a success story.