When building exceptional Private Cloud services, infrastructure resilience matters
Adam Centorrino has loved Technology all his life. After setting up a network for his primary school in grade five, he went on to be employed by his secondary college to help improve and manage the school's use of IT. Then, after being accepted into Melbourne University, he lasted all of four hours before deciding that tertiary education was not for him. Instead, he started Centorinno Technologies, the very next day. That was 2006 and today CT employs over 140 people, focused on delivering business enablement and exceptional customer service to a range of government, education, and corporate organisations.
Our partnership advantage
Enhanced customer enablement through ICT partners
Ability to add bandwidth quickly where necessary
Ability to scale up without any service degradation
---
Situation
Centorrino Technologies (CT) came into existence at a time when many organisations started to offshore their contact and support centres. Outsourcing to services companies was a huge business, and the race was on to leverage maturing technologies as a means of driving down business costs, improving productivity and creating market differentiation.
The IT services marketplace had matured a lot by then, and there had been significant consolidation in the supply chain as margins evaporated on commoditised products and services. According to Adam, what was missing was genuine customer service; an intimate understanding of each customer's unique requirements and a willingness to go that extra mile.
"I saw that as a massive problem", Centorrino said. "IT was changing the way organisations operated well before 'digital transformation' became common terminology. However, in those days, the words 'customer service' and 'IT' could rarely ever be uttered in the same sentence."
"Technology is ever more intrinsic to how our customers operate, and our challenge is to ensure that our services get delivered in alignment with their organisational objectives. We tailor our services to meet their risk and compliance requirements."
Fundamentally, CT enables digital resilience, flexibility, and agility that customers need to thrive in challenging times and competitive markets.
---
Solution
Utilising NEXTDC's colocation data centres allows CT to tackle their customers' critical business continuity risk needs such as availability, security and sustainability observances. It places them in the heart of an ecosystem that provides diverse connectivity to all the platforms, partners, and carriers needed to build the bespoke solutions they manage on behalf of customers.
"We have effectively become the IT department for many of our clients," Centorrino said. "In fact, with our Virtual CIO service, we embed ourselves into their business; engaging with the executives to set strategy, scope requirements, assess technologies, and manage projects."
"With our VCIO service, we have to focus 100% on what is best for the customer's business as opposed to looking at where CT can generate the highest profit. This approach requires service delivery and support partners within easy reach, so we have a lot of kit in NEXTDC facilities and a lot of Cross Connects."
As Technology became entrenched across nearly all organisational processes, Centorrino was well aware of the potential to serve a diverse customer base by building a private cloud environment. His vision was to create a secure, flexible infrastructure and services platform that would give his customers the ability to adopt a pay-per-use, virtual machines model.
NEXTDC is the home for CT's primary private cloud platform. Our national footprint of premium data centres introduces greater flexibility, assisting them in meeting the redundancy, geo-diversity and disaster recovery obligations built into the SLAs signed with customers.
"NEXTDC's M1 and B2 facilities house our primary private cloud infrastructure. We place great trust in NEXTDC upholding its 100% uptime guarantee, and we have never been let down.
"Resilience is such a big factor for technology solutions today. Our environment includes high-density systems that are working hard, therefore we need to have faith in the environment where they reside. NEXTDC gives us a solid platform upon which we can build our solutions and deliver on our SLAs because we know how well the facilities are designed, built and operated."
"There have never been any worries for us about the core power, security and connectivity infrastructure requirements. We can see the level of detail applied in their facilities."
Meanwhile, some customers are utilising SaaS and PaaS models managed by CT, generally in Azure, as part of their own digital transformation journeys. The advantage for CT is that they can get to any cloud platform quickly and easily from any NEXTDC facility, enabling them to seamlessly facilitate the model that is right for the customer.
---
Benefits
CT also facilitates customers into Hybrid and Multi-Cloud models and uses public cloud themselves for certain types of workloads. The seamless interconnectivity options to partners, cloud platforms, and carriers within the ecosystem contributing to enhanced customer enablement.
"When we built our environment and network, we wanted to make sure that it was solid and that we could connect to as many partners as we could get onboard," Centorrino said. "This has proven to be a really solid strategy in the post-COVID-19 world where digital transformation is rapidly accelerating.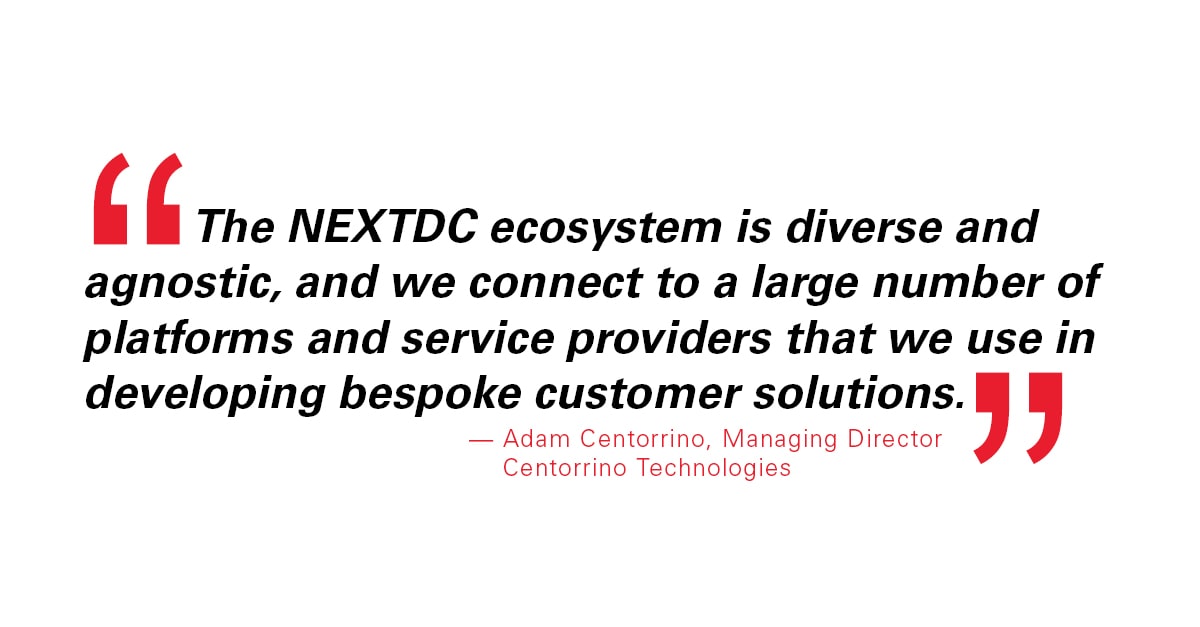 "We have over 40 Cross Connects at M1, and we can order any new ones we need quickly and efficiently through the ONEDC management portal. That sort of self-service automation is exactly the type of functionality we try to build into our solutions, so we appreciate the value it brings to us."
CT brings a range of services into their Private Cloud environment without ever having to engage with NEXTDC personnel. It connects directly to large public cloud platforms such as Google Cloud and Microsoft Azure from inside the data centre, as well as all the connectivity partners utilised to manage intelligent SD-WANs.
Carriers such as Megaport, Optus, Telstra, AAPT and more are all utilised to connect infrastructure to its customers and all the secondary infrastructure which forms part of redundancy, back-up, and disaster recovery planning.
"We integrate with all of them through NEXTDC and the CT data centre team which manages all of the infrastructure always find working there a breeze," Centorrino said. "NEXTDC understands the value of customer experience and delivering value which means they are aligned to what we are trying to achieve.
"We are delighted with the service we get from NEXTDC compared to other data centre companies. The facilities are first-class, so they have always been our preference and we have kept them as our primary provider the whole way through the journey as we have expanded our Private Cloud platform".
Centorrino insisted the rapid shift to a working-from-home culture due to the pandemic was easy for their customers as they had already built the required flexibility into their solutions.
"Around 70% of our customers were already on Microsoft Teams," he said. "We had the infrastructure in place to manage additional traffic and a diverse workforce, so we were able to switch over or scale up without any service degradation.
"Our Hybrid Cloud architecture meant we could bring on additional virtual machines and bandwidth quickly wherever necessary. We had designed it from the start to be able to cope with change and unexpected continuity challenges.
"That sort of flexibility and agility is only available when you have your infrastructure managed within a thriving, connected and colocated ecosystem, which is what we get from NEXTDC."