It was ancient Greek philosopher, Aristotle who first coined the concept that "the whole is greater than the sum of its parts". However, these words of wisdom could well have been intended to describe the phenomenal efforts of our suppliers, partners and customers who are once again joining forces to raise money for underprivileged Australian children, and will ride in Melbourne's annual Around the Bay charity bike ride for The Smith Family.
Last year, nearly 70 riders came together under the NEXTDC banner in partnership with 15 of our most strategic partners and suppliers. In a united effort our team successfully completed the gruelling 210 km ride circumnavigating Melbourne's Port Phillip Bay, achieving much more for The Smith Family than we could have possibly achieved on our own.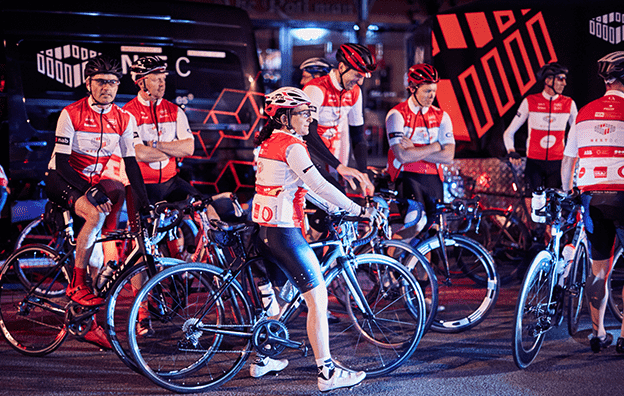 As a team we raised over $115,000 for The Smith Family, the largest corporate contribution to the cause by a long margin. This year we are doing it all again. Hosted each spring, Around the Bay is one of the largest annual fund-raising events, for good reason too. It attracts up to 10,000 cyclists from all over the country, who put their bodies on the line to ride up to a staggering 300km in the name of charity.
But it's more than just an event for devoted cyclists. Around the Bay brings together our own NEXTDC community, enabling us to come together once a year to share an experience that unites us beyond our strategic, professional partnerships. It brings us closer to the partners, customers and suppliers that enable us to do what we do – and it allows us to do something amazing that will ultimately help improve the lives of so many Australian kids and their families doing it tough.
This year we set out to create a much smaller, intimate affair. When word got out, we were overwhelmed by support flooding in from our sponsorship partners, both new and returning from last year. Our small intimate ride grew fast and our 2019 campaign was flung into the fast lane with a team of 45-plus riders, 16 incredible sponsorship partners, our devoted staff, ecosystem partners, customers, suppliers and friends.
Our team will once again take to the roads to put their mental toughness and physical fitness to the test at the same time as raising important funds for The Smith Family, who are one of the incredible charity partners we support as part of our Live to Give program. As a key component of our broader corporate responsibility program, Live to Give is one way we choose to contribute part of our success back to local communities in ways that are meaningful and that will help to create a better tomorrow for all Australians. It's not easy to jump on a bike and ride hard for 10 hours but when it's for a good cause the reflective value makes it all worthwhile.
First and foremost, we do this to support the amazing work the Smith Family do to create positive educational outcomes for disadvantaged children and secondly to connect with, and truly make a difference hand in hand with our partners, suppliers and our customers.
So, with just two and a half weeks until the big ride, we are deep in preparation to make this once again a very successful event for NEXTDC and more importantly for The Smith Family. Our riders have been gathering all over the country for training rides to build up fitness and bank the kilometres into their legs that will be pushed to the limit on ride day.
The Brisbane crew has undertaken rides to the Gold Coast and back including taking on the Mt Tambourine climb while our Melbourne training squad did reconnaissance on part of the ATB course by riding from Port Melbourne to Frankston and back, punching out over 100km in one sitting.
None of this would be possible however without the generous corporate sponsorship and ongoing support from our phenomenal community; Multiplex, Kapitol Group, Over the Wire, Deloitte, Penske, Greenbox, SRA Solutions, RXP Group, Stow Australia, Data#3, ABB, Turner & Townsend, Vertiv, Herbert Smith Freehills, CRS and Securitas have all chipped in this year. Thank you. We couldn't do this without your support.
In addition, we are also thrilled with the number of individuals who have made contributions to the cause through providing financial encouragement for fund raising efforts of individual riders in our group or just by donating through our team page.
At NEXTDC, we don't do things in half measures, so you can be sure that our team of riders will be working together to make sure that they help those taking on their first long stage, giving them the support they need to get the job done. At the end of the day, that is the crux of everything we do.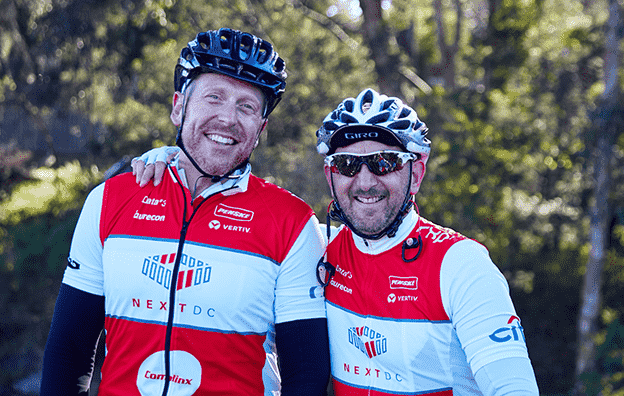 Aristotle was clearly onto something when he worked out 2400 years ago that when you combine the efforts of many you can create value that goes beyond its individual parts. Interestingly, the same ancient Greek thought leader also surmised that; "Quality is not an act, it is a habit" which we also think sums up our philosophy at NEXTDC well.
We strive for excellence every day including the way we apply our efforts to corporate responsibility. Around the Bay is a true test of grit, determination and mental strength, some think our riders are nuts and others are green with envy that they get to experience the adrenalin rush when they cross that finish line some 10 hours later. The real sweetener though is when we get to do it with those that mean the most to our business.