By Adam Scully, Chief Sales Officer
Organisations have long grappled with how to grow, protect, and optimise their strategic I.T assets. Given the disruption and uncertainty in business, this priority is now magnified as the need to be prepared for – and agile in response to – the unexpected, has escalated in priority.
The pressure is mounting on I.T leaders to identify the best route to safeguarding mission-critical data with the highest levels of security and operational resilience.
Indeed, keeping data secure is surveyed as No.1 key issue for CIOs in 2021 and for good reason. According to Cybersecurity Ventures, the damages from cybercrime will cost the world $10.5 trillion annually by 2025 – a figure that's more than the current annual global cost of natural disasters. 
What's more, data centre outages or breaches significantly impact business continuity, in some cases causing irreparable damage to revenues, productivity, data integrity and brand. 
Gartner estimates business downtime costs ~$5,600 per minute – and anywhere from $140,000 to $540,00 per hour depending on the extent of disruption and type of organisation.
Digital strategy; your differentiator
Given the escalation in threats and vulnerabilities – coupled with the dynamic nature of business and market conditions – I.T leaders are challenged with improving agility and cultivating a customer-centric innovation culture as they improve cost efficiency and accelerate the journey to cloud.
Being a strategic advisor to the business is the new elevated status of I.T and the skills are not always readily available in-house to keep pace with evolving security, interconnectivity and resilience imperatives.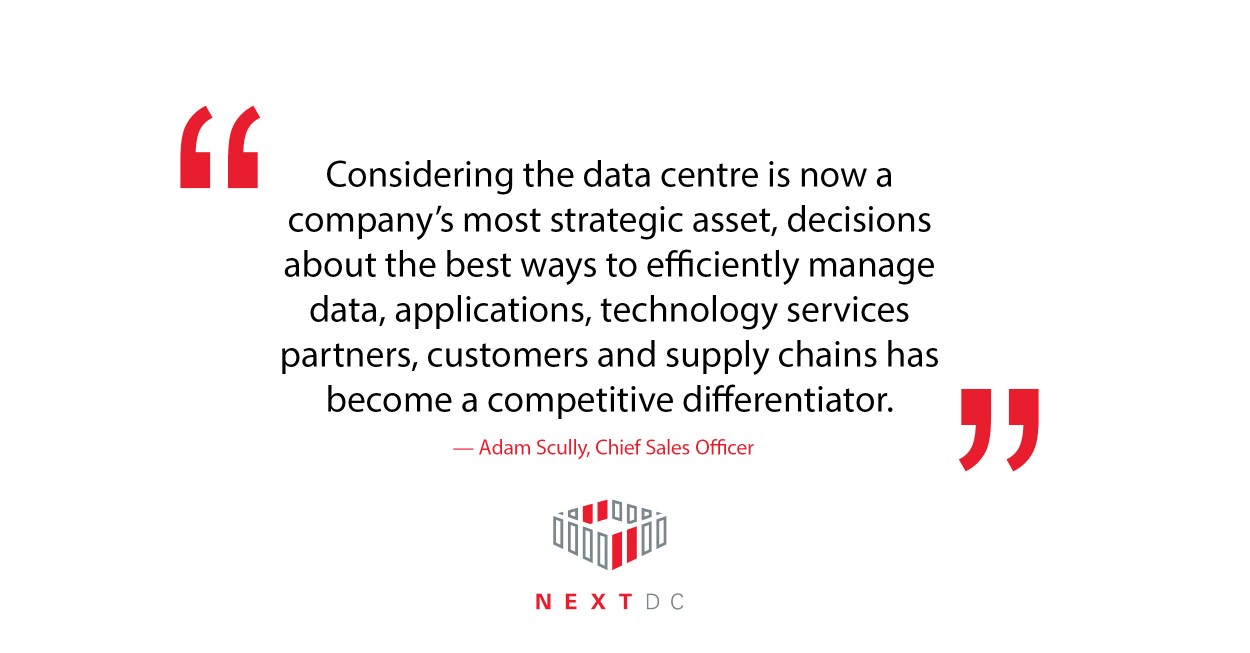 The role of interconnection
For most organisations, Multi-Cloud architecture is business as usual. According to the 2021 Flexera State of the Cloud Report, on average, organisations use 2.6 public and 2.7 private cloud platforms.
Meanwhile, working from home trends have dispersed users, meaning that new network architecture is needed to improve the resilience and performance of interconnectivity between everyone, across every location, to everything. 
Flexibility to utilise services on an individual needs basis and the agility to deploy and change rapidly is key to reducing complexity and costs at the same time as introducing optimised visibility and performance.
Creating strategic business value by relocating your I.T edge
Interconnection – accelerating the journey to Cloud – 93% of organisations have already adopted Multi-Cloud. Locating yourself within close proximity to the cloud platforms and technology partners that drive the growth of your business, reduces latency which affects performance and productivity. Equally, it enables improvement to key objectives such as security, agility, resilience, and cost efficiency. Chemist Warehouse's use of NEXTDCs AXON interconnection platform is a classic example of how private connectivity within our interconnected ecosystem strengthens Multi-Cloud efficacy.

Becoming more agile – Innovation, disruption response and CX is fundamental to success today. Old business models are being outmanoeuvred by nimble disruptors born or evolved in the cloud. Being embedded in an interconnected ecosystem creates new opportunities to partner strategically, scale quickly and address dynamically evolving priorities. Eliminating the need to manage data centre infrastructure, not core to your business, enables you to focus on what you do best and driving your innovation agenda.

Best-of-breed people, technology, and processes – As the journey to cloud accelerates, so does the diversity of skills, tools and standards required to optimise gains. Managing resilience and complex audits while ensuring 100% compliance with key regulatory controls and global standards is complex and costly, as is optimising operating environments and automating critical tasks. A premium colocation facility – certified as delivering world's best practice for safety, security, resilience, and sustainability should facilitate all this and more for you.

Transitioning from a Capex to Opex model – Capital should be directed to areas where it will deliver best return for your organisation. Keeping pace with change, speed to market and organisational innovation is dependent on having flexible and agile capabilities that enable you to change direction and explore new opportunities. Being able to support exponentially increasing compute density and data volumes is difficult to plan for. By transferring your cost model to opex where you only pay for what you use and can move dynamically with evolving requirements, leaves you with more capex to invest in people, innovation and growth. Data Processors was facing a multi-million dollar on-premise upgrade before realising the business benefits they could drive by relocating their I.T.

Rethinking real estate – It took a global health crisis to change everything regarding real estate strategies. Remote teams, new ways of working and accelerated digital transformation put traditional workplaces under the microscope. Today, it makes less sense to house your I.T infrastructure where your people used to be, and physically distanced from the cloud platforms and digital services your business relies on. As leases approach their end, opportunity emerges to re-think your real estate strategy. With digital infrastructure benefitting from colocation, it's no longer anchoring organisations to their current premises and allows for rightsizing a workplace more suited to nurturing collaboration and innovation.
Decisions around the location of your critical I.T assets comes down to what's right for the specific needs and requirements of your business. When it comes to protecting and managing the most valuable resource in business today – data – you want to know you have the best possible environment to keep it safe, accessible and interconnected to all the people, places, clouds and applications essential to digital transformation success.
Reach out to NEXTDC to find out more about how partnering strategically with a premium colocation data centre service provider can change the game around your security, resilience and agility objectives.