By Claire Sangster, WA Sales Manager
5 years ago, I met with our CEO, Craig Scroggie whilst he was in Perth. Given NEXTDC had no data centre in Perth, I asked him what brought him to town. We spent hours discussing his vision for the data centre industry and NEXTDC here in Perth and across Australia. I walked away from our meeting feeling so inspired, I decided to leave the safetynet of a role in a successful global software vendor, for a role selling a data centre that hadn't been built yet.
At that time, there was a lack of enterprise class infrastructure to enable WA businesses to scale and capitalise on the critical importance of technology and the growing trend of cloud adoption. This opportunity led to NEXTDC investing $100 million in WA with the construction of P1, a 6MW Uptime certified Tier III data centre in Malaga, which went live in February 2014.
5 years on, as P1 is about to hit 70% capacity, we announced P2, more than three times the size of P1 and our second data centre in Perth which will represent a staggering $200M investment into WA. The addition of P2 to NEXTDC's footprint will not only create hundreds of jobs through design and construction, this investment will result in Western Australia's first Uptime Tier IV certified data centre. P2 will be conveniently located in the Perth CBD, and when it opens in 1H 2020 it will deliver 10,000m2 of technical space and 20MW of Power to WA businesses.
What is Tier IV and why is it important for WA businesses?
To achieve Tier IV status, the globally recognised independent experts at Uptime Institute spend two weeks putting our facilities through hundreds of tests, trying everything they can think of to break the facility. Only once we pass this stringent testing process with a 100% pass rate, do we achieve the coveted Tier IV constructed status. Ultimately Tier IV means we can handle a disaster with any piece of infrastructure such as a diesel generator, fire or cooling system breakdown, whilst maintaining 100% operational uptime for your business.
At the end of the day, if your data centre is not independently certified, then it's highly unlikely it will be able to support your continuous business operations during a disaster.
Just like P1, P2 will provide the fastest and most reliable connections to the nation's telecommunications infrastructure and secure connectivity to the worlds cloud platforms such as AWS, Microsoft Azure, Google Cloud Platform, IBM Cloud and Oracle Cloud. As a first for WA businesses, NEXTDC brought WA the first cloud onramp for the state, delivering customers direct, lower latency connections to the AWS cloud services with AWS Direct Connect directly from P1. We bring the cloud to our customers, and in doing so we help our customers to adopt these technologies at pace, at reduced costs and with significantly improved performance. What is driving this unprecedented customer demand?
Over recent years, there has been a shift away from traditional 'on premise' ICT infrastructure. As organisations experiment with new applications and systems to drive value from new technologies, our need for data intensifies and businesses are becoming increasingly reliant on analytics to drive business decisions. We can no longer afford downtime. The colocation data centre is the infrastructure platform that provides the power, security and connectivity to support business critical services, and to enable this technology shift at rapid pace. This growth trajectory will only continue, as advancements in Artificial Intelligence, IoT and Machine Learning accelerate.
Colocating enterprise IT in a highly connected and multi-tenanted facility is enabling WA businesses to evolve their business strategies at the speed of thought, and rapidly deploy or take advantage of new services at a speed not possible in your isolated, on premise data centre.
We are living in the most exciting time in human history. The exponential convergent consequences of these technologies will herald a new age of accelerated advancements in many industries. This is what is referred to as the 4th Industrial Revolution - the cyber physical age. NEXTDC is proud to be the leading data centre infrastructure platform supporting Australian businesses to take advantage of these extraordinary opportunities.
Do you need to de-risk your business and futureproof your IT? Contact one of our data centre experts now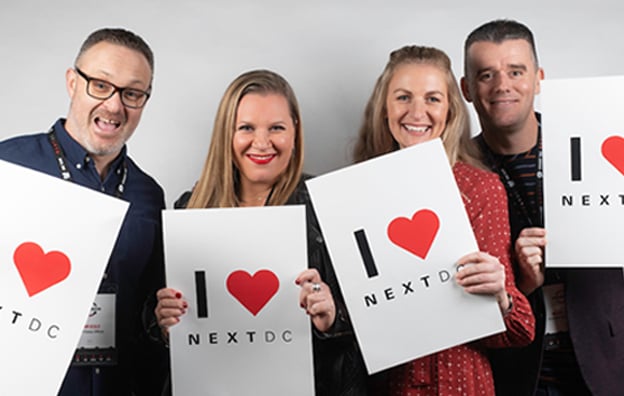 L-R, Adam Scully | Chief Sales Officer, Belinda Gaze | Northern Region Sales Manager, Claire Sangster | WA Sales Manager, Michael Johnson | Victoria Sales Manager