By Claire Sangster, WA State Manager, NEXTDC
It's an exciting time for business in Perth. A raft of new digital infrastructure projects in town is helping to create a plethora of opportunity for the type of innovation, productivity improvement and cost efficiency that catches the tailwind from technology investments.
Whilst life has largely retained 'business as usual' status amidst the global pandemic chaos, Perth is perfectly positioned to play a significant role in the inevitable global economic recovery when the health crisis eases. Western Australia has a thriving digital community that continues to grow as Government and enterprise accelerate their digital transformations. A range of upwardly-trending economic indicators in region like growth above national GDP, real estate prices, population and jobs growth, all point to now being the right time to invest in digital innovation.
For the local economy, these new capital injections in the heart of the city are great news. Not only do they create enormous opportunity for businesses to advance their digital agendas, but there is also significant employment created that is bringing people back into the city centre. This in turn has a roll-on effect for the smaller businesses servicing the CBD.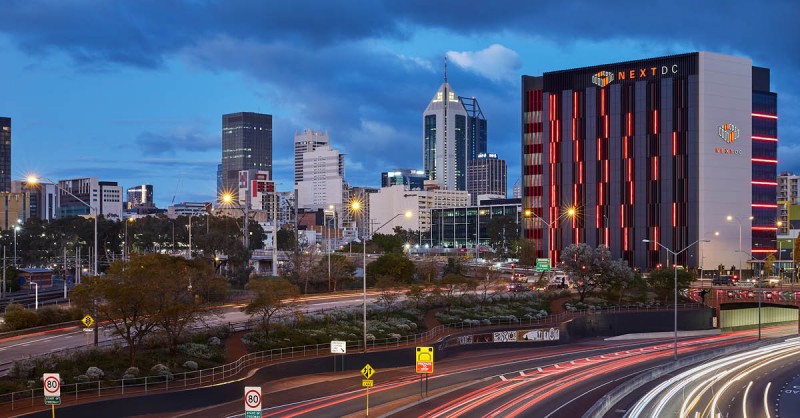 Downtown backwaters now rivers of opportunity
Until recently, Western Australia has never really had a technology precinct where multiple technology start-ups and innovators gather as a community to collaborate. The City of Perth is making significant inroads into changing this, and key digital infrastructure investments in the CBD are acting as a foundation stone in that strategy.
Of course, many organisations have been, and continue to derive great value from colocating their critical IT infrastructure within the vast local ecosystem established in NEXTDC's P1 facility in the eastern suburbs. However, prior to the opening of our P2 facility in East Perth, the CBD was poorly served by quality infrastructure and connectivity services.
In September 2019, Finder - ISP comparison and speed test site, declared that Perth was the worst served of all Australian capital cities with an average broadband internet performance of just 23.9Mbps. At that speed, it would take users 29 minutes to download a movie. Clearly that sort of infrastructure performance is unacceptable to businesses that are competing in global markets where customer experience is so critical.
The world is your oyster
P2 Perth serves as the landing station for two recently completed subsea cables connecting Perth to Asia and Australia's east coast at the fastest data transfer speeds possible. In a digital sense the whole world is at the city's doorstep.
Meanwhile, NEXTDC's new world class colocation facility in the heart of town is also the central hub for organic Perth-based start-ups like Pentanet, a network services provider that is introducing 10Gbps (10,000Mbps) fibre-to-the-premise internet connections to businesses in the CBD. That's a data transfer speed more than 418 times faster than 2019's average.
What this means is that any technology start-up with a bright idea will no longer have to consider relocating to the east coast or overseas because of the city's poor digital infrastructure. With this sort of connectivity being rolled out across the CBD, there is no reason why the next Atlassian, Facebook or Google can't emerge from Perth and bring with it all of the economic growth that is currently being driven by technology.
Perth is already seeing investment and innovation emerge from this new infrastructure that is rolling out across the city. Murdoch University recently announced that it has secured $360 million in funding to build a new vertical campus that will include the city's first Digital Futures Academy and an esports hub, including a stadium fit for competitive tournaments.
How will you innovate and disrupt?
In the 21st century, every business in every industry vertical is now dependent on digital technology in some form or manner. It's a given and it is only going to accelerate into the future as today's innovations become tomorrow's modus operandi.
In the present, the great challenge for small, medium, and large business is in how to optimise performance of technology. How do you make it work for the unique nature of individual entities and the immediate priorities that have been targeted by them?
Irrespective of whether you are focussed on growth, new product development, cutting costs or improving customer experience, leveraging technology to transform the way you do things is going to be the key driver of positive outcomes.
With the combined efforts of NEXTDC's P2 facility and Pentanet's 10Gbps internet, suddenly high-performance cloud services are on the doorstep of every CBD-based business. That is the type of network performance that creates unprecedented opportunity to take full advantage of the advances that have been made in Artificial Intelligence, Automation, and the Internet of Things.
The role of colocation
It's not just about connectivity though. Colocation data centres play a critical role in freeing up organisations to innovate. High-performance, agnostic cloud access and an ecosystem of I.T companies offering a range of solutions under a utility-style as-a-service billing model changes the game. As well as providing the flexibility to only pay for what you use, it also frees up all of the capital investment that would have previously been required to achieve digital capabilities so that those funds can be reallocated to whatever matters most to the individual enterprise.
For some the freedom of having an operational expenditure model of technology investment might release capital for product development while for others it might be redirected to growth opportunities.
For every business it will be different, so reach out and ask us how our connected ecosystem can help put your business on the fast track to high-performance digital infrastructure that will drive your digital transformation.