By David Dzienciol, Chief Customer and Commercial Officer
As many organisations grapple with the cost, complexity, compliance, and risk management implications that come with accelerating cloud and organisational transformation, you can almost hear the echoing sighs of relief when significant digital infrastructure developments come along, that are set to turbocharge digitisation progress.
The continued investment into cloud availability zones – just like the new Google cloud services zone that was recently lit up in Melbourne – is one of those Infrastructure advancements that will change the game for organisations and relieve some of the pressure they're carrying.
Melbourne has always had a reputation as Australia's sporting capital, but in recent times, its well-known crowds have been replaced with clouds that are gathering to meet the needs of the evolving digital economy.
It may seem like just another cloud, but this is a big deal for businesses, here's why:
1. Cloud diversity – Cloud underpins growth, customer satisfaction and value-based priorities – so you need assurance it will always be there when you need it. Risk is everywhere which makes cloud diversity and redundancy a 'must have' imperative. With a second availability zone in Australia, Google are bringing their cloud infrastructure closer to customers. NEXTDC and Google deliver true cloud diversity across multiple secure and resilient locations, offering the highest levels of redundancy which is an important component of NEXTDC's and Google's vision and purpose.
2. Zero latency/application performance improvement – Extracting the full value from cloud is reliant on maximising performance, scalability, and portability of workloads, without cost or security ramifications. Without it, the probability of achieving innovation and customer experience outcomes is drastically reduced. This is precisely why proximity to cloud zones that are the umbilical cords of success, is now a primary consideration. Customer experience and operational productivity levels up when critical physical infrastructure is located next to the clouds and access points driving change. With a new Google zone located in Melbourne, a NEXTDC cloud connect removes the latency barrier with zero latency performance, irrespective of the data volumes being transported or the number of users or customers being supported.
3. Reducing cost and complexity – It's a balancing act, having to achieve more with less. Complexity is everywhere and challenges around data management, storage and security aren't getting any easier. Finding ways to reduce costs and streamline processes are essential to getting to your desired future state. This is one of those times where your partnering strategy accelerates your competitive edge and changes the game entirely. It's like your very own easy button, to pass go and keep collecting $200. Partnering strategically with the right data centre provider puts you within arm's reach of your clouds, data, customers, and digital services.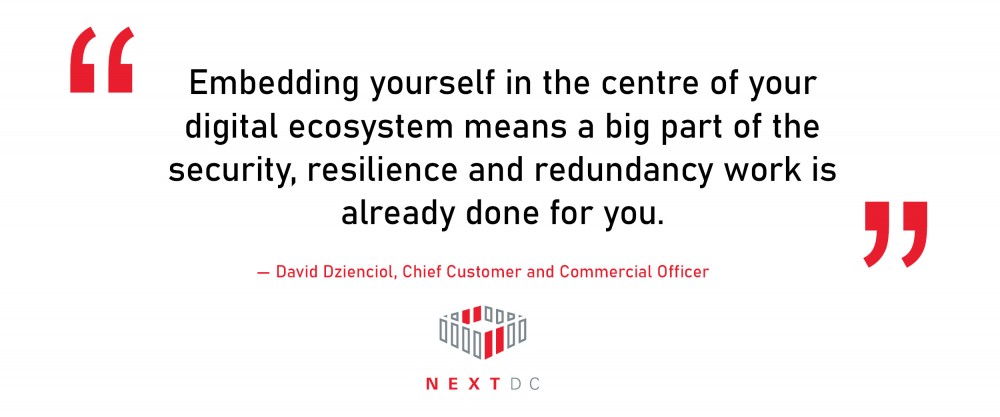 4. Minimising risk/simplifying compliance – Risk is everywhere but mitigating against it and meeting increasing compliance mandates is something many battle with. Digital infrastructure and the data it facilitates are the two major drivers of success, so ensuring it's always available and highly protected weighs heavy on the minds of business leaders. Increasingly, our customers are learning that partnering with us handballs a lot of these specialist services out of the ruck. Public cloud providers and hyperscale data centres like NEXTDC's, spend billions on physical security and uptime resilience so our customers don't have to. We support customers in a range of industry verticals where mission critical operations need to be available and secured, 100% of the time. The costs involved in trying to achieve the highest standards and certifications are significantly reduced when addressed at scale.



5. Flexibility and agility – The last 18 months have felt a little like we're riding a hamster wheel of uncertainty. Change is omnipresent, and the future is unpredictable. The random nature of what lies ahead introduces both risks and opportunities and surviving the tsunami of uncertainty comes down the flexible and agile nature of operations. Multi-Cloud has rapidly morphed into a powerful risk mitigation strategy to ignite and energise growth, because it delivers opportunities to respond quickly to disruption and stay grounded on shifting sands. It's impossible to know what your infrastructure requirements are going to be in 18 months' time let alone five or 10 years from now. Which is why moving away from capital intensive on-premises data centres and embracing cloud and colocation makes so much sense. For Melbourne-based organisations Google just turbo-charged the value of Multi-Cloud. Eliminating risk and charting a path forward is achievable when flexibility and agility is on your side.




A clear pathway to a truly integrated Hybrid Cloud and Multi-Cloud architecture offers so much opportunity to advance your transformation strategies. Driving growth, innovation and creating customer value through agile operations comes down to the resilience, reliability, and versatility of your infrastructure platform.

Reach out to our cloud experts to better understand how we can help you simplify your journey to a more secure, risk-free, and flexible future.