By Adam Gardner, Head of Products
The digital era, and an unpredictable world has forced organisations into a state of 'constant digital readiness'. Being ready for anything is something we have to show up and be prepared for every day.
Ensuring you're equipped to respond to change, survive uncertainty and endure disruption has become the minimum viable outcome. Moreover, it unlocks deeper capability to innovate and create disruption, both in your own business, and your market.
As digital transformation and cloud journeys accelerate, so too does the evolution of what best practice IT architecture looks like. More frequently, customers are telling us they are stretched in meeting the challenges of ensuring their IT infrastructure is always on, securely protected and reliably interconnected.
Ready for the future
In today's data economy, businesses won't get very far without a long-term digital infrastructure strategy that addresses their current IT needs, with a clear plan for future growth carved out.
As more organisations strive to improve resilience, mitigate risks, foster customer-centric innovation and meet compliance obligations, the trend towards more purpose-built and delivered solutions will continue.
It's for this reason, Gartner has been predicting for a while that by 2025, 80% of organisations will have moved their I.T infrastructure into purpose-built colocation.
Colocation introduces some clear advantages such as power, redundancy, and compute density. However, there are many hidden advantages from this strategic shift including optimising application costs and delivering more agile and flexible interconnectivity to everything and everyone.
These advantages may not be immediately obvious but can be game changers when it comes to aligning your technology strategy with your strategic business priorities.
The battle line of cost vs value
Interconnection is the plumbing that Hybrid/Multi-Cloud architecture requires in order to deliver maximum ROI. 
As high-performance interconnectivity between everything and everyone becomes ever more complex, and the volume of traffic being transported balloon exponentially. Traditional WAN architectures therefore become increasingly expensive and cumbersome to manage.
Embedding your IT in a densely interconnected ecosystem immediately enables secure, resilient, flexible interconnection direct to all the clouds, and IT services driving the digital society. As connectivity requirements evolve and scale up, the battle lines between cost vs value becomes clearer. With the right solutions individually customised, purpose-built to evolve in line with the business, positive outcomes prevail on both sides of that equation.
Interconnection platforms such as NEXTDC's AXON are enabling interconnection-first strategies. AXON enables the orchestration of private interconnectivity to anywhere, anytime including Australia's leading cloud zones, carriers and IT service providers. All in real time.
The need for individual physical connections and long-term contractual commitments to each provider is no more. These have since been replaced with rapid, secure, fully redundant connections enabled by interconnection platforms like AXON, that bring everyone, and everything together.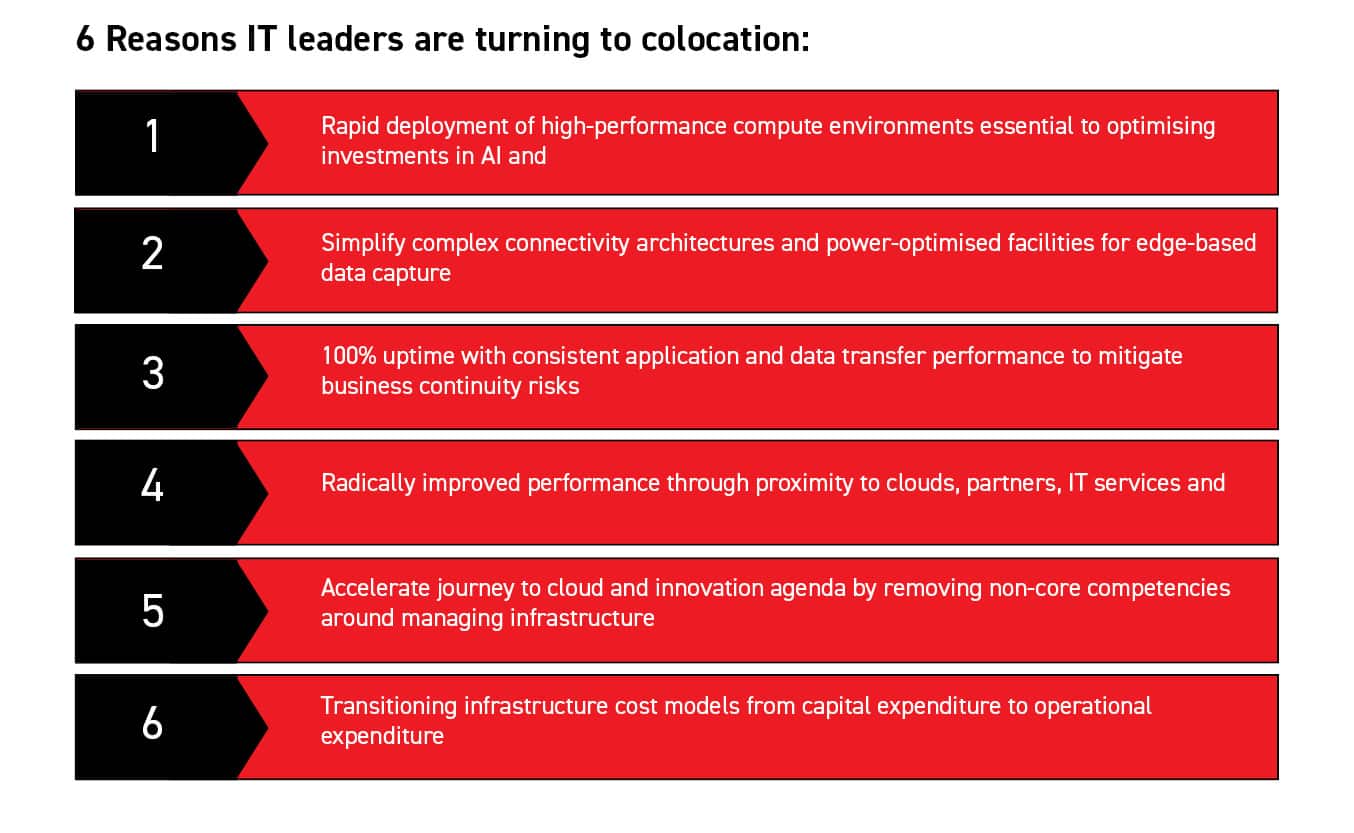 Interconnection first
Adopting a digital infrastructure strategy built on an 'interconnection-first' philosophy is critical to optimising value derived from digital transformation. Doing so ticks all the important boxes around managing critical support, scale, geo-diversity, and resilience. Each of which are needed to maintain a digital infrastructure platform that supports growth and innovation.
What agile organisations need more than anything to enable transformation is choice. Choice makes sure they're best positioned to integrate their IT environment to the ecosystem of networks, clouds, and ICT services partners that underpin their success.
High density computing is rising
As you continue to ramp investment and focus on digital transformation and innovation, the need for high density compute follows. This poses a major challenge for on-prem environments. As IT equipment becomes smaller and more powerful, it draws more energy to power and cool it.
Data growth is exploding. Given the soaring demands, many organisations are discovering the extra power and cooling needed to support these data-intense environments can't be supported on-premise without large amounts of new capital investment.
Similarly, unless you have an efficient operating environment, power costs will also impact the bottom line.
It can be argued that the only way many businesses of the future will be supported is from within a specialised facility, custom built to support accelerating compute requirements. This enables the consolidation of your critical IT infrastructure, whilst simultaneously controlling infrastructure and management costs.
Optimising Application Costs
Connectivity and cloud costs add up quickly. Performance will also be impacted the further away your IT environment is from the digital ecosystem that your business is reliant on.When it comes to running your hybrid architecture, it's important your environment is within close proximity to your clouds and IT services providers.
Furthermore, direct cloud interconnection reduces complexity and alleviates costs while providing guaranteed performance, stability and security around critical applications and workloads. Resilience is enhanced by reducing the number of potential points of failure, while also delivering guaranteed geo-diverse redundancy, back-up and disaster recovery capabilities.
Re-thinking your IT architecture is a major undertaking, but the underlying benefits of colocation (both above and beneath the surface) are substantial. Outsourcing the components of your IT strategy that aren't core to your business, enables you to re-focus your resources on your business and ensure your digital infrastructure strategy is aligned to your long-term business priorities.
Reach out and speak with a specialist about how we can help you align your digital infrastructure strategy to your long-term business objectives.