One of the options NEXTDC is examining to increase onsite renewable energy production is to host solar panels on the rooftops of neighbouring buildings, in what would be a major expansion of NEXTDC's renewable energy strategy.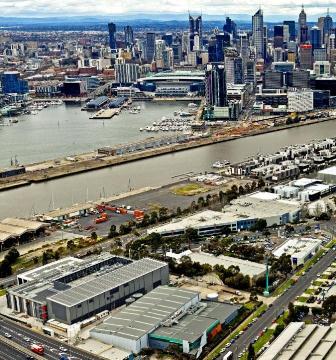 Image above: M1 (lower left) is less than 3km from Melbourne's CBD
NEXTDC is pioneering renewable energy production in the Australian data centre industry with M1 Melbourne's $1.2 million photovoltaic system. In operation since October 2013, it is the largest privately funded rooftop solar array in Australia, capable of generating approximately 550 megawatt-hours of electricity annually, with a target to off-set over 670 tonnes of CO2 per annum – equivalent to the carbon generated yearly by 200 cars.
As reported by Ry Crozier on iTNews, Chief Operating Officer Simon Cooper said NEXTDC is considering a number of options to bring solar power to S1 Sydney and P1 Perth data centres.
"In Sydney we think we could probably get 250kW peak solar output [using its roof space], yet it's a data centre that is pretty much the same size as Melbourne in terms of customer load," Cooper said. "Perth, again, is a smaller site where we're only going to be able to get 100 to 150kW peak output."
NEXTDC CEO Craig Scroggie suggests that other buildings in the vicinity could hold the key, "We are looking at the potential to use our neighbours' roof space to expand the footprint of our arrays."
NEXTDC is considering some kind of power purchase agreement (PPAs) where a developer would potentially build, operate and maintain the array and NEXTDC buys its electricity output over a set period of time.
"I'm engaging with two to three companies on power purchase arrangements," said Simon. "We just need those companies to be able to figure out their financing and get to a point where they can give us a cost per kiloWatt hour and guarantee how it increases [over the life of the PPA]."
Simon continues, "Converting OpEx dollars that you know you're going to spend anyway is a lot easier from a business perspective than convincing the board of directors we should outlay $700-800,000 of capital [on a new array]."
"If I know I will be spending $100,000 a month on electricity bills and I can take $10,000 of that and kick off a solar project, then from a cashflow point of view nothing changes. It's a much easier business case to get together."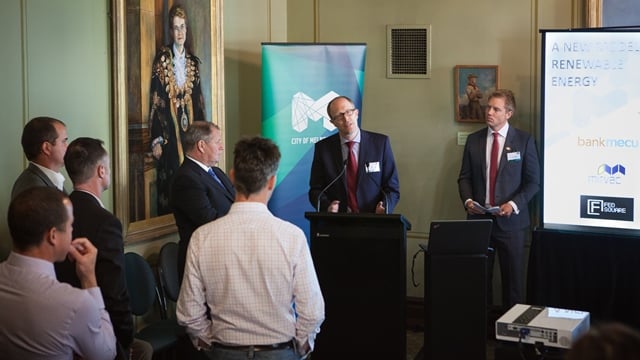 Image above: Simon speaking at the launch of the City of Melbourne's renewable energy initiative in November 2014 Simon has contributed his time and expertise to a number of City of Melbourne events this year to share wisdom gained from NEXTDC's significant investment in renewable energy generation. This has included steering NEXTDC's participation in the City of Melbourne's renewable energy initiative, which seeks to drive investment in renewable energy with a Request for Information (RFI) Process that combines the purchasing power of a group of large energy users and signals interest in securing a competitive price for long term electricity supply from renewable sources. Book a guided tour of M1 today to experience the data centre's exceptional energy-efficient design for yourself, and the benefits it offers in security, reliability and support services.