Mining for the oil of the 21st century
Data is the new oil, a commodity that inherently holds significant value when used to drive informed business decisions. Data Processors is a data-centric research and technology services company with expertise in statistical modelling. Head-quartered in Sydney with clients all over the world, Data Processors' managed services based around sourcing and analysing big data sets requires the use of high-density racks to process enormous volumes of data every month.
This data is sourced in real time from a range of devices and websites located all over the world. They use bespoke software, built in-house for a global client base, and have high priorities for resilience, security and connectivity solutions around the infrastructure and architecture deployed.
Maintaining 100% uptime is a key requirement for Data Processors which is why they have selected NEXTDC as the home for their complex primary production environment. They also use NEXTDC for housing their secondary systems and architecting the global connectivity solution at the heart of their redundancy, back-up, and disaster recovery planning risk management.
Our partnership advantage
Data centre management in a single pane
Flexible power arrangement
Access to expert advice and remote hands
---
Challenge
With clients in international jurisdictions, Data Processors runs analysis and modelling workloads on very large sets of data which means they are reliant on high performance computing that runs continuously.
On-premise data centre no longer suitable
When operating out of their own on-premise data centre located at their Pyrmont, NSW headquarters, power availability issues had on occasions created interruptions before workloads were completed. This sort of disruption would require them to reassemble data sets and start the process again.
Meanwhile, the cooling system in place on-premise was struggling to keep pace with the amount of heat being created by increasing compute loads on the servers being used to crunch the data. Any failure in this area would be just as devastating as a power outage.
In addition, connectivity architecture requirements to create redundancy through geo-diverse routes between global locations was becoming increasingly complex. There were multiple dark fibre and VPN services connecting geo-diverse locations to each other and their critical systems.
To manage risks, Data Processors went to market looking for a more centralised, holistic solution that addressed their challenges around power, security, and connectivity resilience. They evaluated all of the major data centre services providers in Australia before selecting NEXTDC as the option best suited to deliver best outcomes for their business.
Managing big data sets
With enormous volumes of data being processed – approximately eight terabytes of new data each month – Data Processors requires substantial hardware and supporting infrastructure to gather, store and archive it for future reference.
According to Data Processors' Infrastructure Manager, John Kerr, there was a need to move away from reliance on their on-premise data centre. He said they already colocation facilities for connectivity purposes as well as redundancy, backup, and disaster recovery planning.
"Consistent growth in both operations and the volumes of data being trafficked was putting pressure on our ability to continue servicing the surging infrastructure requirements of the business. We were faced with the choice of investing millions of dollars of capital on upgrades at our head office or scoping the market for appropriate colocation facilities.
"We did this for extra flexibility, to free up labour from maintaining our own data centre and shifting to using an outsourced approach with increased redundancy."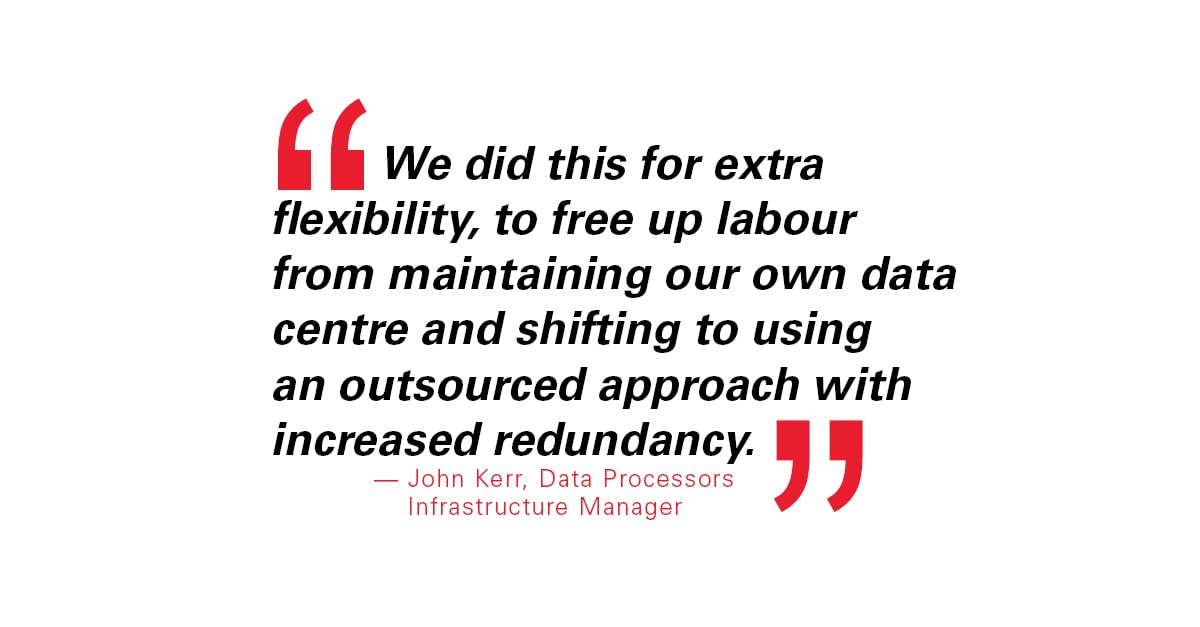 ---
Solution
Safe haven for high density racks and direct cloud connectivity
Data Processors' production environment found a new home in S2 Sydney with secondary racks located at S1. All but one of them were BYO racks to accommodate their customised, high density hardware which included engineered systems.
Data Processors also established direct access to the AXON interconnectivity platform to gain private, high performance access to the public cloud platforms located in the NEXTDC ecosystem.
John recalled Data Processors initial plans to use NEXTDC as a secondary partner for a four-rack back-up and DR environment.
"Once we were shown around the S2 facility – which was still under construction but had data halls already operating with 100% uptime SLAs – those plans changed quickly. Resilience is so important to what we do and when the connectivity options were explained, it was really a no-brainer for us."
Global connectivity, thriving ecosystem
Data Processors' S1 and S2 deployments were seamlessly interconnected using NEXTDC's Data Centre Interconnect (DCI) services, which ensured there was appropriate distancing between their primary and backup systems.
"We wanted to have physical separation of primary and secondary sites, but it was also critical that we achieved very high bandwidth between the two, so DCI between S1 and S2 was perfect," John said. "From within this ecosystem, we can also connect directly to the multiple carriers that are supporting our national and international networks. Meanwhile, the AXON platform ensures we have low latency access into the cloud platforms we use.
"AWS is the home for some of our long-term data archive services but we envisage that the use of AXON will extend into use of other public cloud services and connectivity requirements for new workloads as the business continues to grow and diversify."
---
Benefits
Cost, productivity, performance
Data Processors recognises the opportunities that a relationship with NEXTDC introduces in terms of cost reduction, operational efficiencies, network performance and resilience.
"We now have a platform that will help us achieve 100% availability of our environment. Going offline for even a second could have catastrophic impacts on the complex modelling processes we apply to very large data sets.
"Collecting, analysing and accessing this critical data is what our whole business is built on, and I can clearly see now that working with NEXTDC is introducing a range of opportunities for us to reduce costs, create efficiencies and mitigate the risks to our business model that come with power outages, connectivity failures or security breaches.
"Having a fat pipe into the AXON platform gives us alot of flexibility and options to connect to all cloud services as we grow. It's inevitable that we will expand our Multi-Cloud capability over time.
Data centre management in a single pane
Data Processors derives tremendous value from knowing that NEXTDC's Remote Hands teams are available 24/7/365. Being able to make service requests from anywhere at any time via the ONEDC data centre management portal which is accessible via web enabled device was another key feature they were looking for.
John said that there are genuine productivity gains derived through the real time monitoring, electronic rack-locking and automated service requests facilitated through the ONEDC customer portal.
"NEXTDC's ONEDC platform makes management of our IT environment so much easier for us and that saves us time and money," he said. "I can authorise access to the facility and open racks remotely for our team and contractors at any time from the palm of my hand, wherever I am.
"I can book parking, meeting rooms, deliveries and storage of kit as well as order new Cross Connects without ever having to make a call to anyone. Through Remote Hands, technical expertise is available at any time on any day of the year.
"I also have full visibility in real time on the internal conditions of the data hall where our systems are located, and I can monitor power usage on each individual rack.
"Governance and efficiency are also improved significantly by having a full audit trail of every interaction our teams and contractors have with the facilities. This detail includes exactly when they arrived, which racks were accessed and when they left."
Flexible power arrangement
Kerr said he also appreciates the flexibility of power NEXTDC allows to be delivered to individual racks.
"We use a lot of power in our rack footprint and NEXTDC's facilities are significantly more energy efficient than we could imagine achieving on-premise. This cost saving is complemented by a willingness to negotiate a pool of power rather than billing us by individual racks.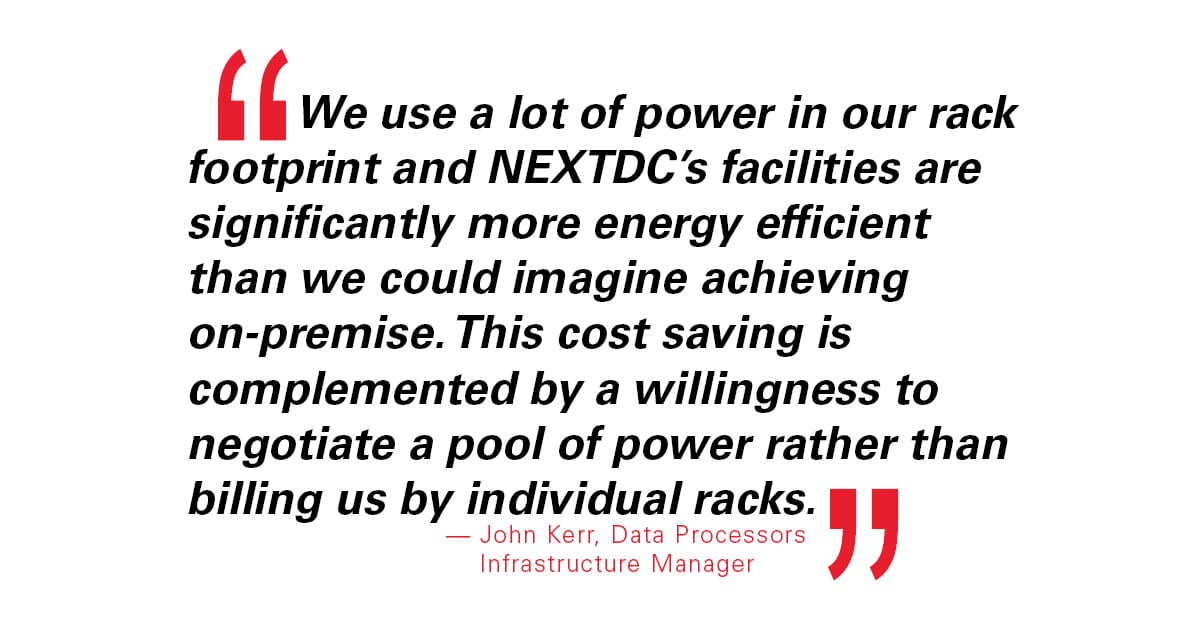 "Our workloads fluctuate in power usage and our production racks use significantly more power than our communications PoPs. On a rack by rack basis, sometimes we may go over the contracted usage and often we underutilise the power we pay for. NEXTDC lets us aggregate usage across all racks and balance that out over the course of the billing period. This level of flexibility also helps us to keep costs down."
Technical expertise
Data Processors services operations in eight different time zones, which means their Australian based support team are not always available to address urgent technical issues that emerge out of hours.
"I have nothing but praise for the quality of technical expertise that is on offer via NEXTDC's Remote Hands teams when we need it. Everything from the pre-sales engineering team that helped us install non-standard equipment and retrofit electronic locking to our BYO racks, to the technical support helping us architect our network and rapidly address incidents and problems when they occur has been of the highest quality.
"In my experience, this is another area where NEXTDC is streets ahead of its competitors and they are the sort of things that make a real difference to our customer experience and business continuity."
---
Custome Case Study
Learn more about how NEXTDC helped Data Processors turn a regular story into a success story.