Managed services excellence is built on resilient and secure infrastructure, backed by 24/7 support
One of the biggest positives to come out of 2020 is the accelerated rate of digital transformation, which has helped bring the future forward by as much as six years. Innovative organisations of all shapes and sizes have focused on how cloud platforms and efficient interconnectivity can drive performance improvement, productivity, cost savings and superior customer experiences.
At the heart of this digital enablement are specialist providers, such as Evolutions Systems, who leverage technology expertise and an intimate understanding of customer requirements to smooth the journey to cloud-based business processes.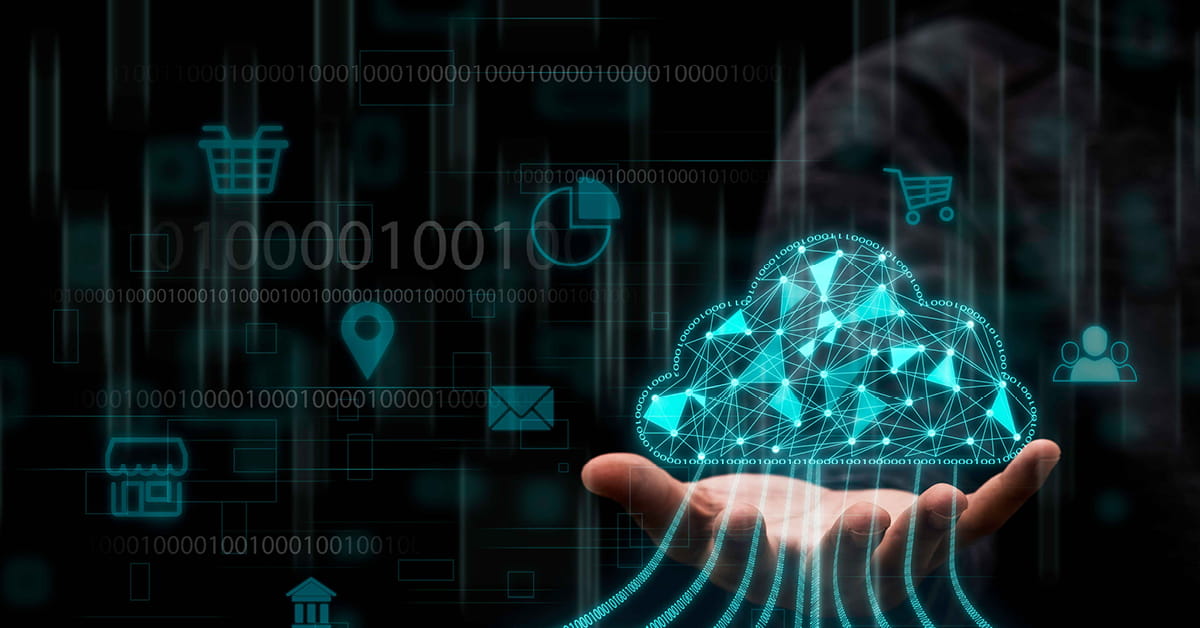 Our partnership advantage
Improved resilience for private ERP cloud services allowing more time for innovation
Enabling better enterprise-wide integration with Hybrid and Multi-Cloud architectures
Flexibility to scale quickly, supporting growth and management of increasing data volumes
---
Resource planning in the cloud
Evolution Systems have built their business around customising, managing and maintaining ERP implementations that run on IBM Power Systems hardware with IBM i, operating systems. It also develops and supports Linux and Windows operating systems running on the latest Hyper-converged infrastructure. Traditionally, the bespoke development of these solutions to complement the unique requirements of each customer often makes them unsuitable to shifting workloads to public cloud platforms.
For many years, Evolution Systems have countered this by building and operating their own private cloud service that allows their customers to never lose sleep over core systems and focus on what they do best. This has ensured customers achieve the flexibility, agility and cost-model benefits of virtual infrastructure without sacrificing all of the customisation now driving their core business processes.
In 2014, Evolution Systems reached the capacity of their own data centre and moved their critical private cloud infrastructure into NEXTDC.
From within their colocated environment, Evolution Systems interconnects and collaborates with NEXTDC's network dense ecosystem of over 640 clouds, carrier networks and ICT specialist services. It's this flexibility which ensures Evolutions Systems' customers can fully realise their digital transformation goals. By enabling this kind of Hybrid IT architectures, Evolution Systems are successfully helping their customers reduce costs, increase agility in coping with change and minimise business risks.
Helping customers accelerate
As the digital era accelerates, organisations of all shapes and sizes are searching for optimal ways to capture, store and analyse ever-increasing volumes of data. Similarly, they continue to navigate the evolving regulatory controls around how they manage sensitive and private information.
Evolution Systems' Director, Geoff Boreland says, "Our customers love that the security of their data is being managed by an Australian company, on Australian shores. No matter the complexity of our customers' operations, we have always been able to accommodate their requirements, regardless of the task or hour.
"Our business was built on simplifying the complexity of digital transformation and extracting maximum business value from the data tsunami."
---
The challenge
Leveraging technology for business innovation
As a technology company with over 20 years experience, Evolution Systems has always sought to innovate. At the heart of its value proposition is the capability to deliver strategic technical advice that ensures customers are leveraging the latest technologies to evolve critical business processes. Disruption during 2020, has seen the biggest change to workplace environments in history.
Ensuring it remained at the forefront of the industry and continued to play its most vital role, as a trusted technology partner for its customers was imperative. Embedding itself within NEXTDC's highly interconnected digital ecosystem has created significant opportunity for Evolution Systems. By doing so, they facilitate the flexibility and agility in service provisioning that their customers need to support present and future business continuity challenges.
---
Reliable hybrid architecture
Transforming organisations with cost efficient, resilient and high performance hybrid architecture that aligns core ERP systems with the cloud technologies enabling change is where Evolution Systems shines. They get to the heart of their customers' needs, educate them about the advantages of migrating their business critical applications where possible to the Evolution Private Cloud.
"Our customer base ranges from organisations that are new to us as well as those we have supported for 20 years; from one person entities up to global enterprises with operations in Australia, the US and the UK," Boreland explained. "There is a diverse spectrum but the main workloads we run are around analysing large volumes of available data from Enterprice Resource Planning (ERP) systems. Typically, the applications we support and add value to run on the IBM i operating system and hardware that has traditionally run in organisations on-premise data centres.
"Raising awareness about the potential of virtual technologies is a key focus for us. Many organisations still don't realise they can run their exact environment succesfully in the cloud. Nor do they fully appreciate the benefits inherent in a cloud-first strategy, rather than continuing to do migrations and upgrades that are not cost effective."
"We are always observing the industry trends and evolving requirements of our customers. With the help of NEXTDC, we have been able to rapidly pivot our offering to address the issues brought on by 2020's global health crisis. As a result of changing network demands prompted by dispersed workforces, we have seen unprecedented interest in our NEXTDC-based private cloud and managed services.
"It's a changing world. Many organisations are seeking somewhere more secure and resilient to relocate their applications and workloads to so they can be supported all day every day."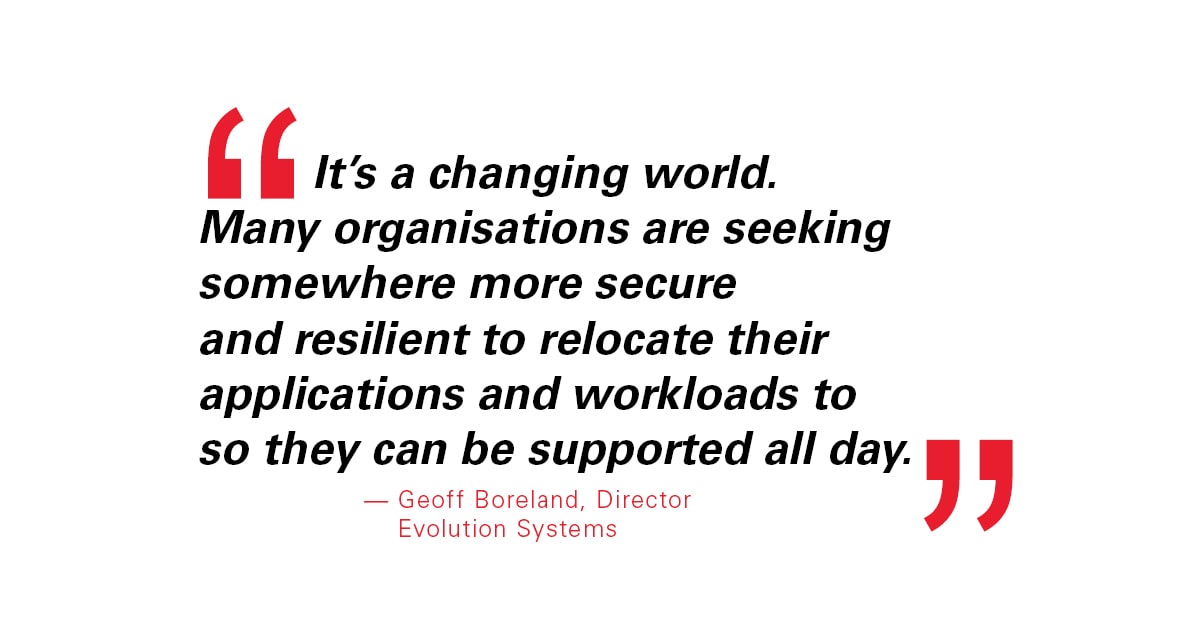 "Our clients were well positioned going into Covid-19. We had already set up remote backups and migrated a lot of workloads into the cloud. However, we did engage with clients around their connectivity strategies to enable them to move to a more distributed business model safely."
---
Security a key challenge
Transformation continues to accelerate the volume and value of data. Physically securing the systems and infrastructure managing their customers' most important resource is an ever present challenge for Evolution Systems.
Being able to provide an operating environment that meets ISO 27001 security standards has quickly become a base tender requirement when servicing Hybrid and Multi-Cloud architectures. Creating the physical barriers and access audit capabilities required for best practice security compliance is cost prohibitive for all but the largest of organisations.
---
The solution
The future is Hybrid
With multiple points of presence in the NEXTDC ecosystem, Evolution Systems add a new dimension of value to its customers through the delivery of unique cloud experiences. With most of their customers having run their ERP systems for over five years, considerable investments have been made on customising those solutions to the unique needs of their individual organisations. No business wants to see that investment go to waste.
To extract full value from these applications, Evolution Systems enables customised private cloud workload functionality to extract, store and analyse business data for these organisations. This hybrid extension introduces the scalability, security, resilience and cost reduction that comes with virtual hardware without changing the user experience or disrupting everyday workflow and processes.
---
Taking ERP to the cloud
Boreland said; "We started as a software development company customising and supporting ERP systems running on the IBM i operating systems. That's where our skill sets originate from and those skills are now valuable in transitioning our customers to using private cloud platform across IBM i, Windows and Linux workloads. We understand the ERP applications our customers are operating and how to support them. This means we can serve as a trusted, guiding hand in any migration to Hybrid- and Multi-Cloud environments.
---
The benefits
Uptime guarantees
"Running our infrastructure in NEXTDC's data centres allows us to assure customers their critical systems have a 100% uptime guarantee, built upon the resilience inherent in Uptime Institute Tier III and Tier IV certifications. Additionally, we benefit from enormous flexibility to scale our environment on demand. This is particularly valuable to our customers as they adapt to the aura of uncertainty created in an era defined by unpredictable, constant change."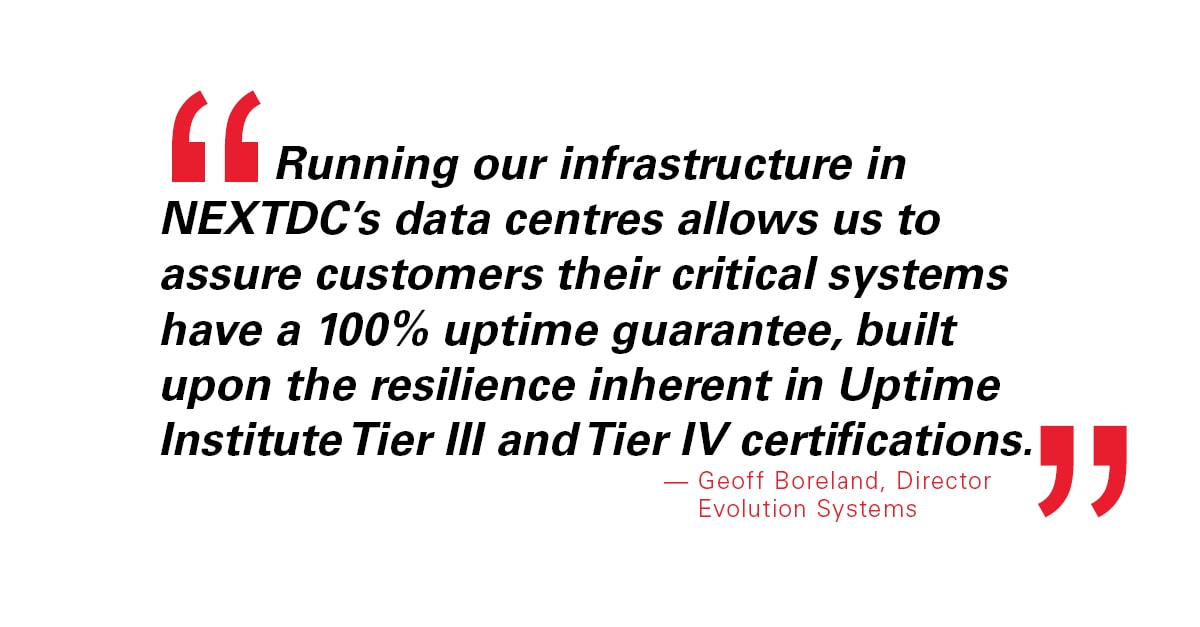 NEXTDC gives Evolution Systems unprecedented ability to adapt to change while the 100% uptime guarantee minimises their risk of breaching the SLAs it offers to customers. Meanwhile, a diverse footprint of nationwide digitally interconnected data centres makes NEXTDC the best choice to support its national customer base.
Supporting business growth
"We decided to expand our private cloud offering in NEXTDC's data centres because our business was growing at a rate of knots. Migrating our cloud infrastructure has enabled our business to meet the demand of our clients, and we have been able to expand quickly due to the agility NEXTDC provides".
"We have also been able to service more clients without having to invest heavily in all the private infrastructure that would have been required to accommodate the growth within our own data centre. Instead, we can take advantage of NEXTDC's world-class facilities to grow our footprint and geo-diversity as the business scales up."
Sleeping easy with security and great support
In terms of on-going benefits, there are a lot, according to Boreland. "Besides the Tier III and Tier IV certifications, the resiliency from a power perspective is second to none. It allows me to sleep at night knowing our infrastructure is running in an environment with strong uptime, and that's huge from the perspective of the business owner."
"We are also confident about going to market with a guarantee that the security around our infrastructure is at best practice across each and every facility we utilise. Partnering with NEXTDC ensures that Evolution Systems can tick that ISO 27001 box every time with the cloud services we take to market."
"As a brand, NEXTDC is always looking to innovate, attend to customers' needs and continue to expand their geo-diversity. We are able to leverage NEXTDC's continuous growth and expansion plans, which enables us to expand our presence across the nation whilst contuining to offer the highest level of support to our customers."
One of the biggest positives to come out of 2020 is the accelerated rate of digital transformation, which has helped bring the future forward by as much as six years.
Transforming organisations with cost efficient, resilient and high performance hybrid cloud architecture that aligns core ERP systems with the cloud technologies enabling change is where Evolution Systems shines.