We are pleased to announce premier global contractor Multiplex has been appointed to deliver Stage 1 of our new 20MW hyperscale data centre, P2 in East Perth.
Set to be Western Australia's first Uptime Institute Tier IV certified data centre, P2 will deliver 10,000 square meters of technical space and 20 Megawatts of power to the West Australian economy, further extending NEXTDC's world-class operation of data centres across Australia.
The award follows Multiplex's successful delivery of early works on the project, including the P2 microsite which is providing immediate connectivity to critical cloud services while the P2 facility is being constructed.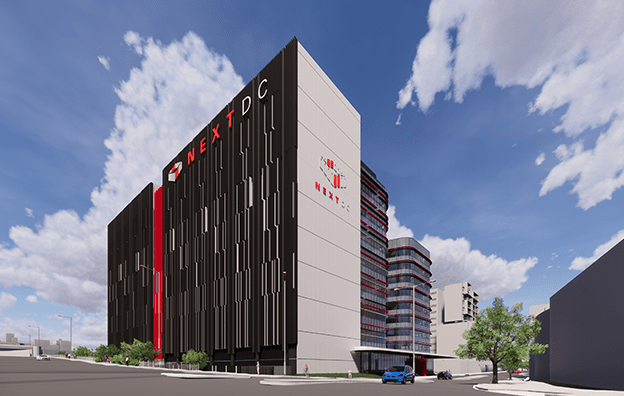 NEXTDC Chief Operating Officer, Simon Cooper comments "We are excited about our partnership with Multiplex, who are one of Australia's largest and most highly regarded builders. Their global leadership in delivering premium quality infrastructure closely aligns to NEXTDC's values and rigorous standards."
Multiplex's Regional Managing Director Chris Palandri said the contractor was thrilled to continue its partnership with NEXTDC through to the next stage of the project.
"P2 is a crucial piece of digital infrastructure for Western Australia and we're very proud to bring this complex building to life," said Chris.
"We understand the importance of reliability to NEXTDC's customers, and our experienced team is working to exceptionally high design and construct standards to deliver the first Uptime Institute Tier IV certified data centre to Western Australia."
Stage 1 of the project includes the construction of six levels of data halls, two levels of electrical infrastructure and back-up power generation capable of delivering the power required to ensure 100% uptime, as well as the perimeter security, basement services, car parking and the customer experience office facilities that go hand in hand with NEXTDC's data centres.
To become a Tier IV certified constructed facility, every piece of critical infrastructure must be designed and constructed in accordance with the stringent redundancy and separation considerations as set by Uptime Institute, in order to meet their rigorous fault tolerance standard. It takes cutting-edge technology and innovative engineering and design to achieve the pinnacle of Uptime Institute's Tier Certifications. NEXTDC is the only data centre solutions company in the country to provide organisations with this unparalleled level of quality and resilience.
Simon adds 'Our decision to work with the Multiplex team in Western Australia came down to their impeccable track record in building a premium class of infrastructure that rivals the best in the world. The world-class Optus Stadium that was recently opened in Perth is a prime example of the standards Multiplex hold themselves accountable to. NEXTDC's expectations around delivering the highest possible levels of quality is no exception and building our P2 hyperscale date centre is their next challenge; Which we expect will be another phenomenal outcome for Multiplex, NEXTDC and the WA economy".
Upon completion, P2 will meet the same extraordinarily high operational uptime standards and deliver customers with a 100% uptime guarantee of the critical infrastructure that drives their business.
P2 has also been designed to deliver the highest possible levels of energy efficiency, targeting an energy efficiency certification benchmark that has been set by NEXTDC in the Australian data centre industry in Melbourne and Sydney.
Stage 1 of the P2 data centre is targeted for completion mid-2020.
For further information, please feel free to contact our team.