NEXTDC is proud to announce its new corporate social responsibility program, committing to improving local communities through four core charities and community giving programs.
NEXTDC's 'Live to Give' program comprises:
partnership with children's education charity The Smith Family, donating $50,000 and promoting staff volunteering and mentoring programs
partnership with Pledge 1%, enabling staff to devote 1% of their time to give back
launching a workplace giving program with $1:$1 donation matching for Cancer Council, beyondblue and UN Women, and;
providing all staff with an additional paid Volunteer Days, allowing teams and individuals to spend additional time with their preferred charity or giving back to their local community.
These initiatives are core to supporting our vision of 'improving our society through the advancement of technology,' and demonstrate our commitment to leveraging our businesses success and our talented people to enhance and improve the communities in which our teams work and live.
Smith Family Partnership
"The Smith Family is delighted to welcome NEXTDC as our newest corporate partner," states Judy Barraclough, Head of Strategy & Philanthropy at The Smith Family. "Our partnership will embrace the power of education to support children from disadvantaged communities. Together with NEXTDC, we are investing in the futures of these young Australians."
Through this partnership, NEXTDC is supporting The Smith Family's Learning for Life program, which provides early intervention and balanced, long-term support to over 38,000 disadvantaged students across Australia. The program is proven to improve educational outcomes for highly disadvantaged young people and help set them up for a successful future.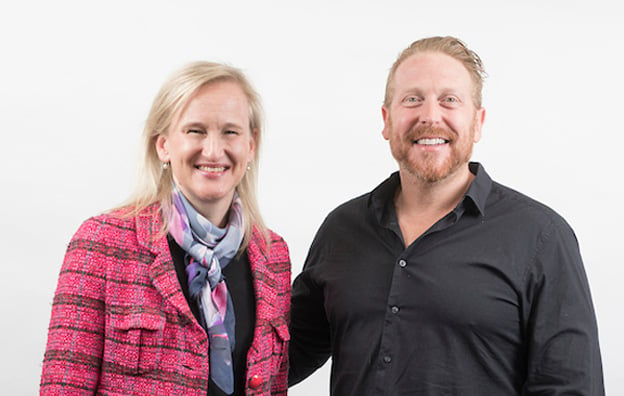 The Smith Family's Head of Strategy, Judy Barraclough and NEXTDC CEO, Craig Scroggie
Pledge 1% Partnership
NEXTDC is also proud to announce that it has become a member of the global Pledge 1% corporate social responsibility initiative. The program allows the world's most successful companies to give back to communities around the world by donating 1% of product, 1% of equity, 1% of profit and/or 1% of employee time so that successful enterprise organisations can do their part in making the world a better place.
"The Pledge 1% movement along with our members are setting a new standard for successful companies of the future," said Pledge 1% Chief Executive Amy Lesnick. "Increasingly giving back isn't just the right thing to do, it's also the smart thing to do, especially when it comes to attracting and retaining top talent. Pledge 1% empowers founders to integrate giving back and doing the right thing into the core culture and values of their companies and to leverage all of their assets (equity, product, technology, talent, voice, partner ecosystem) to be a force for good, and we are delighted to welcome NEXTDC to the movement."
"We are thrilled that NEXTDC has joined the Pledge 1% movement and is committed to sharing its success with the community," said Scott Farquhar, co-founder and co-CEO of Atlassian. "Employees, shareholders, customers, and the community all benefit when a company builds giving back into its DNA. It's one of the best decisions we ever made."
Workplace Giving Program
In addition to its partnerships with the Smith Family and Pledge 1%, NEXTDC has also launched a new workplace giving program whereby the company will match $1 for $1 money raised from staff for any one of three workplace giving partnerships - beyondblue, Cancer Council and UN Women
Volunteer Days
Finally, NEXTDC has also chosen to provide all of its staff with additional paid Volunteer Days to enable both teams and individuals to invest time with their preferred charity or giving back to their local community.
NEXTDC, which launched as a start-up company just eight years ago, has become one of the most prominent names in Australian technology industry. "NEXTDC is very proud to launch the 'Live to Give' program," states Craig Scroggie, CEO of NEXTDC. "Companies can do more than just make money, they can give back to the community and use their success to improve our society. It's a great honour to be able to commit to supporting these amazing organisations."
Explore the program here.