OVHcloud, global player and leading European cloud provider, today announced a new partnership with leading Australian independent data centre operator NEXTDC to double its capacity in Australia.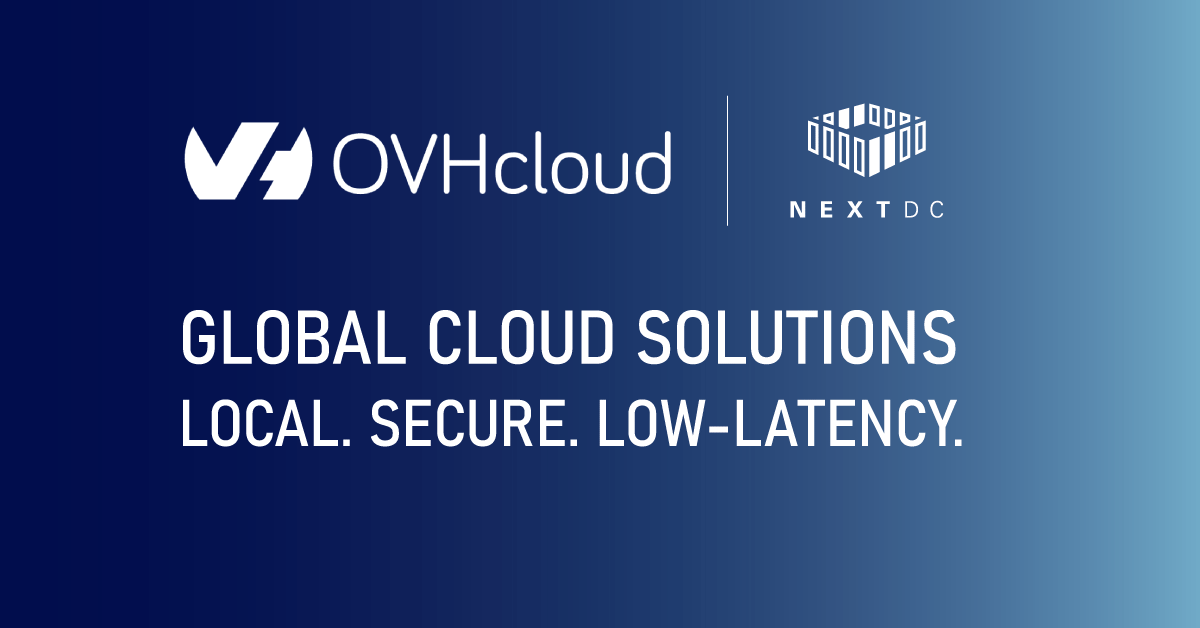 Responding to the accelerated local growth in cloud technology adoption, OVHcloud has furthered its expansion plans across APAC, opening a second data centre in Sydney and doubling its capacity for its Singapore data centre. It follows the deployment of a Point of Presence infrastructure in Mumbai, India earlier this year.
A second data centre in Australia is possible through a new partnership with leading data centre operator, NEXTDC. Increasing its local infrastructure footprint, OVHcloud will continue to deliver low-latency access; enterprise-grade cloud services, world-class security, and protect data in line with Australian privacy laws. As companies continue to adapt to and grow in the cloud, cyber resilience and data control become vital for businesses in their digital transformation journey.
This strategic partnership with Australian founded and based company NEXTDC represents a continued commitment to a strong locally-focused ecosystem that aligns with OVHcloud's security, privacy, and innovation core values. OVHcloud will also join NEXTDC's partner program, which comprises the country's largest and most dynamic partner ecosystem. Joining this thriving business ecosystem will help to further amplify its unique cloud offer reach to Australian businesses.
"We're excited to launch this new partnership with NEXTDC, marking the next phase of OVHcloud's strategic business expansion. The deal will see our capacity double in the market, and the NEXTDC data centre will provide another channel for our customers to capitalise on our multi-local approach. We have a strong focus on growth here in Australia and across the APAC region. We look forward to continuing to enhance our market offering through partnerships like this," says Lionel Legros, OVHcloud General Manager APAC.
Businesses in Australia can now access the new Advance range of dedicated servers in two different Sydney locations, matching the increasing demand for cloud solutions in this digitally focused landscape. These servers are designed for small businesses looking to invest in versatile servers and are the ideal solution to host an e-commerce site, business application (ERP and CRM) or virtualisation projects.
This partnership is underpinned by OVHcloud's collaboration with the Open Compute Project (OCP), which supports its focus on Open Hardware and Open Cloud. Working with OCP members, the company has collaborated with innovation leaders to develop new server models based on open standards.
"We are thrilled to announce this partnership with OVHcloud and we are excited for the opportunity this represents for customers," said David Dzienciol, Chief Customer and Commercial Officer at NEXTDC. "Our customers continue to lean on their I.T infrastructure and networks more than ever. Ensuring they are securely and reliably interconnected to the clouds and I.T services that underpin their Hybrid/Multi-Cloud strategies is a critical role that NEXTDC plays.
We are particularly excited to deliver on the commitments we make to our customers with a partner that shares in our values of putting customers first, trust, product excellence and service quality. As a partnership we look forward to working with our customers and continuing to help them accelerate their digital transformation agenda."