By Claire Sangster, Western Australia State Manager
Digital resilience is more than just achieving 100% uptime of critical systems. It extends to other factors such as security, reliability and performance of the underlying infrastructure, networks, platforms, and applications driving digital transformation.
Always on is the best disaster recovery
Digital resilience largely reflects the ability to stay online no matter what internal or external, human, or mechanical factors arise. It's the capacity for systems to continue functioning in the face of expected and unexpected change. Resilience can be broken down into several components including security threats, flexibility, scalability to deal with fluctuating demand, connectivity, disaster recovery and resource planning.
Each of these on their own has the potential to bring a strategy unstuck. As a combination of challenges in a time where being digital ready is imperative to succeed, addressing resilience should be, and usually is, the number one priority for organisations.
In a recent study carried out with NEXTDC's customers, 46% of respondents said disaster recovery was the most critical component of their resilience strategy planning. And for good reason.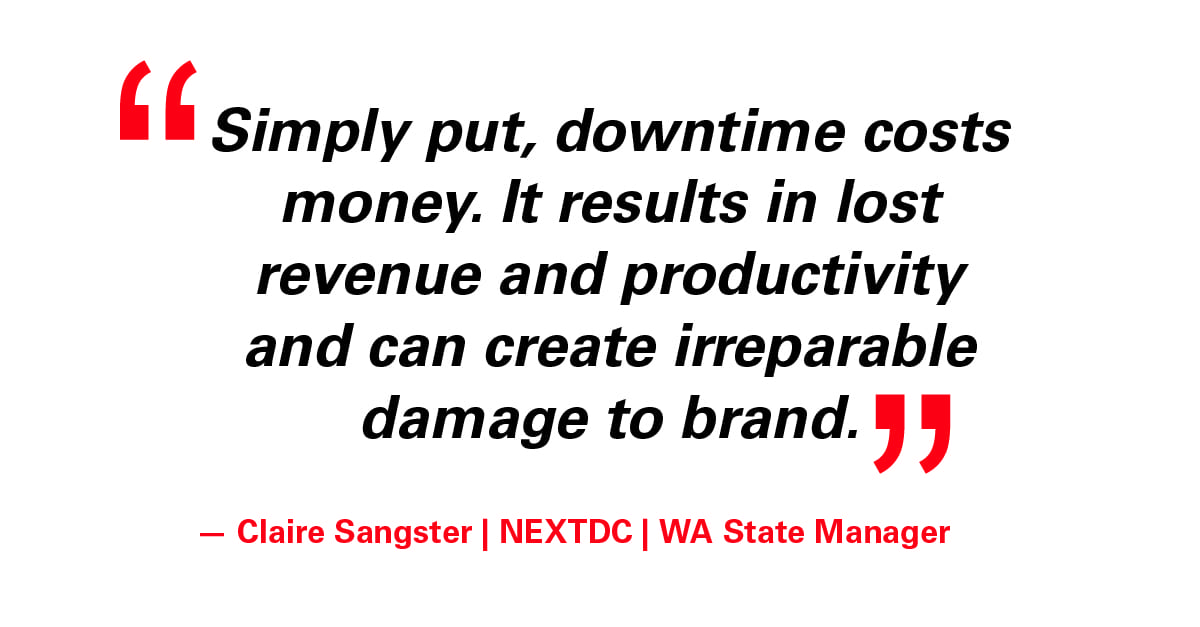 This is never more apparent than in the resources sector, undoubtedly the engine room of WA's economy. Mining and resources companies have invested heavily over the last decade in autonomous tools and transport because it provides them with exemplary productivity, cost efficiencies and safety benefits.
The enormous amounts of data and complex connectivity at the heart of on-site automation can't be underestimated – it's quite extraordinary. But with that comes an elevated level of importance on the resilience of their digital infrastructure.
Downtime hurts
Downtime can be devastating wherever it occurs but is particularly painful in the increasingly autonomous world of mining and resources. Anecdotal reports of the impact that downtime can have on premium extraction and processing sites ranges from $10-20 million per hour in lost production. That doesn't include the costs to remedy the problem and ensure it doesn't happen again.
This tale of proportionate losses from downtime is replicated across the economy. Irrespective of industry or how big an organisation is, when critical digital systems are out of action, teams aren't working, you aren't acquiring or servicing customers (who are very likely looking elsewhere) and your reputation takes a hit.
The autonomous assets at the heart of mining and resources generate astonishing volumes of data. They need to be managed in real time over complex networks and are underpinned by enormous arrays of digital infrastructure. Bringing order to what can quickly escalate into chaos is the end game objective. Service providers that work towards providing 100% uptime SLAs do exist and they're worth finding when making decisions about where your critical infrastructure is best housed and supported.
Supporting mission critical infrastructure
We're seeing rising interest across multiple industries in what we call "Mission Critical Space" or MCX for short. MCX is high availability office space provisioned aaS for customers which is supported by the critical infrastructure already deployed in our data centres. Essentially, it facilitates 100% uptime for workstations managing mission critical applications.
Global mining and resources customers of ours are actively changing the dynamics of their real estate requirements as we settle into new ways of working. With less employees returning to the office fulltime, some are seeing decreases in workspace required by as much as 40% compared to pre-COVID times, therefore reducing the volume of premium, expensive CBD real estate required.
Initiatives like this will drive more demand for MCX deployments. To achieve these goals, on-prem data centres, Remote Operations Centres (ROCs) and other critical infrastructure needs to be de-coupled from traditional office spaces. A re-think of the real estate strategy is commonly cited by many of our customers as helping them realise cost savings, agility, and other benefits from a new way of working.
For resources companies there are also significant safety opportunities as improved, resilient digital infrastructure including high performance, secure connectivity allows for remote operation of autonomous equipment. Roles that previously required on-site personnel can now be accomplished from office space that is right next door to critical systems and networks.
Where they lead, we all follow
Some of the world's largest resources companies are headquartered in Perth and a large proportion of the WA economy revolves around ancillary services that support their huge investments in mining and exploration in the state.
In the latest available stats from the WA Government (WA Economic Profile 2020), mining is directly responsible for 36% of Gross State Product (GSP). Industries such as transport, professional services, manufacturing, technology, and construction are also heavily supported by the mining sector.
Keeping teams safe was given a huge boost as autonomous technologies become more pervasive and MCX orientated solutions takes that to the next level.
The development of world-class colocation infrastructure in Perth – designed, built and operated to the highest global standards – as well as the rollout of significant high bandwidth subsea networks – is enabling our resources giants to both keep their people safe and future-proof their businesses.
Connecting WA to the world
Partners such as Vocus and SuperLoop have extended the opportunities for the resources sector to drive these sorts of productivity, cost efficiency and safety outcomes. They have already connected Perth to Singapore and Sydney. New networks are being rolled out to Oman (servicing Africa and the Middle East) and connecting Port Hedland in the state's north to Darwin (with a bridge out to the North-West shelf offshore gas fields).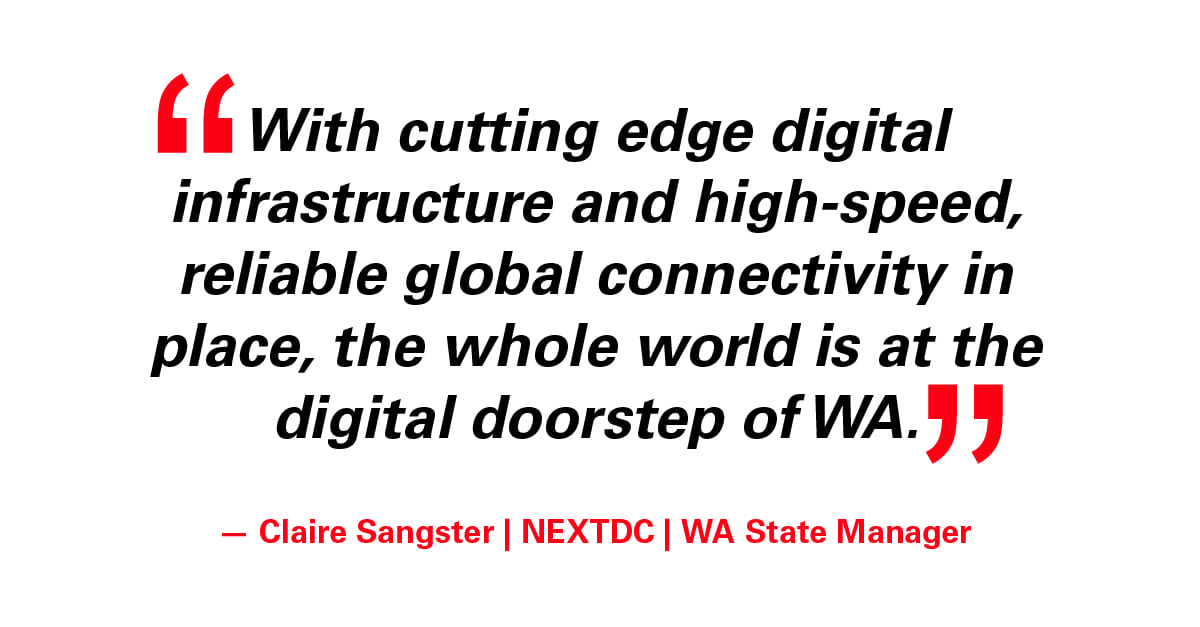 Resources companies are looking to build their ROCs, Security Operations Centres (SOCs) and Network Operations Centres (NOCs) right next door to the critical digital infrastructure that's enabling them to drive productivity, cost reduction and safety outcomes.
Flexibility to adapt
Having the flexibility to scale on demand and move quickly is essential to optimise investment in autonomous technology development and to protect these organisations from whatever unexpected change that looms.
At present, commodities prices are good, business is booming and industries like the resources sector continue to drive economic growth in WA. Businesses wanting to engage with these enterprise leaders should also consider the benefits of bringing themselves within closest proximity to the technologies and infrastructure playing a crucial role in transforming society.
Now is the right time to plan strategically about how you embed your business in a digitally interconnected and cloud-based economy.
Reach out to better understand how our P1 and P2 data centres in Perth enable you to accelerate your evolving digital transformation priorities, and tactically position your business to thrive in the data economy.