NEXTDC Limited (ASX: NXT) Australia's leading data centre solutions provider, today announced the launch of NEXTneutral, its new data centre carbon neutrality program.
A significant sustainability milestone for Australia, NEXTneutral marks the first carbon neutral colocation solution available in the local market. NEXTDC continues to advance its commitment to sustainability by enabling its entire ecosystem to achieve zero-net carbon emissions within their NEXTDC data centre space.
NEXTneutral builds on NEXTDC's commitment to sustainability and its own organisational accreditation as 100% carbon neutral under the Australian Federal Government's Climate Active program. As a Climate Active certified colocation solution, NEXTneutral empowers organisations to easily advance their own sustainability priorities and join NEXTDC in their pursuit to decarbonise the digital economy through carbon offsetting.
NEXTDC is recognised for its commitment to sustainability through its industry-leading, independently certified data centres, investments into renewable energy such as wind and solar and the 100% carbon neutrality of its corporate operations. NEXTDC is committed to helping customers harness the digital age in the most sustainable way. It is well known that data centres utilise a significant amount of electricity, which accounts for approximately 3% of global electricity usage. NEXTneutral removes all of the complexity associated with carbon offsetting, making it easy for NEXTDC's ecosystem to make a real difference on the impact of digitisation on the environment.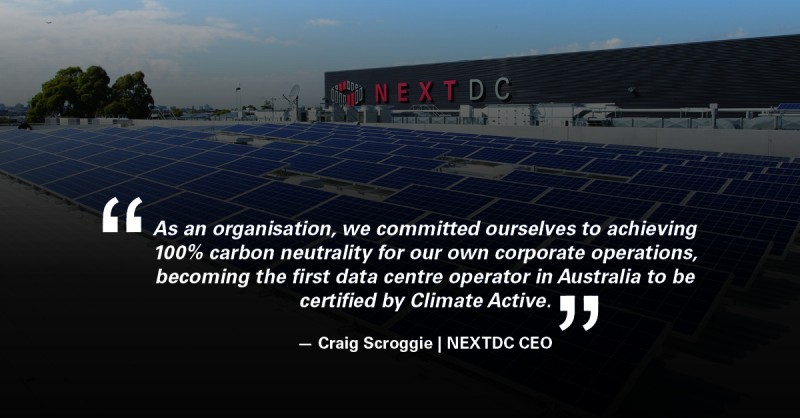 Craig Scroggie, Chief Executive Officer of NEXTDC, said, "The next step in our journey is to extend our own carbon offset program to our customers. It's with great excitement that we now invite everyone in our ecosystem to join NEXTneutral and offset 100% of their carbon footprint".
"Our customers, partners and stakeholders care deeply about environmental sustainability and the industry's future impact on the environment. We are dedicated to reducing the impact our data centres have on our natural surroundings. Today the data centre industry is supporting an enormous boom in technology and information creation, all of which are powered by computers and global networks that consume significant amounts of electricity. We remain focussed on the overall efficiency of our data centres, demonstrated through our NABERS 5-star efficiency ratings, and contributing to the global efforts in managing climate change", said Mr Scroggie.
The carbon footprint generated within NEXTDC's data centres is negated through the purchase of carbon offsets under NEXTDC's corporate offset partnership with Qantas Future Planet (QFP). Future Planet is a partnership between Qantas and Tasman Environmental Markets. Carbon offsets purchased under NEXTneutral are used to fund a portfolio of carefully selected ecological projects which include the restoration of wetlands and rainforests impacted by commercial development; the protection of pristine Australian habitats such as the Great Barrier Reef; as well as supporting Indigenous culture and traditional sustainable land management practices such as cool fire burning.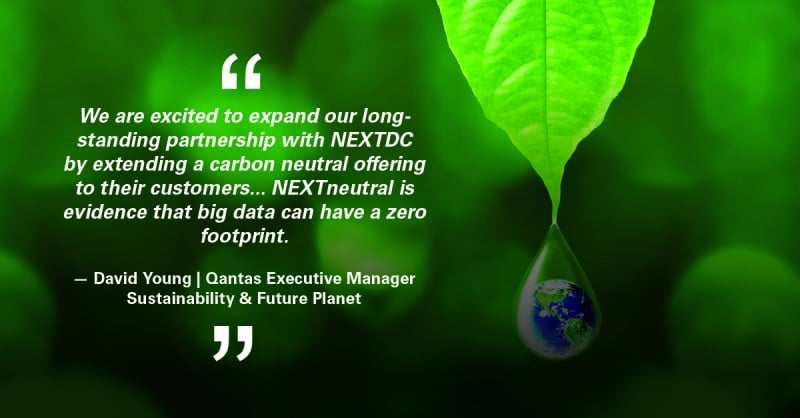 David Young, Executive Manager Sustainability & Future Planet, Qantas, said "It is a testament to NEXTDC's commitment to sustainable engineering and the important role offsets play in mitigating the environmental impact of energy use. NEXTneutral is evidence that big data can have a zero footprint."
Learn more about NEXTneutral contact NEXTDC.
NEXTDC Limited (ASX: NXT) Australia's leading data centre solutions provider, today announced the launch of NEXTneutral, its new data centre carbon neutrality program.