NEXTDC, Australia's leading Data-Centre-as-a-Service provider has opened its newest data centre in Perth, with a ribbon cutting ceremony officiated by the Hon. Dave Kelly MLA, Western Australia's Minister of Innovation and ICT.
Attended by an esteemed audience representing the WA technology, Enterprise and Government sectors, as well Chair Commissioner, Mr Andrew Hammond, Parliamentary Secretary to the Premier, Mr John Carey, and distinguished guests from the Premiers' office, and City of Perth council members; the event celebrated the official opening of the facility, and the important role P2 will play in driving growth and opportunity in the WA digital economy.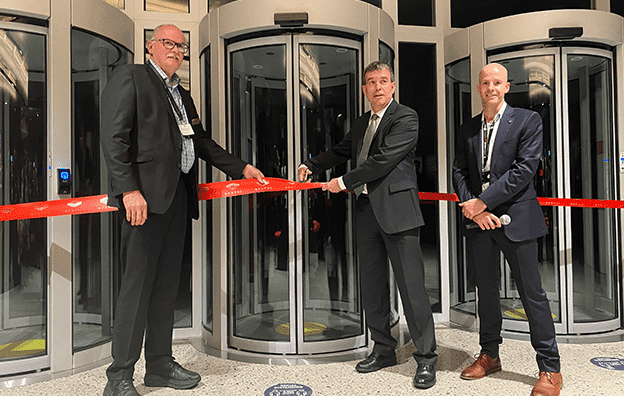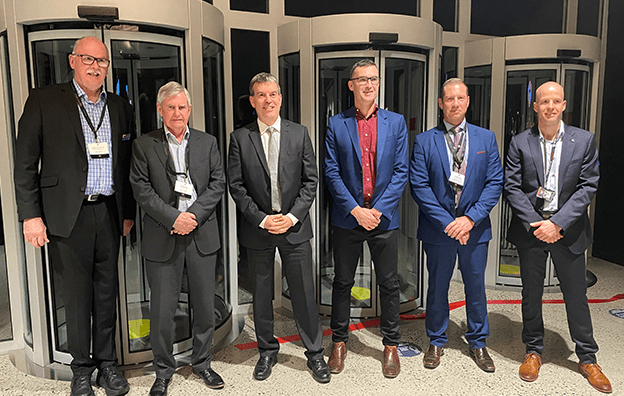 NEXTDC CEO, Mr Craig Scroggie commented, "We are immensely proud of the hard work and innovative thinking that has gone into building P2, which is our first Tier IV data centre in Perth, and we are thrilled to officially open the doors to WA customers. P2 is a critically important digital infrastructure investment for Perth, as it will help to support the extraordinary growth of data, and the reliance on the applications and digital platforms that drive our connected world".
The Minister for Innovation and ICT, the Hon. Dave Kelly MLA said,"The McGowan Government recognises the critical importance of data to WA's economic development and jobs growth. It underpins a number of sectors in WA including mining and energy, life sciences, agri-tech, defence, space and new technology businesses.
Facilities like the P2 Hyperscale data centre provide scalable, fast and secure digital infrastructure that will assist WA businesses to operate and innovate. They join others in the sector that are helping create and support jobs by harnessing the increasing availability of large volumes of data in WA to grow our existing industries".
P2 Perth is a 20MW specialised hyperscale cloud colocation facility located in the CBD and signifies an exciting opportunity in accelerating the local WA economy as a place to invest and do business. Delivering a level of data centre quality and engineering excellence that surpasses industry benchmarks, P2 champions the world's highest standards for data centre design, construction, and operational excellence.
To support the 'always on' nature of WA digital businesses, critical infrastructure certified to the highest resiliency standards is paramount. As such, P2 is Perth's only Uptime Tier IV certified, completely fault tolerant data centre. NEXTDC remains the only data centre provider in the market that can deliver organisations a 100% uptime guarantee.
"I'd like to congratulate NEXTDC on the official opening of their new data centre here in Perth. This significant investment into Perth further connects Western Australia to the global economy and is yet another example of why WA is a great place to do business" added Minister Kelly.
P2 Perth forms an important digital interconnectivity hub, delivering local organisations enhanced connectivity capability to critical digital services - such as public cloud onramps - at the closest proximity, helping to drive significant economic prosperity to WA.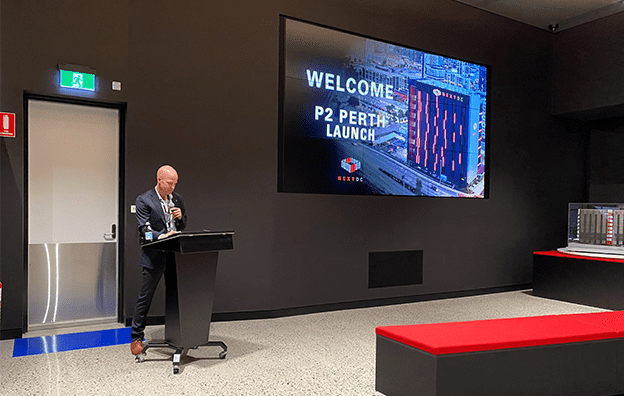 P2 is directly connected to NEXTDC's P1 Perth data centre in Malaga via NEXTDC's Data Centre Interconnect (DCI) services. DCI's seamlessly integrate and unify the thriving locally available NEXTDC ecosystem, with point-to-point, high-speed fibre connections, enabling the seamless integration of ICT services and platforms across NEXTDC's Perth data centre footprint. P2 establishes another point of connectivity in the CBD for organisations to connect to the region's major public clouds.
Organisations have the ability to directly connect to the only locally available cloud onramps for Microsoft ExpressRoute and AWS, directly hosted at P1 via NEXTDC's virtual connectivity platform, AXON. AXON is an advanced high-speed connectivity platform that supports the seamless integration and deployment of cloud and connectivity services that enable organisations to build scalable and resilient environments. Delivering high-performance virtual connections, AXON enables seamless access to the leading public cloud platforms and supports network and geographically redundant designs and offers on-demand inter-capital connectivity services.
Ross Ortega, Partner PM Manager, Microsoft Azure Networking at Microsoft Corp previously commented,"It is great to build on our relationship with NEXTDC to add new connectivity services in Western Australia for our customers. We look forward to working with NEXTDC to support Cloud growth".
P2 brings together Perth's new high capacity, high-speed submarine cable networks that connect Perth to South-east Asia and Sydney; routes that embed the region into the global digital economy. P2 directly connects Perth by subsea cable to Singapore and Sydney, opening the door for significant business opportunities for the Perth economy. These networks, supported by NEXTDC's world-class data centres, offer Western Australia accelerated opportunities to trade, partner and compete globally.
Andrew Wildblood, Chief Executive, Enterprise & Government at Vocus commented, "We are excited to be working with NEXTDC and the new P2 facility. We are seeing increasing demand for digitisation, particularly in this COVID world where organisations are forced to think about their business models and working in a different way. We also see the demand from Mining, Oil and Gas customers in Western Australia who are accelerating their digitisation plans through fibre technology and requirements for data centres. Being interconnected to P2 is very important for us here at Vocus, and we are excited to be working with NEXTDC, bringing the best of our fibre networks and the best of a brand-new data centre to Western Australia".
Drew Kelton, CEO of Superloop has commented, "We are starting to see the benefits of our infrastructure investments in Australia and South East Asia. Indigo joins these markets together, and in conjunction with NEXTDC provides a springboard for Australian businesses expanding into Asia, or Asian business seeking a foothold in Australia".
NEXTDC continues to uphold the strong environmental sustainability principles their data centres have become synonymous for. P2 champions the newest engineering innovations in technology and operational best practises and will set a new industry benchmark for power efficiency in Perth, helping to support organisations in making smart technology decisions that are great for business and the environment.
Chris Palandri, Regional Managing Director for Multiplex, the lead construction partner on the P2 project said,"It's fantastic to see P2 officially open after completing the project on time and on budget. Constructing Perth's first Tier IV data centre required an immense focus on quality and we're incredibly proud of the end result, with P2 delivering a world-class digital infrastructure asset for WA".
"It's an exciting time for Perth, as we gear up to take a quantum leap forward in the attraction of Western Australia as a region to invest and do business. We are excited to pull back the curtain to P2 and provide a platform for local businesses to take their unique value to the world" added Mr Scroggie.
Reach out to the team to find out more about P2.